Hopefully, many of us can boast about those long sunny days we spent drawing the streets with chalk in our childhood. For some, the willing to make those sidewalks colourful continued well into the adulthood, all the way to the point when this creative act became a true form of art. Think Keith Haring and his early trademark characters being drawn with white chalk on a dark background at New York metro stops. Like any other form of street art, chalk drawing is a sort of a performance, the materialising of a unique relationship that an artist has developed with the city they live in. Just ask Jordane Saget, a French chalk creative who has found his calling at the age of 35, and whose in-situ works will now be on view at Paris's Le Cabinet d'Amateur.

Chalk and the City
Armed with nothing but sticks of white chalk, Jordane Saget wandered the streets of Paris, looking to turn his sketches into urban paintings. And so he did. His captivating lines and curvy forms found a new home on concrete roads, shady passages and subway walls, building gates, sewers and entire squares, as a result of that wonderful urge to express oneself and to share creations with the rest of the world. Jordane Saget's art interacts with its own environment, blending with its curves and textures, inhabiting it for as long as its ephemeral state allows it to. The intricate nature of these drawings make them look as if they belong to the architecture they became a part of, further embellishing a city as culturally rich as Paris.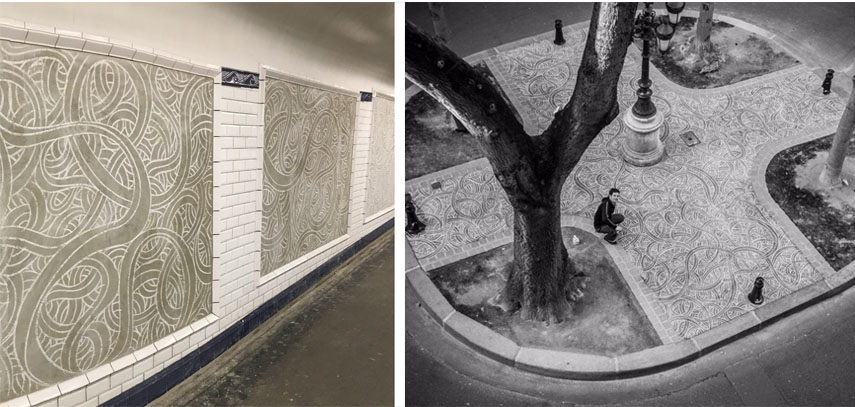 Like A Ritual Dance
Jordane Saget's organic shapes and forms draw us to imagine him during the process of their creation - their consistency and fluidity suggest the involvement of quite a bit of movement. Indeed, the artist draws through gestures, choreography, a proper dance routine if you will, in which his body and his hands dictate the narratives of his chalk artworks. His complex patterns serve as a thank-you to the city that hosts him, spontaneously created for every place he visits, each seemingly similar to the one before, yet oozing with uniqueness. Jordane Saget's works are intriguing, engaging and sophisticated, and their transient nature is emphasised even more once we realise they will vanish with the first rain or a careless passerby.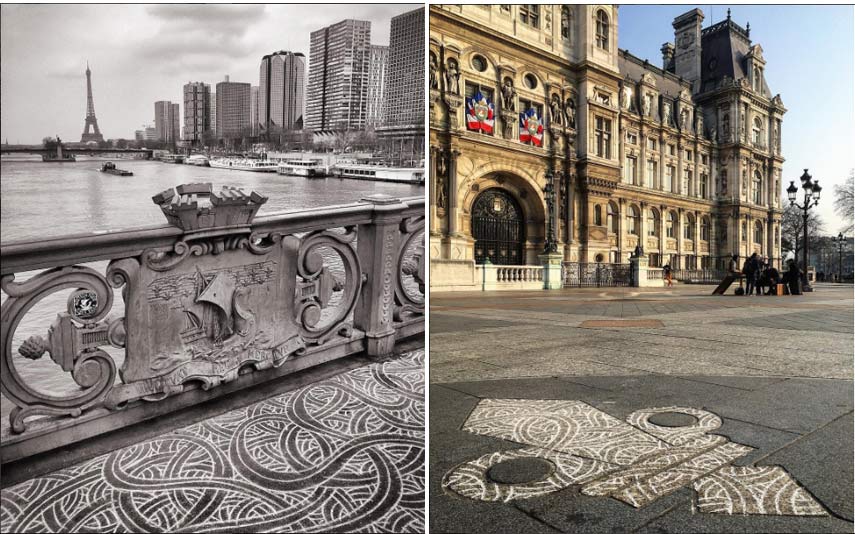 Jordane Saget Exhibition at Le Cabinet d'Amateur
The art of Jordane Saget takes us back to some other times, those of the Celtic civilisations and their creations, to the Tai Chi period and the very beginnings of the arts, when the expression was simple, yet immensely meaningful. The exhibition of chalk works by Jordane Saget will be on view at Le Cabinet d'Amateur in Paris, France, from April 14th through 22nd, 2016. The opening reception is scheduled for April 14th, at 6pm.
Images courtesy the artist and Le Cabinet d'Amateur Paris.