There is at least one iconic figure that we all strived towards when we were young. Be it a cartoon, comic, movie character or even a real life person, their ideals would fulfill our imaginations and surround us daily. It was similar for the German pop artist Jörg Döring, who spent his youth enveloped by historical highlights of the pop art of the 60s and 70s, which was a thematic presence in his family home. Iconic personalities and revolutionary characters from comics, Marvel stories, advertising claims, headlines and typography all made up his reality which he, in return, used in his art. Portraying the aesthetic world that he was immersed in, Döring displays some legendary characters in completely new situations and backgrounds. Presenting some of his newest work, Hegemann Galerie in Munich organizes a Jörg Döring solo exhibition under the name Pop Stories.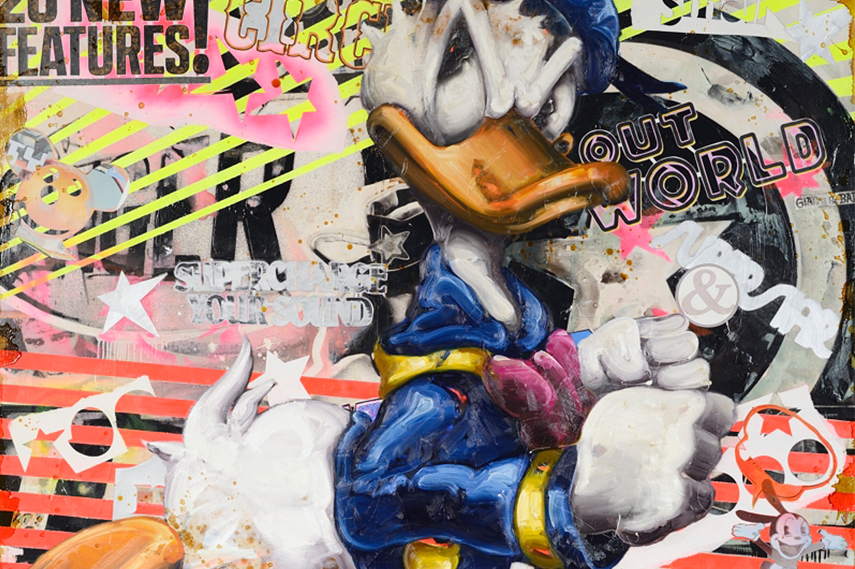 Surrounded by Heroes
Born in 1965 in Essen, a city in the middle-west part of Germany, Jörg Döring displayed an early interest in art. In 1986 the first professional studio opens up in Essen, and two years later his work is displayed in the form of regional exhibitions. Starting out as a graphic designer, Döring collected comic strips out of the 1950s, Polaroid pictures from the 80s, old drawings and abstract oil paintings in order to tell a different story of some of his favorite iconic characters and heroes like Mickey Mouse, Popeye, Donald Duck and others. Practicing oil paintings which are a constant in his work, he utilized the technique of silk-screening in the 90s and has devoted himself to intensively working on collages in conjunction with oil paintings in the past several years. Within three decades of work, Jörg Döring has developed an independent image of himself as an artist, creating a collection of visually enjoyable and meaningfully deep pieces.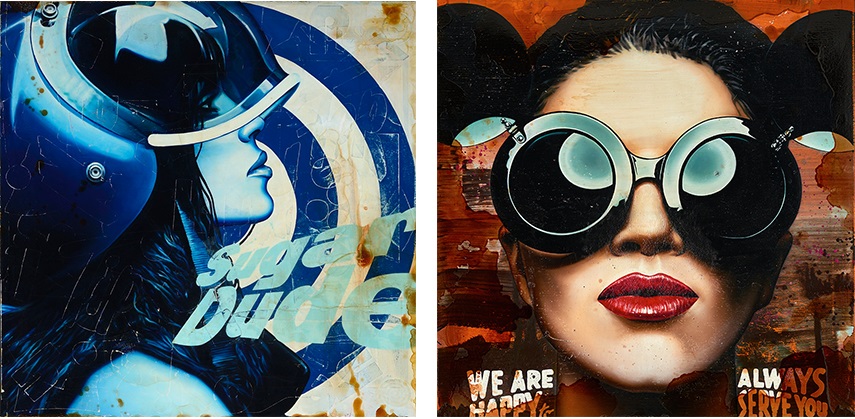 Old Stories Told Anew
Through his creative development as an artist, Döring has used a complex mixture of materials and technology, interchanging between some original features that are carried throughout and many new aspects that were added, putting his work in constant transformation. Remaining in the core of his pieces are the aesthetically alluring worlds of pop icons, both fictional and real. Continually creating new stories out of old and well known characters, Jörg Döring's newest line of work includes characters like Superman, Wonder Woman and Donald Duck. Producing never before told fantasies of acclaimed personas, he combines collage elements with silk screen printing and paintings in many layers, enacting visually captivating tales within the canvas.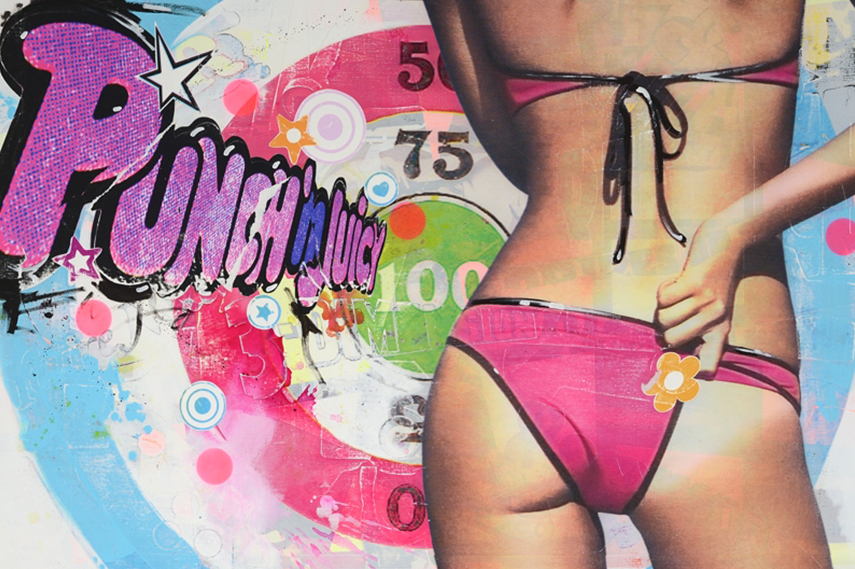 Jorg Doring Exhibition at Galerie Hegemann in Munich
Influenced by pop art artists like Warhol, Indiana and Lichtenstein, Jörg Döring uses a mixture of techniques to tell fascinating tales in aesthetically enticing way. Working as a freelancer, the most famous German pop art artist has had his pieces represented at more than 40 galleries in Europe and North America in more than 250 exhibitions. Displaying his newest artwork, the Pop Stories exhibition held at Hegenamm Galerie in Munich will open on January 22nd at 6 PM, and last until March 5th, 2016. Döring himself will attend the event during the opening night, presenting a great selection of his unique works.
Featured images: Jorg Doring - Around the World (detail), 2015; Jorg Doring - Seen S (detail), 2015. Images courtesy of Hegemann Galerie. All images used for demonstrative purposes only.