A French noble, painter, pastelist, miniaturist, and engraver, Joseph Ducreux was a successful portrait artist at the court of Louis XVI of France. He survived the French revolution and worked alongside painters like Élisabeth Vigée Le Brun and Jacques-Louis David.
However, Ducreux is most memorable for his unusual portraits and self-portraits that bring an immediacy and humor to the laborious process of oil painting. Exhibiting strong influences of naturalism, his works are characterized by the artist's ability to capture a specific facial expression or emotional state. By combining an expressly physiognomic perspective with a self-portrait, his work has laid the foundation for new directions in portraiture.
Interestingly, Ducreux's portraits have been given a new lease of life in the last 10 years, due to the phenomenon of the internet meme. Thanks to the users of Reddit and Tumblr, these portrait paintings have found their way into popular culture, putting an archaic spin on popular (rap) lyrics.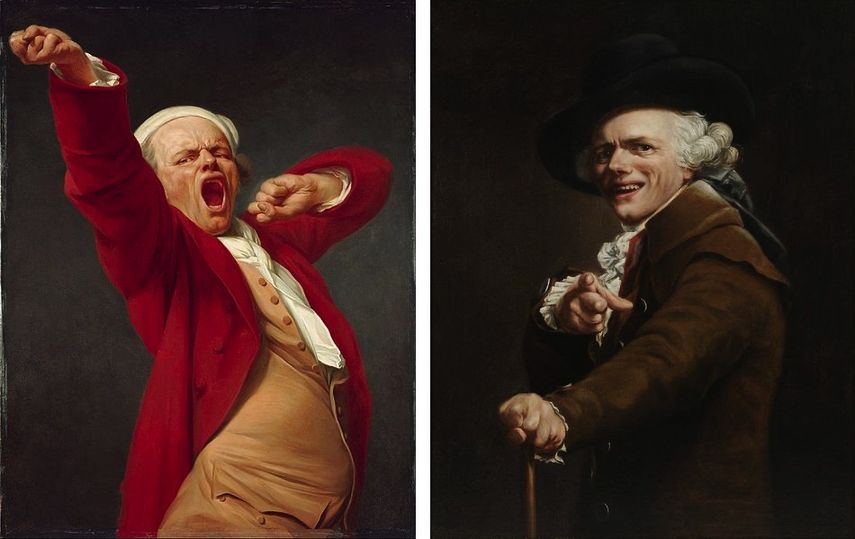 The Practice of Joseph Ducreux
Born in Nancy, France, Joseph Ducreux (1735 – 1802) artistically trained with his father, who was also a painter. After moving to Paris in 1760, he was the only student of the pastelist Maurice Quentin de La Tour who specialized in portraiture. His oil technique was also largely influenced by Jean-Baptiste Greuz.
Ducreux painted his first portraits of Marie Antoinette at age 34, before she married Louis XVI of France, and soon became a baron and the First Painter to the Queen in rewards for his services. At the outbreak of the French Revolution, he traveled to London and drew the last portrait ever made of Louis XVI before the king's execution.
After the turmoil of the revolution, the French artist re-established his portrait practice in Paris thanks to his friendship with the painter Jacques-Louis David. He was getting commissions from a range of artists and musicians to create their portraits. These unusual, expressive oil portraits were met with both praise and scorn, but regardless garnered a great deal of notoriety, which, in turn, increased the demand for additional works of this sort.
In his portraits and self-portraits, Ducreux sought to capture a range of facial expressions that we can see every day, on people in general. He was greatly interested in physiognomy, the belief that people can be judged by their appearance, which can more generally be indicative of the favorite scientific theme of the Enlightenment. Departing from the formal and serious nature of traditional portraiture, his works depicted wry grins and comical expressions, pushing the medium into the new directions.
One of his famous works is Surprise mixte with Terror, depicting Ducreux himself permeated with exaggerated surprise mixed with terror, as shown in his large eyes, gaping mouth and dramatically extended right hand. Titled after emotions, all of these works were intended to focus on physiognomy as a phenomenon, in itself.
Another famous piece is Self-portrait of the Artist in the Guise of a Mockingbird from 1793, showing the artist with a cane, haughty smirk, and a finger pointing towards the observer. It was this sassy portrait that won Ducreux a second life, revealing the artist's timeless playfulness and desire to experiment.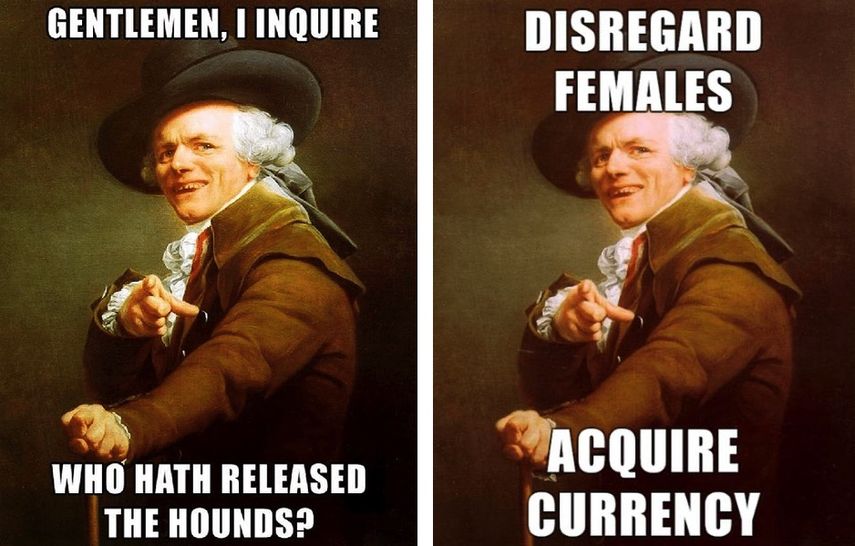 The Joseph Ducreux Meme
Since the dawn of the internet, sharing humorous content has been one of its salient purposes. A central unit through which the entertainment is currently being distributed online is the internet meme – a small piece of digital popular culture that is used to convey a variety of purposes ranging from harmless joking to political messaging. In the last ten years, classical art meme mania has exploded, concentrates solely on sharing whimsically reworked pieces of fine art from the Classical period. A Facebook page called Classical Art Memes has become an internet phenomenon with over two million followers and thousands of user comments every day.
It was in 2009 that Self-portrait of the Artist in the Guise of a Mockingbird first penetrated into popular culture when someone archaically rewrote rap lyrics across it. The simple lyrics from Notorious B.I.G's 1995 song Get Money - "Fuck bitches, get money", were applied to the painting as "Disregard Females, Acquire Currency". The meme exploded from there, with a range of internet dwellers superimposing antiquated translation of a range of rap songs lyrics, including "Who let the dogs out?" in the form of "Gentlemen, I inquire, who hath released the hounds?" or "Don't hate the player, hate the game" translated to "Do not despise the racketeer, instead, despise his sport". In 2013, this meme came in first place in the Tournament of Memes hosted by Reddit.
One of the main reasons the Joseph Ducreux meme became so popular is that it had the added fun of deciphering the lyrics. Creating and understanding this meme became a modern-day crossword puzzle - first, a person would have to locate a song or quote of interest, then properly translate it, and, lastly, the observer must decode the ancient terminology to the accurate song or quote in which the meme depicts.
The theme of this meme has been revamped to countless variations over the past few years, showing its great flexibility. These include photoshopping a photo of Steve Buscemi's face over that of Ducreux or the faces of different animals over that of Joseph Ducreux. There is also a variation employing a second painting by Ducreux, a self-portrait of the artist yawning. This meme also turned into merchandise such as figurines, t-shirts, infant attire and much more. It has also drawn more people to the museums to see the original portraits of Ducreux and take a photo next to it.
If you would like to try yourself at making your own Joseph Ducreux meme, be sure to visit one of the most popular meme generators.
Featured image: Joseph Ducreux - Self-portrait of the Artist in the Guise of a Mockingbird (detail), ca. 1793; Joseph Ducreux memes. All images Creative Commons.