We could not name any artist who has been so interested in relationship between the language and reality other than Joseph Kosuth. In other words, Kosuth went so deep in questioning the position of language within gigantic art apparatus, that almost whole his oeuvre is based on this never-ending research. Of course, the famous conceptual artist has always been interested in other issues as well; but, one thing remains a constant in his art – questioning the nature of art. Being one of the most prominent figures of the conceptual art movement, Kosuth is also well-known for his use of neon lights; however, neon isn't a means for flashy spectacle, but a serious instrument for conveying deep philosophical ideas. Sean Kelly gallery organized Joseph Kosuth exhibition, that was entitled Agnosia, an Illuminated Ontology.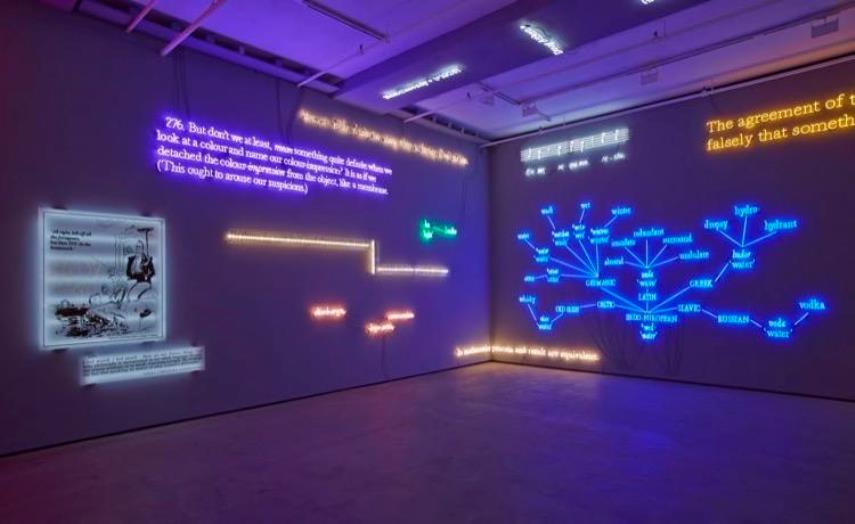 Language, Form and Structure in Art of Joseph Kosuth
Joseph Kosuth is a conceptual art pioneer, an artist that paved the path for the development of this art movement. Kosuth and Sol LeWitt were among the first ones to insist that genuine art is not a unique or valuable physical object created by the physical skill of the artist – like a drawing, painting or sculpture – but instead a concept or an idea. There is no way to understand Kosuth's art without acknowledging the influence of philosophy of Ludwig Wittgenstein to his approach. What is the relationship between words and their meanings and how words relate to the objects and things they name or describe? By the presentation of language that makes his audience contemplate issues of poverty, racism, loneliness, isolation, the meaning of life, and personal identity, Kosuth tries to answer to the question we posed above. Form and structure in Kosuth's art do not refer to the "objects" as final product of artist's practice. No, the artist sucks in the structure and form into an idea or concept – and precisely within the artist's concept, one should try to deconstruct both form and structure in order to understand "the final product" of Kosuth's artworks.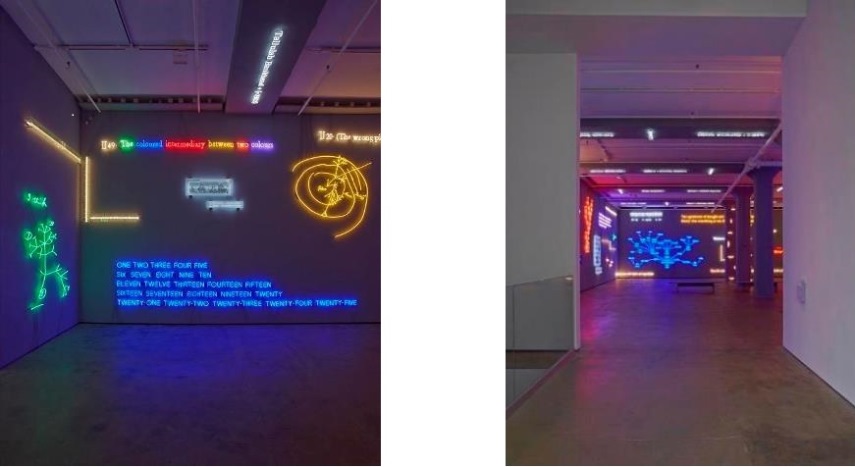 Neon Lights
Sean Kelly Gallery organized an amazing exhibition that could be understood as a huge retrospective of Joseph Kosuth's oeuvre. It's quite luminous exhibition, since around 40 neon works spanning five decades glow with thoughts about art and the nature of thought itself. A number of famous neon works were exhibited, including probably the most famous one: One and Three Chairs from 1965 – a work that asks the question of what constitutes a chair by displaying a chair, a photo of the chair and a printout of the definition of the word "chair" together (work that can be understood as a visual expression of Plato's concept of the Forms).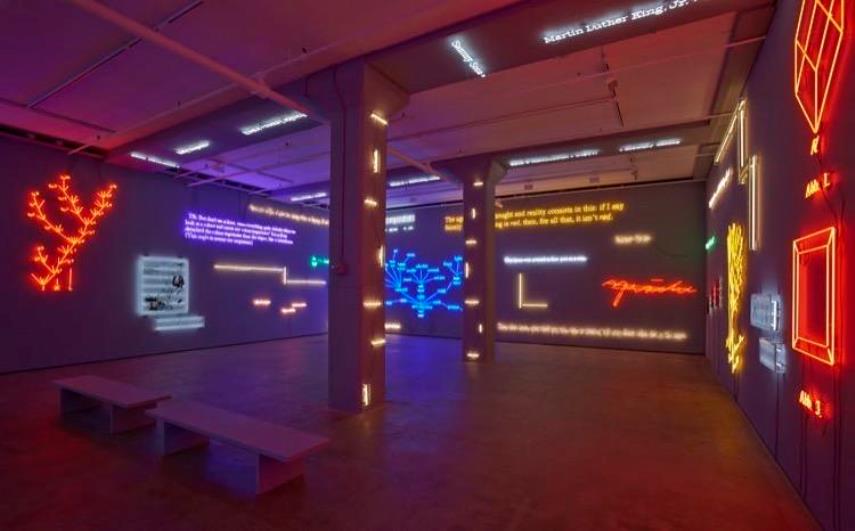 Joseph Kosuth Exhibition at Sean Kelly
Joseph Kosuth Exhibition at Sean Kelly was opened on November 7, 2015, and it's on view until December 19, 2015; therefore, you have two more days to visit the show. One of the questions that has been posed throughout the exhibition is: How to sell Kosuth's artworks? Sean Kelly, whose gallery is selling the ideas in Mr. Kosuth's show for prices ranging between $40,000 and $500,000, explained it perfectly in an interview with The Wall Street Journal: I've been trying to explain this to people for 20 years. It was very hard to get across to people who felt they were spending a lot of money and not getting something for it. That's not the case. Even if you are not planning to buy Kosuth's works (ideas), the show at Sean Kelly Gallery in New York is a must-see event. Let us not forget that Joseph Kosuth is one of the most influential contemporary artists.
We would like to hear you opinion! Please comment on our Facebook Page!
Featured Images: Joseph Kosuth's art on display at Sean Kelly Gallery in Manhattan's Chelsea neighborhood. PHOTO ANDREW LAMBERSON FOR THE WALL STREET JOURNAL. Images via wsj.com