Two months ago we wrote about Joseph Loughborough's exhibition entitled In the Cave We Dance, which showcased the artists newest body of work at Anno Domini Gallery in California. Envisioned as reflection of Plato's famous Cave parable, these pieces radiate their own strong rendition of the fable's meaning. Many of Joseph Loughborough's work carrie the same visual narrative. Being predominantly dark, with a disturbing vibe, his pieces often tell the story of puzzling inner structure of the person's soul. If you are a fan of Loughborough's work you will be pleased to know that the artist will release a silkscreen print right in time for Christmas.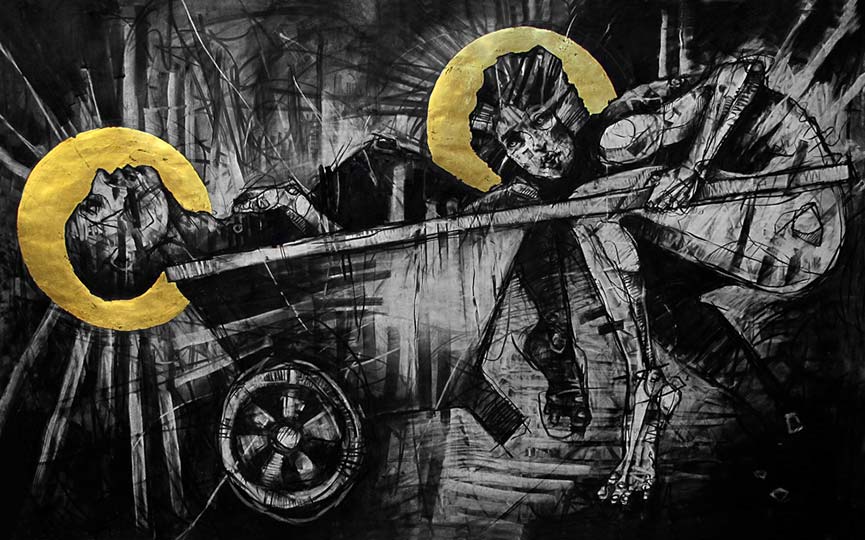 Lore
Following his July's print release of The Mountain, Joseph Loughborough is presenting us with his new hand-made piece of art, entitled Lore. It is a Giclee Print on 305gsm Hahnemühle Photorag, with gold-leaf hand finishing and it comes signed and numbered in an edition of 20. The price of each print is only £75 and it is available for purchase in his Editions and Print store. Lore is actually the painting called Women With White Hair and is surely one of Joseph's most influential pieces.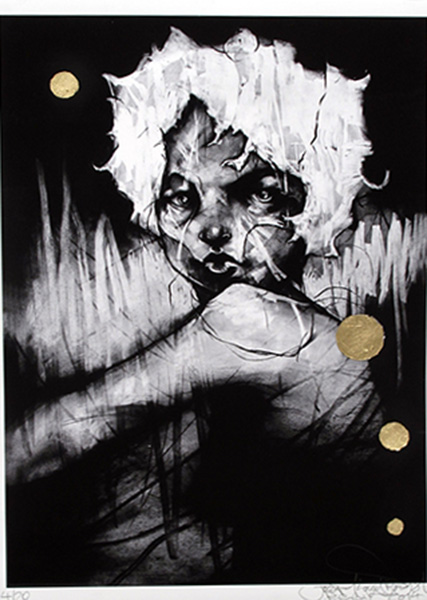 Loughborough's Style
There is lot to say about Joseph Loughborough's creative process and style. He combines gold with charcoal that function as a perfect opposite to encapsulate and enhance the metallic glint. Gold and charcoal work together as paradox, because they symbolize different values: the opulent and the humble. Such juxtaposition serves as reflection to the ambivalent and ambiguous nature of human condition that Loughborough often tries to depict in his works. Joseph draws inspiration from various themes concerned with the Camus/Kierkegaard's notion of "Absurdity". Each drawing becomes a story pursuing a standing point within the concept.
Paper works
Alongside Lore Joseph Loughborough has another series of works available with a gallery from France working specifically with works on paper. These works also represent pieces of the artists larger narrative. Ten of these pieces are ready for delivery and if you are interested and want to find out more about them - click here.
If you are a fan of Joseph Loughborough's work and you would like to be updated with his upcoming exhibitions and print releases, sign up for My Widewalls today!