A prominent photograffeur, TED Prize winner, Oscar nominee and one of Time's 100 most influential people of 2018, JR merges photography and street art, creating works charged with emotion and tackling heavy social issues. Plastering giant, monochrome photographs in urban centers, he aims to tell stories of the marginalized and voiceless.
The Brooklyn Museum presents the largest solo museum exhibition to date of this prominent French artist, featuring some of his most iconic projects from the past fifteen years. Titled JR: Chronicles, the exhibition highlights JR's use of art to foster conversations and collaborations with communities around the globe. In addition, the show will premier JR's new monumental mural, The Chronicles of New York City, which features more than 1,000 people who were photographed and interviewed in New York City during summer 2018.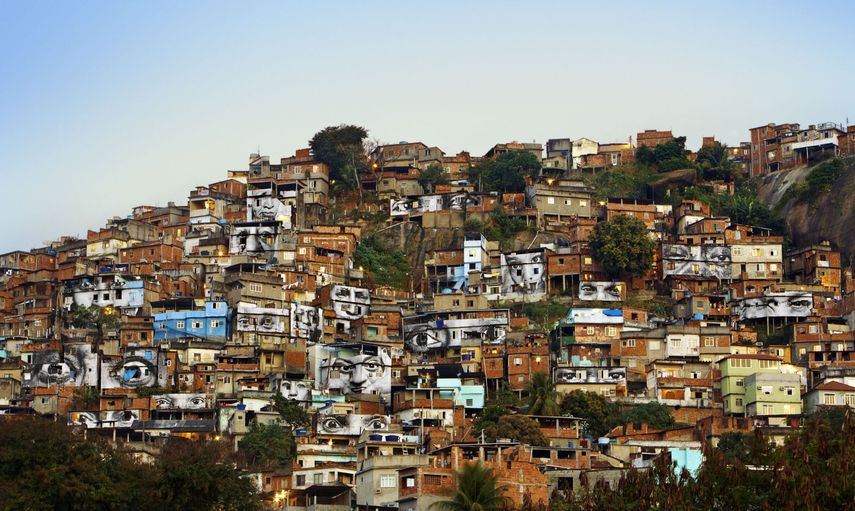 The Practice of JR
Using the streets around the world as his canvas, JR aims to catch the attention of people who are not typical museum visitors. After finding a camera in the Paris metro in 2001, he began traveling around Europe to meet those who express themselves on walls and facades and pasted their portraits in public spaces. From there, he continued his artistic journey, always seeking to bring together diverse groups of participants and create dialogue around critical social issues, from women's rights to immigration to gun control.
Traveling the world, JR photographs individual members of different communities, wheat pasting their images at a monumental scale usually reserved for advertisements featuring models, celebrities, and politicians. Unguarded, funny, soulful, and real, these portraits capture the spirits of individuals who normally go unseen. His work has touched thousands of city inhabitants, often displaying culture, history, and memory for a particular location. Not only does he infiltrate communities, but he also befriends and engages the inhabitants as models or collaborators. Always adapting to architecture, his images take over buildings, with the buildings almost becoming too small. As he once explained in an interview, his artworks are often "a trick to connect two sides of a city that wouldn't normally connect."
Drew Sawyer, one of the exhibition curators, said that JR had emerged as one of the most powerful storytellers of our time:
Working at the intersections of photography, social engagement, and street art, his collaborative public projects have allowed participants to choose how they would like to be represented in both their communities and the global media.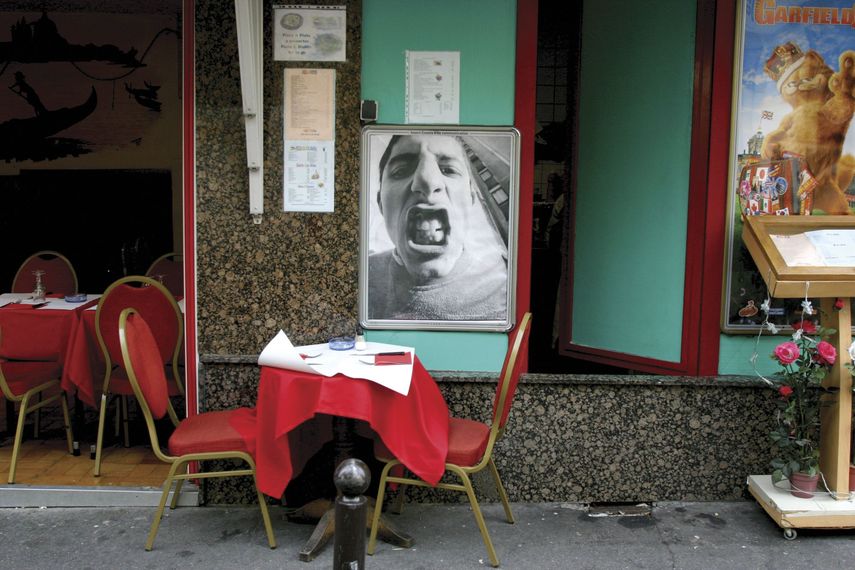 Works on View
This major exhibition at the Brooklyn Museum will trace the entirety of JR's career by bringing together photographs, dioramas, films, and documentation of the artist's installations.
The first section of the exhibition charts the artist's artistic evolution, focusing on his commitment to community, collaboration, and civic discourse. Here, the audience will have an opportunity to see major photographic projects, such as Expo 2 Rue (2001–4), where he documented and pasted photocopies of his community of graffiti artists in action on the street; Portrait of a Generation (2004–6), featuring portraits of young people from Les Bosquets, a housing project in the Parisian suburb of Montfermeil that became a central location for countrywide riots in 2005 amid rising socioeconomic and police tensions, which have been pasted throughout both Montfermeil and Paris.
The exhibition will also present major international projects, including Face 2 Face (2007), featuring giant portrait diptychs of Israelis and Palestinians, pairs of people who lived on opposite sides of the wall yet held the same job, pasted on either side of the separation wall and in several surrounding towns; Women Are Heroes (2008–9), honoring the contributions of women to public life by installing large-scale images of their eyes and faces in their communities; Inside Out (2011–ongoing), a global participatory art project that enables individuals to take and share their own portraits; The Gun Chronicles: A Story of America (2018), a video mural that visualizes the complex spectrum of views on guns in the United States; among others.
The exhibition will also debut a new monumental work, The Chronicles of New York City, celebrating the voices of extraordinary, unique, and diverse city of New York. Imagining how an entire city can be represented through art, the artist created a collective portrait which tells the unique story of each individual. Roaming through all five boroughs of the city, the French artist and his team would park their 53-foot-long trailer truck in numerous locations and capture photographs of and do interviews with any passersby who wished to participate. The resulting piece features over 1000 people, who were each being able to choose how they wanted to be represented in the final piece.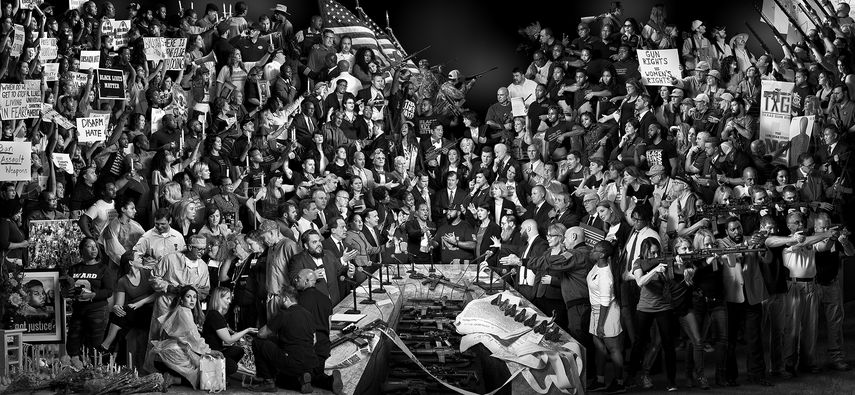 JR Exhibition at The Brooklyn Museum
Through his community-centered compelling practice, JR has managed to re-invent the medium of photography in the twenty-first century. His work managed to both capture the imagination of audiences worldwide and expand the meaning of public art through participatory projects that give visibility and agency to a broad spectrum of people.
JR: Chronicles will be on view at the Brooklyn Museum (Great Hall, 1st Floor) in New York from October 4th, 2019 until October 18th, 2020.
The exhibition is curated by Sharon Matt Atkins, Director of Exhibitions and Strategic Initiatives, and Drew Sawyer, Phillip Leonian and Edith Rosenbaum Leonian Curator, Photography, Brooklyn Museum.
Featured image: JR - The Gun Chronicles, 2018. Installation view, La Maison Européenne de la Photographie. Video, black and white, sound; 4 min. loop. (Photo: Claire Dome, Courtesy Perrotin); The Chronicles of New York City, 2018–19 (detail); 28 Millimeters, Women Are Heroes, Bus in Sierra-Leone, Bo City, Sierra Leone, 2008. Color lithograph; 28 Millimètres, Women Are Heroes, Exhibition in Paris, Pont Louis-Philippe–Pont Marie Side by Night, with Barge, France, 2009. Color lithograph; Migrants, Mayra, Picnic across the Border, Tecate, Mexico—U.S.A., 2017. Installation image. Wheat-pasted poster on table; 28 Millimètres, Portrait d'une génération- Araba, 2004. Installation Image. Wheat-pasted poster on building. Gelatin silver photograph; 28 Millimeters, Women Are Heroes, Action in Jaipur, Holi Fest, India, 2009. Color lithograph; 28 Millimeters, Portrait d'une generation- Byron, Paris, 20ème arrondissement, 2004. Installation image. Wheat-pasted posters on building. All images © JR-ART.NET, courtesy The Brooklyn Museum.