Baden Baden is the next place where the acclaimed French photographer and street artist JR will present his work. Hosted at Museum Frieder Burda, the JR show will be a kind of a retrospective, focusing on several projects by the artist from the past few years, some of which are still ongoing. The projects include: Face 2 Face, Women are Heroes, Wrinkles of the City and UNFRAMED. Face 2 Face and Wrinkles in the City - Berlin will be presented through an extensive photographic documentation and videos made by the artist, Inside Out is an ongoing global project, featured in Baden Baden through its Photobooth section, that was recently featured in Dallas. Finally, the UNFRAMED will include the town of Baden Baden, referencing German and French history of the town with an emphasis on the friendship of two peoples.
JR will be on view from Saturday, March 1 through June 29, 2014.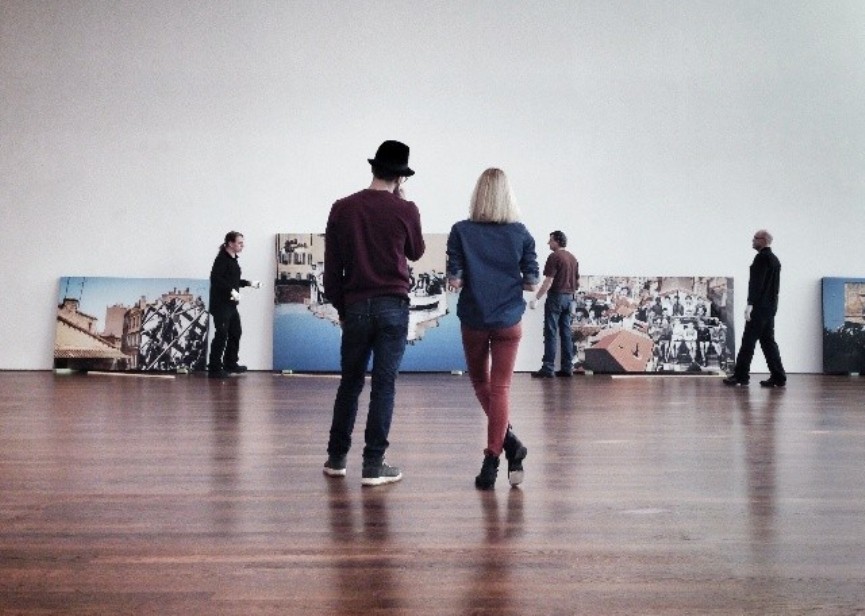 JR's Street Art in Baden Baden
Face 2 Face project was executed in 2007, when JR photographed faces of Israelis and Palestinians and then pasted these close-ups along the West Bank barrier, making a strong anti-war message.
Wrinkles of the City is a project where JR captures his encounters with elderly inhabitants of the big cities that have changed drastically since the end of World War I. The relationship of these old faces and the city architecture now divided into portions by many historical marks was made through large format posters pasted on buildings, showing off the wrinkles and creases in human and urban faces alike. Traces of time and life's footprints that are firmly related to the history of the city will be showcased in Baden Baden, presenting the wrinkles of one of the major centers of world history - Berlin.
Unframed is the project initiated in 2010, focused on reimagination of private or archived photographs by placing them into an entirely new environment and context. These large collages are pasted onto buildings, giving the portrayed scenes a spirited twist. Unframed will embellish the classic face of Baden Baden, while addressing the restoration of friendly relations between Germany and France.
JR's exhibition at Baden Baden promises to cover the crucial points in the artist's dynamic career and to readdress some of the seminal issues he handles throughout his work. Perhaps he cannot change the world through his art, but he can certainly affect our outlook on things, reminding us that all people are the same and making us just a bit more friendly and open.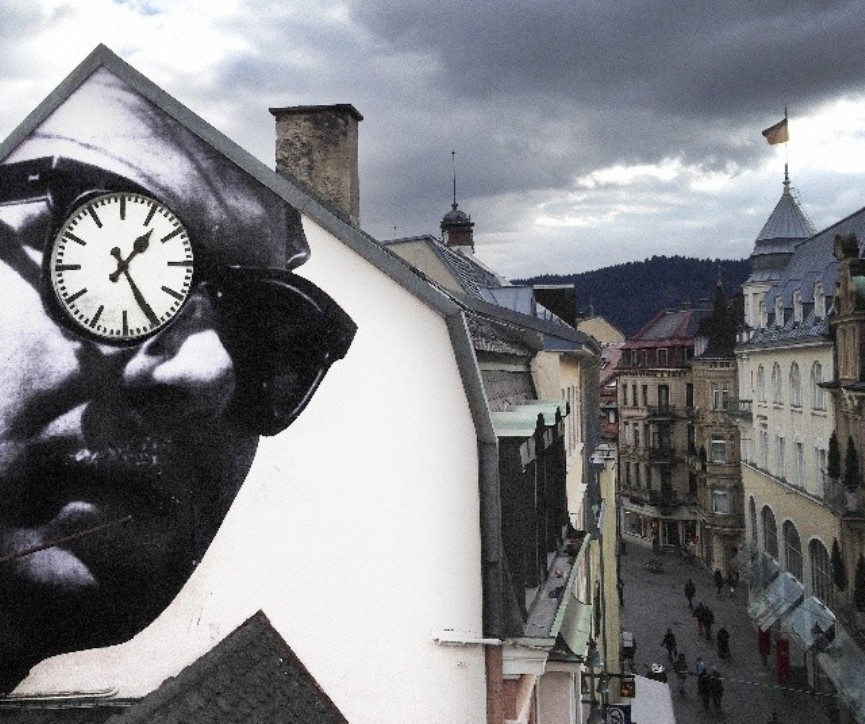 About JR
The French photographer JR is constantly proving himself an important figure in contemporary art. He is based in Paris, but his worldwide projects have brought him international acclaim. We have already reported on his recent projects in New York City Ballet, or the Inside Out in Dallas, but the show in Baden Baden has a distinctive retrospective tone which will once again point out that the social and political questions he tackles so humanely never get old.