The development of feminist practices unquestionably was made possible by fierce women who had an urge to change the society and question omnipresent patriarchal codes. The movement was large and it spread rapidly during the 1970s and it encompassed an array of different perspectives.
Since the feminist art production was inseparable from the theory, a number of women have released immensely political oeuvres, and Judy Chicago was one of them.
At the Pasadena Museum of California Art, an important exhibition focused on the artists' Birth Project is installed, and it tends to reevaluate this project and the agenda of female empowerment in accordance to the contemporary context.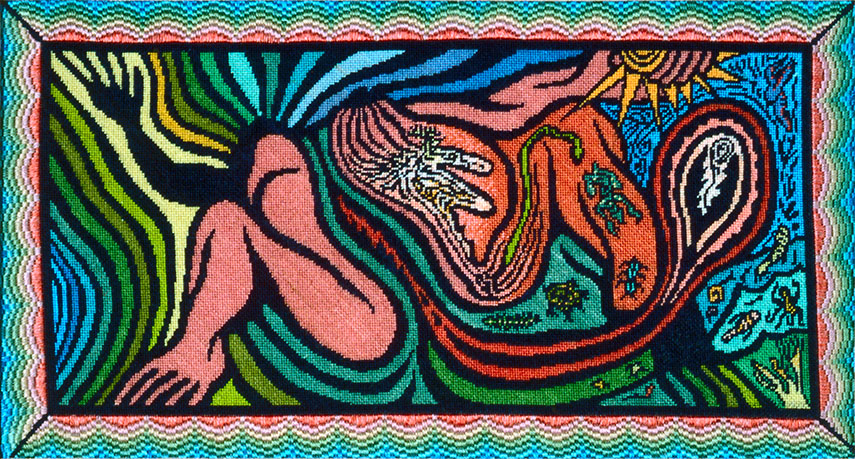 The Miracle of Birth
For more than 40 years, Judy Chicago has been critically articulating the subjects of female sexuality and identity by introducing new critical models and approaches in both theory and practice. The artists is best known for her work The Dinner party, and her practice plays an essential role in the context of woman empowerment and emancipation.
Chicago worked on the Birth Project from 1980 to 1985 with a group of one hundred and fifty female needle-workers from the States, Canada, and New Zealand; they have produced a total of eighty-four works in different techniques, such as quilting, macrame, and embroidery, which depict peculiar compositions based on the critical examination of motherhood, maternity, femaleness, and gender.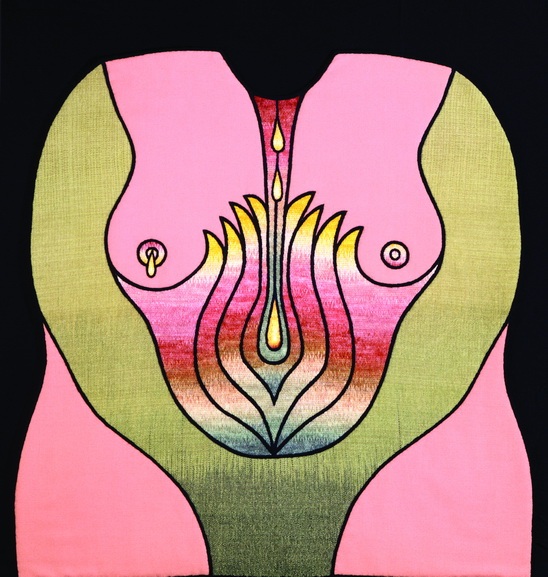 About The Works
As the title suggests, the works portray birth as a physical reality in a graphic and simplistic manner in order to celebrate a woman's role as a mother. During the process, Chicago provided under-paintings, cartons, drawings, color specifications, and written directions for the transformation of her images. Nevertheless, each woman involved in the project has been properly attributed for her involvement.
Chicago's urge to create such a participative project was associated with the lack of imagery and representation of birth in the art world. By redefining the terms art and craft, and by focusing on the women collective, Chicago has managed to make a historical parallel with the long-term female practices and knowledge production.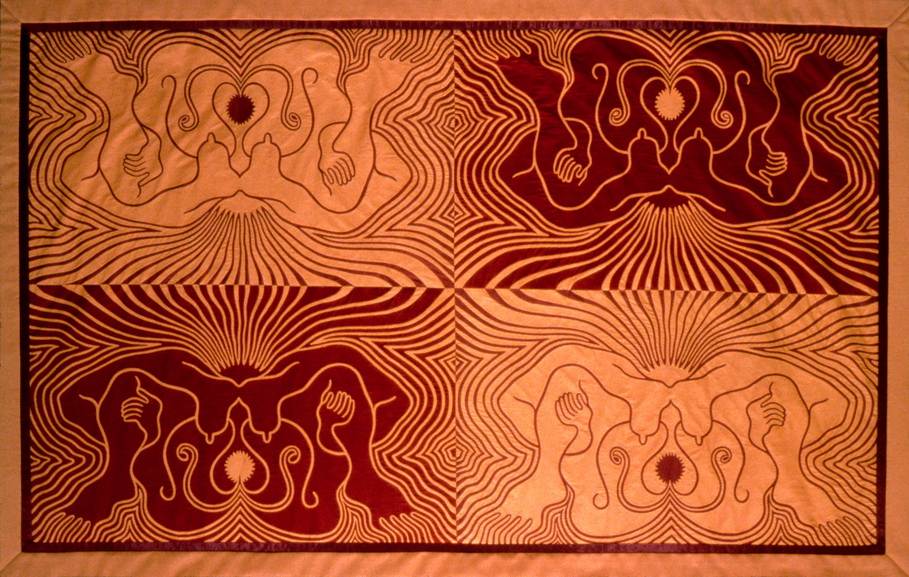 Judy Chicago at Pasadena Museum of California Art
Although this is a historical artwork made in a specific context, it is of great importance to reveal it again by having in mind all the social circumstances surrounding the position of woman in the present time. A renewed interest in maternal and female bodies is an effect of increasing conservatism, and that is why the Birth Project is in accordance with contemporaneity.
Under the curatorial concept of Viki D. Thompson Wylder, who is a Judy Chicago scholar, this exhibition offers a rare opportunity to revisit the project thirty-years later.
Judy Chicago's Birth Project: Born Again will be on display at Pasadena Museum of California Art in Pasadena, California, until 7 October 2018.
Featured image: Judy Chicago - The Crowning NP 3, 1983. Needlepoint over painting on mesh canvas, 35 1/2 x 51 1/2 inches. Hand painting assistance by Lynda Healy; needlepoint by Kathryn Haas Alexander. Collection of the Florida State University Museum of Fine Arts. All images courtesy the Pasadena Museum of California Art.