Every revolution has its place in history, and if successful, there comes a time when it is no longer needed in its original form. Feminist art was something close to a revolution, but have its goals been accomplished yet? We talked to Judy Chicago, whose "The Dinner Party" is almost as iconic as her own name in the history of feminism, and tried to touch upon this subject. Feminist art could be said to be in a paradoxical situation today - although the movement served its purpose well in the past, the contemporary context is starting to cast a slightly different light on it. Is it still necessary for feminism in art to exist in its radical form? Does the emphasis put on 'women artists' make them even greater outsiders? Are there still more men than women artists, and are we still counting? These questions shouldn't be regarded as anything other than natural, having the controversial essence of the entire movement in mind. Ever since the day the term was coined – and by Ms. Judy Chicago herself –  it was clear that art enveloped by feminism was not going to be pretty, at least not primarily; and that it would have this outspoken, debatable tone instead. Feminist art made the world think, even if negatively, in a time when having a forthright opinion was just a little bit harder than today. It asked the world a question: Why Have There Been No Great Women Artists? (which is the title of an essay written by the American art historian Linda Nochlin in 1971) - and the world is still struggling to answer it.
Why Have There Been No Great Women Artists?
It should be clear why there have been no great women artists earlier in the past, given that women were not educated to become artists in the time when some of the "greatest" art was created (the Renaissance). We can be angry with history, but we certainly cannot change it, we can only make new one, better one. However, that still doesn't explain why there were no (many) great female artists in the modern times, for example. "From the time I was a child, I wanted to be an artist and started studying at the Art Institute of Chicago when I was five. After my art classes, I wandered the galleries and was particularly enamored of Monet's haystacks, Seurat's pointilist color and Toulouse-Lautrec's use of reds to lead the viewer's eyes around the canvas. At that time, I did not notice that most of the work on display was by men and it was their work that inspired my ambitions which involved making a contribution to art history. It would be years later that I discovered that my gender was often a handicap in achieving this goal."
There is a point in saying that women had been more of an "object" in art, their bodies often being the subject matter that is (although if you take Michelangelo's sculptures into consideration, you'll find that there aren't many females among them either). Feminists regarded this issue through various forms of expression, often by claiming their integrity, reinventing their sexuality, or by creating sort of 'genderless' art which does not give away an impression that it was made either by a woman or a man. There was enough quilting and embroidering and it was time to demonstrate a side in women that the world was not fully aware of.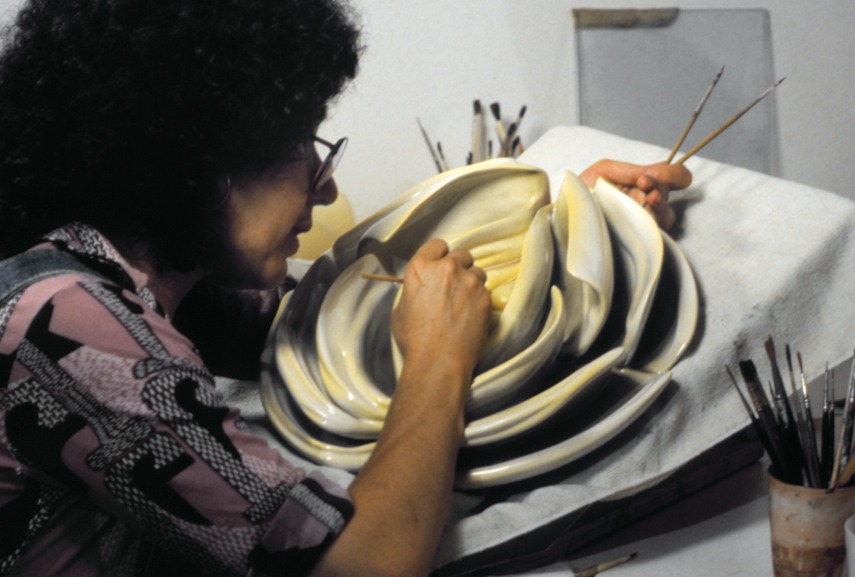 The Feminist Art Program
The creative output of Judy Chicago has been important to many thinkers and theoreticians, especially the aforementioned work of art – The Dinner Party. The legendary installation did not only bring the world up on its feet at that time, in the late seventies. It was also a major trigger that helped art progress, in a time when the double-edged use of women in popular culture was promoted by Pop Art, which we now perceive as a male-dominated movement - and that is also a false conception, based on the selective course of history. In order to put an end on this continuous "reinvention of the wheel" as she calls it herself, or simply, to stop the effacement of women's achievements throughout history, Judy Chicago established a women-only Feminist Art program, at California Institute of Arts in the 1970s. But the idea for the program was actually a result of her practice: "When I set out to create a feminist art practice and develop the first feminist art program in Fresno, California (which I then brought to the California Institute of the Arts or Cal Arts), Gender Studies did not yet exist and there were only a few women's studies classes. So, feminist art theory grew out of art practice. Unfortunately, for a while it became misguided and attacked the art of the 1970's which was an early attempt to create a positive, female-centered iconography to counter the omnipresent male-centered images of women that dominate art history".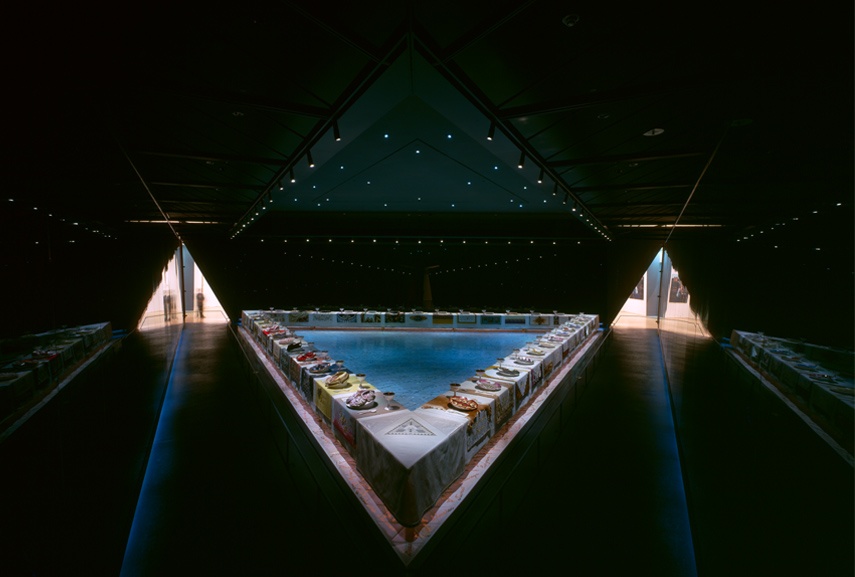 The Dinner Party
The Dinner Party was one of those heroic attempts to create the female-centered iconography. Chicago has made the piece as a multi-layered composition which celebrates the liberty, sexuality and identity of an independent woman, at each level of its manifestation. The triangle-shaped table pays tribute to 39 women who have played immense roles in history, made so that each side of the triangle honors 13 women. Therefore, the table displays 39 settings, each of which consists of a table runner, embroidered with the woman's name, a napkin, a glass and a plate. All of the plates are decorated by a painted relief or a sculpture, most of which are suggestive of a vulva - and this is only the beginning of all symbolism. We can search for the symbolic meaning in the very shape of the table, in the fact that embroidery and china painting were long considered a feminine "thing", a craft (as opposed to the male-dominated high art), even in the idea that we are invited to a dinner party, which (as expected) is served by a woman, but she doesn't prepare any actual meals, and feeds us with some food for thought instead.
However the amount of attention that followed the piece was somewhat controversial for Chicago herself: "As appreciative as I was of the attention "The Dinner Party" brought me, for a very long time it blocked out all the rest of my work. It was not until 'Pacific Standard Time' in 2011 (the Getty-funded initiative documenting and celebrating southern California art from 1945-1980) that my early work (created in Los Angeles and then, northern California) became known. Until then, even though I was the only woman taken seriously in the L.A. art scene, my participation was being erased. This changed dramatically because of 'PST' which ushered in this recent period when work across my career is finally becoming known. However, I have created a prodigious body of art and even with all these recent exhibitions in the U.S. and Europe, my overall career has only been glimpsed. I have never had a real retrospective, which would require the support of a major museum, something that few women artists have achieved".
Still, in terms of historical significance, one of the best things related to The Dinner Party and the reason why it was so important is that it has caused a lot of various reactions, some of which were affirmative, some of which were critical, but ultimately all of them have helped the story get huge. Consequently, a bunch of other questions were raised - why was the reference to particular artists executed in one way or another (Mauleen Mullarkey on the way Georgia O'Keeffe, Virginia Woolf and Emily Dickinson were supposedly represented untruthfully), why was there, allegedly, a different treatment when it comes to colored women (remarked by Alice Walker who noticed how the plate setting of Sojourner Truth was one of the few that did not resemble a vulva-esque shape), etc. Even if these comments were critical and fundamentally negative, they have helped emphasize the intent behind the piece - and that is to raise awareness on women in art. This ability to attract attention could be the ultimate layer which surrounds the piece, and remains present to this day.
Not Only Women are Gendered, not only the Gender Issue makes the World Crooked
Feminist art movement has, indeed, done a lot for both women and art, in the time of its conception and realization, as well as in terms of re-directing the future of art as we know it. Still, some of its forms have caused a few rather odd consequences and side effects to emerge. Due to the somewhat rebellious attitude, which renders feminists as a particular sort of women - even though it is clear that they are not all the same, the endeavor is sometimes misinterpreted as an attempt to recreate men's behavior. Consequently, these misconceptions take on the matter of comparison itself - why would anyone compare art created by a woman to art created by a man, if the whole point is to reach the equilibrium in which there are no gender-based differences? This suggests that there is a risk that, at some point, art can start sending the wrong message, and turn out to have a completely opposite result than the one expected, perhaps even unintentionally giving male artists more credit.
However, art is still a male dominated area, which means that we are not done yet, and that feminism is probably going to go through a lot of different phases. Chicago mentions a few younger people currently engaged in feminist issue, among them Jonathan David Katz, who is dealing with the issue of masculinity which will, hopefully, "help us understand how the construction of masculinity impacts and distorts male personality" and "move towards a more enlightened and equitable world". But what is even more important, Judy Chicago, now in her more mature years, explains how feminism could only be a starting point from which to observe the manifold of problems related to the imbalanced state of the world. "When I was a young artist, I was focused on issues of female identity, female sexuality and what it means (and has meant) to be a woman; hence, my work of the 1970's (like "The Dinner Party") and the early 1980's (the "Birth Project"). After fifteen years of immersion in an exploration of these issues, I turned my attention to the construct of masculinity (in "PowerPlay" at a time when the notion of gender seemed to be limited to women as if only women are gendered). Then - with my husband, photographer Donald Woodman - I focused on the subject of the Holocaust and what it means to be Jewish in a post-Holocaust world, a project that occupied us for 8 years (the "Holocaust Project: From Darkness into Light"). It was during those years that I began to understand women's oppression as part of a global system of injustice and oppression. Since then, my work has explored a variety of issues from a feminist perspective which provides a critical lens for seeing and understanding the world."
Editors' Tip: Sexual Politics: Judy Chicago's Dinner Party in Feminist Art History by Amelia Jones
The book was published in 1996, not long before The Dinner Party was re-opened in Los Angeles (which was many years after its inauguration in 1979, but also its debut appearance in LA). This reemergence was particularly significant, because it exemplified a renewed interest in this controversial cultural monument. The book consists of essays which provide a selection of meaningful insights into the field of the feminist art movement, but it could also be exceptionally interesting now, 20 years later, as we reflect on both the installation and the whole movement once again.Segments from original interviews with feminists such as Lucy Lippard, Suzanne Lacy, Arlene Raven, and Miriam Schapiro are included, along with a timeline that traces the feminist art movement in relation to other cultural and historical events.
Featured images: Judy Chicago portrait with the Dinner Party, via jewishlouisville.org; Judy Chicago painting in her studio, 1975, Photo courtesy Through the Flower Archive. All images used for illustrative purposes only.