For those who were missing Kanye West's new artistic endeavors, there is good news. The photography exhibition, which opened yesterday at Phillips headquarters in London, features some of the most peculiar photographs of the world's favorite celebrity couple. As some of you may know, Dr. Kanye West and his wife Kim Kardashian collaborated with the renowned photographer Juergen Teller earlier this year and the results of this collaboration are now coming to London. If you don't want to miss out on these weird Kimye shots, then you better start planning your visit, because the exhibition will be on view for ten days only.
Kanye, Juergen & Kim
This spring, Kanye West, Kim Kardashian and the German photographer Juergen Teller went on a holiday to France, and the trio came back with the most bizarre photo book we have seen lately. System magazine published the results of their collaboration in July and perhaps some of you even had the opportunity to check out these photographs. For those who didn't, here is a recap. The photos show the trio's ventures amongst the fields of Château d'Ambleville in the French countryside, including photos of blonde Kim posing in nude-colored bodysuit, Kanye West leaning against a tree, all in black, looking cool as always, and the most interesting part - Juergen Teller hiking in his underwear, puffer jacket, and technicolor shoes. We know that Kanye was responsible for the styling of the couple, but who in the world influenced Juergen Teller's outfit choice. Anyway, we know that Juergen Teller doesn't like to compromise in his work and that Kanye and Kim are not new to controversies, but we have to wonder if this has gone too far.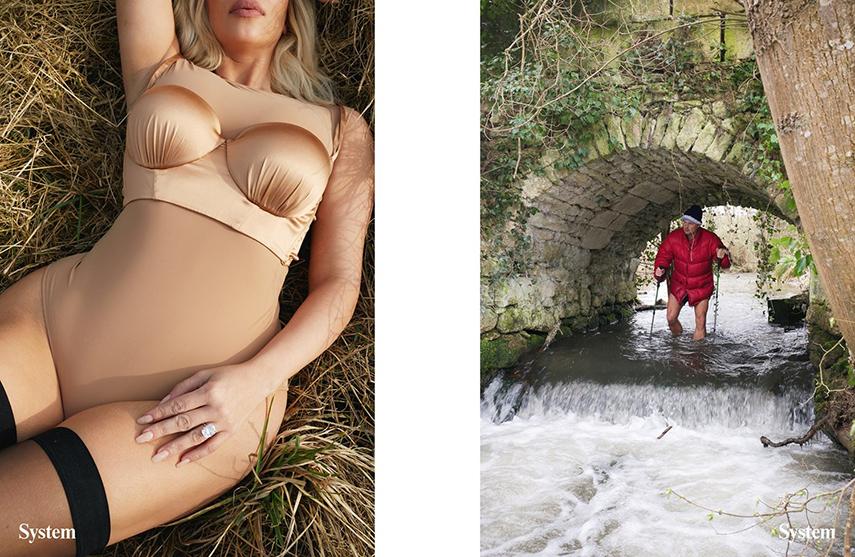 West's Best Collaborations
We all know how Doctor Kanye West likes to collaborate with world's famous artists. And why shouldn't he? He is after all an acclaimed contemporary artist himself and there is nothing strange about it. In the past, he collaborated with George Condo, Takashi Murakami and most recently Steve McQueen for All Day / I Feel Like That music video, but so far, collaboration with Juergen Teller is definitely the most interesting one. As a photographer who doesn't separate his commercial fashion photography works from his fine art images, Juergen Teller's decision to collaborate with these two high-end fashion enthusiasts and art lovers seems quite natural. But we also know that Kimye is not an ordinary couple and stereotypical celebrations of their love in the romantic countryside setting just won't do. Perhaps this is why we see Kim as a chameleon, trying to camouflage herself into the pile of dirt or in the other photos see her posing next to some farm equipment. And just to spice things up, there are those unmotivated and unexplainable photographs of Juergen Teller in what just might be the weirdest clothing combination in history.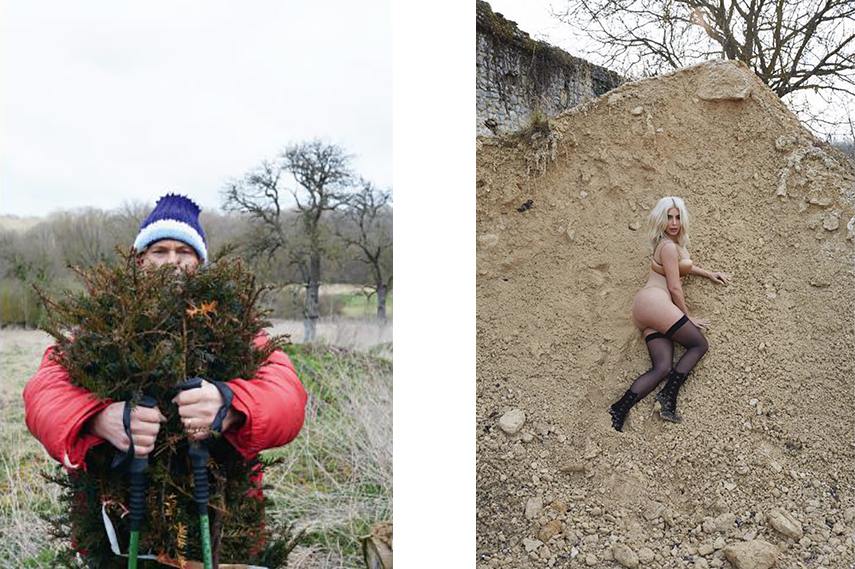 Phillips Exhibition
Anyway, for those who would like to hang these pieces on their walls, Phillips in London has organized a selling exhibition which will be on view through November, 20th, 2015. Except the works from Kanye, Juergen & Kim series, visitors and collectors will also have the opportunity to see other works by the famous photographer like the autobiographical The Clinic series and series entitled My Man Crush, Pep Guardiola. Can these two other series top Teller's collaboration with Kimye? We will see after the exhibition.
Do you enjoy Kanye West's artistic endeavors? Share your thoughts on our Facebook page!
For more bizarre and exciting news from the world of art, sign up for My Widewalls for free!
Featured images:
Kim next to farm equipment via gazeta-shqip.com
Kanye, Juergen & Kim, 2015. Photo via blogsperu.com