French-American artist Jules de Balincourt has his first solo show at the Rochechouart Museum of Contemporary Art in the coming period. The exhibition, titled "Misfit Island", covers his oeuvre from 2003 to now, and will also focus on the artist's studio, the Starr Studio in Brooklyn, where he currently lives and works. For the first time will be displayed a range of material (including leaflets, posters, photos and videos) documenting three years of artists' performances, concerts and shows at Starr Space, a community centre the painter opened in his studio and ran in Brooklyn. Opening of the exhibition is scheduled for tomorrow February 27th and will run until June 8th.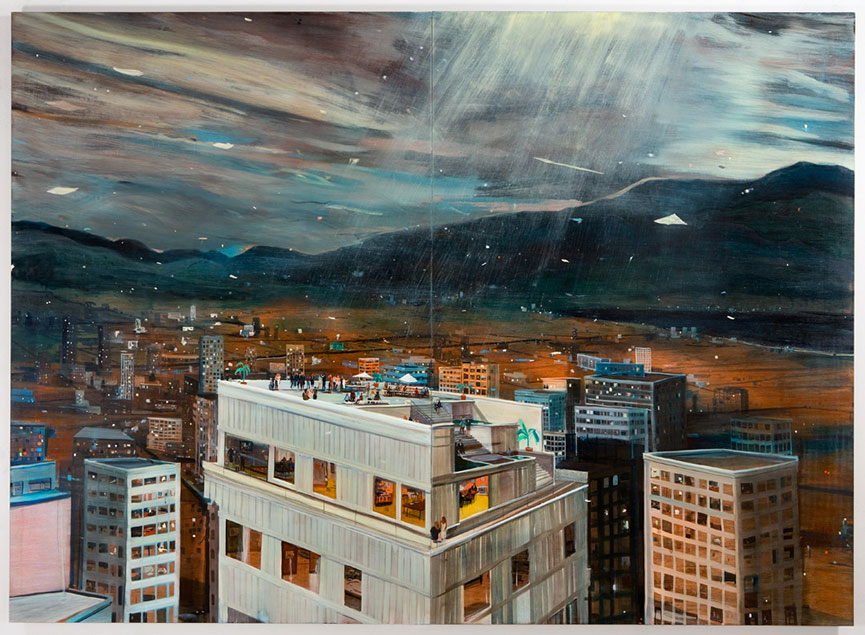 The Utopian World of Jules
Jules de Balincourt has been a notable figure on the New York art scene for the past decade. His work is collected in major galleries and museums worldwide. He began to stir up interest in the early 2000s. The show at the Rochechouart Museum of Contemporary Art will be an opportunity to dive into a utopian world of Jules, characterized by his eruptive figuration mixed with abstract elements. Selected works show de Balincourt strange yet realistic visions of life today. These visions of our existence seem infused with an awareness of global society. They intertwine today's worlds, the developed countries and Third-world societies, illustrating a fantasy world as a result. The artist tells us a story of what the world looks like, what it could look like and what it will look like in a very brut way.
Accumulated Iamges
Practically all the works were painted directly on wood panels, without preparatory sketches or photographic models. De Balincourt works intuitively. He sets together different images – abstract, figurative, mystical – creating a free-associative narrative and tension between figuration and abstraction. Layers of accumulated images mix references to historical paintings (i.e. exotic Gauguin's landscapes or Jasper Johns' maps) together with ironic statements written in graphic letters and pixelated abstractions.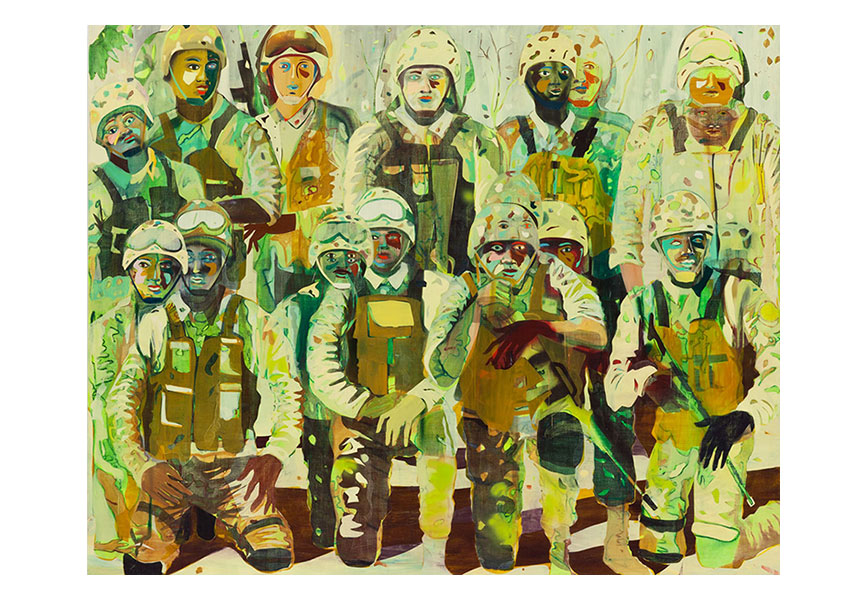 About Jules de Balincourt
Jules de Balincourt (b. 1972) graduated from California College of Arts in San Francisco and Hunter College in New York. Recent solo exhibitions have been held at the Mori Museum of Art in Tokyo (2010) and at Montreal Museum of Fine Arts (2013-2014). He has participated in many other shows such as Greater New York at PS1/MoMA in New York (2005); Notre histoire...at the Palais de Tokyo in Paris (2006); Art in America: 300 Years of Innovation at the Bilbao Guggenheim Museum in Spain (2007), or more recently Parallel Universe at the Reggio Emilia Collezione Maramotti in Italy (2012) and L'Ange de l'histoire at ENSBA School of Fine Arts in Paris (2013). A 200-pages monograph on Jules de Balincourt by Rizzoli was published in December 2013 with contributions by Bob Nickas, Andrea Scott, and Eric Troncy.