Most artists start their work with a coherent concept of what they're about to paint. Then they create a detailed meticulous sketch of their beautiful colorful art piece before finally grabbing a brush and a palette to begin their artistic creations. Other artists, like Julia Benz, prefer to let paint lead the way. Talented Berlin–based artist starts her creative process without a sketch or even a clear idea of what she'll paint and lets her intuition take over. At the upcoming DON'T HUG ME I'M SCARED exhibition, Julia Benz will present her latest series of canvas artworks that will be arraigned as an accessible installation at the primer Cologne's Die Kunstagentin art gallery.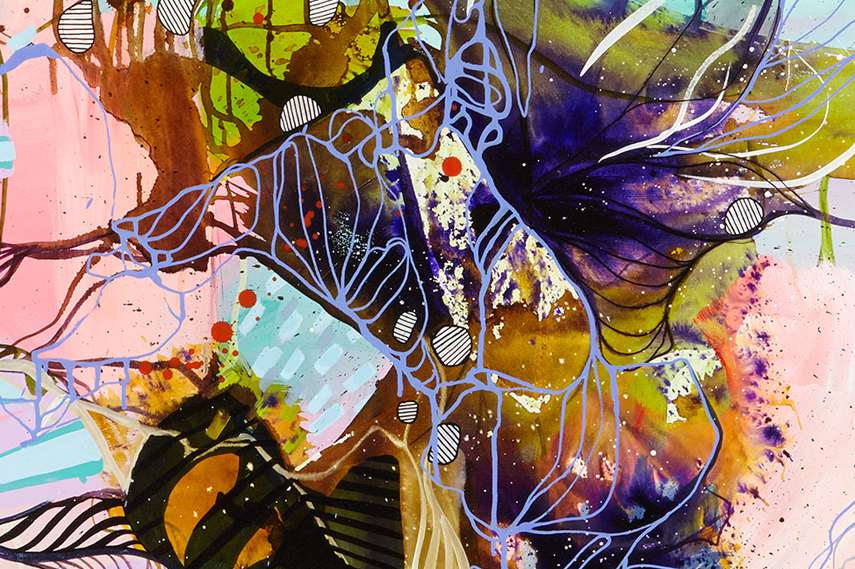 Chaotic Universe by Julia Benz
German painter and street artist Julia Benz creates her colorful chaotic cosmos by carefully applying diverse, contrasting colors onto pure blank canvases. Her beautiful colorful imagery emerges from the act of painting as the artist often start her work without knowing how the finished piece will look like.Layers of paint shift and overlap and color fields continuously evolve until finally, her paintings begin to obtain various figurative shapes. Her inspiration comes from a variety of sources but nature, abstraction, and outer space seem to be the most common themes in the German artist's works.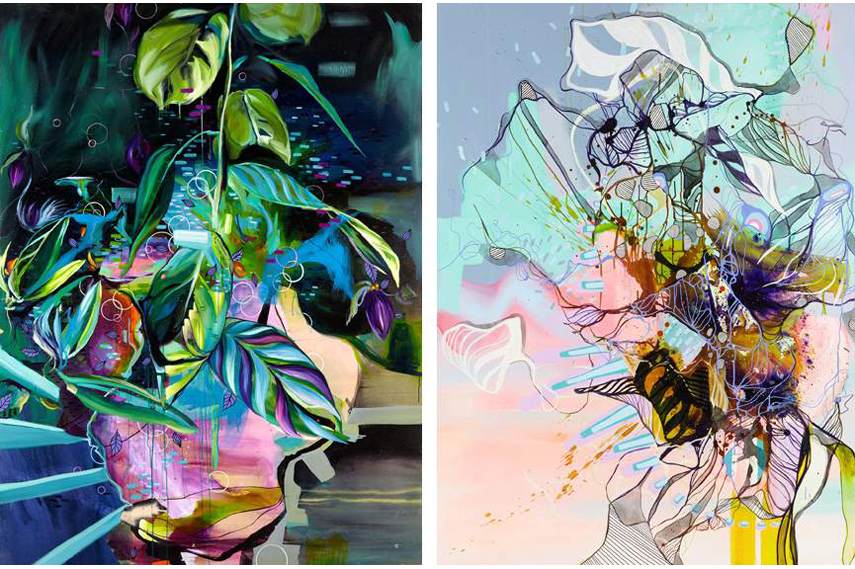 From Abstract to Figurative Art
Julia Benz's masterful use of color has become her trademark and her obsession as the painter believes that different shades can convey any emotion know to humans. Colors can be joyful, beautiful and calming but they can also be unsettling, aggressive and disturbing. It is this emotional contrast between different palette tones that inspired Julia Benz to create a set of large-scale colorful artworks for the upcoming DON'T HUG ME I'M SCARED exhibition. The artist blurs the line between reality and fiction to portray a series of banal moments taking place in a romantic natural environment. Her paintings range from figurative to pure abstraction as the artist explores the depths of her whimsical world. This world appears simultaneously familiar and strange with an array of palm trees, plants, water and unusually dressed astronaut-like figures. The interaction between these odd elements evokes a series of individual associations in the minds of the observers.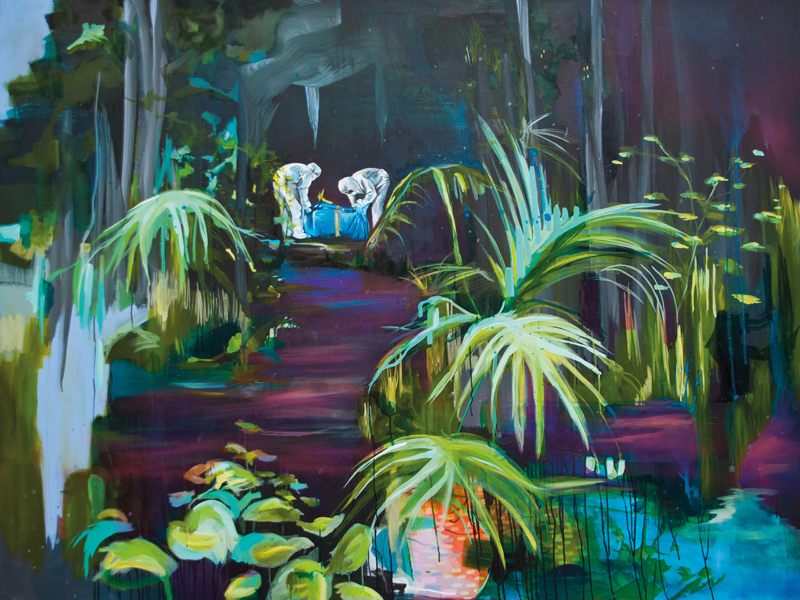 Beautiful Colorful Paintings at Die Kunstagentin
DON'T HUG ME I'M SCARED solo show by Julie Benz will be on view from September 15th till October 29th, 2016 at Die Kunstagentin gallery in Cologne. Julia Benz will be attending the opening reception of the exhibition that will feature the latest series of her colorful acrylics, ink & oil on canvas pieces. The installation will be set up in an interactive manner so that the visitors can feel as if they are embraced by an abundance of narratives and colors.
Featured image : Julia Benz - Yalla ; Images courtesy of Die Kunstagentin