The American art scene is grand, dense, and often hard to grasp. Numerous artists gained prominence outside the continent due to hard efforts invested in the construction of distinct narratives that transcended the media themselves. A very good example of this claim is the artistic practice of Ethiopian-born American Julie Mehretu who expresses herself mostly through painting and print.
Namely, Mehretu perceives her works more as technical drawings, maps or systems consisting of grids and weather charts regardless of the size. By obscuring the figurative composition and settling it in swirling abstract formations. She achieves perceptually challenging works saturated with various social and political layers.
Now, Mehretu's critically acclaimed domains will be thoroughly explored within the upcoming survey taking place at The Los Angeles County Museum of Art (LACMA). The visitors will have a unique chance to experience works on paper and paintings dating from 1996 to the present.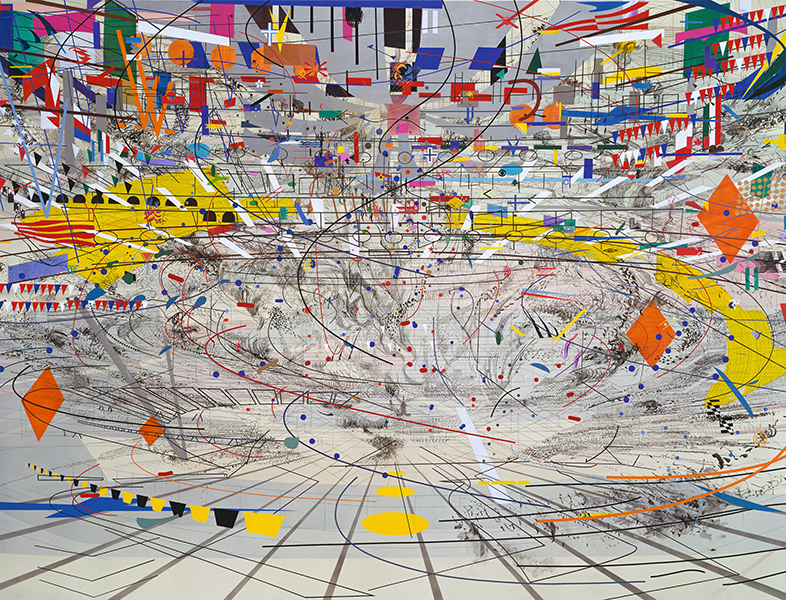 The Mehretu Method
The curator of contemporary art at LACMA Christine Y. Kim with Rujeko Hockley, assistant curator at the Whitney Museum of American Art, decided to unwind Julie Mehretu's artistic development by starting from her early drawings, her fascination with maps and iconography, as well as her bolder works characterized by figurative elements and vibrant palette.
The artist's exploration of art history, architecture, and past civilizations overlaps with her critical questioning of revolution, climate crises, migration, global capitalism, and technology in the contemporary moment. Christine Y. Kim stated:
Mehretu's unique form of abstraction is connected to a deep meditation at the crossroads of mapping social and political sites and actions, shifting points of entry, new visual languages, mediated images, and corporeality. Her compositions are at once all-encompassing and destabilizing, offering a radical incoherence, which can trigger multiple experiences and senses. This exhibition lays out this development, articulation, and connectivity of her work over the past 23 years.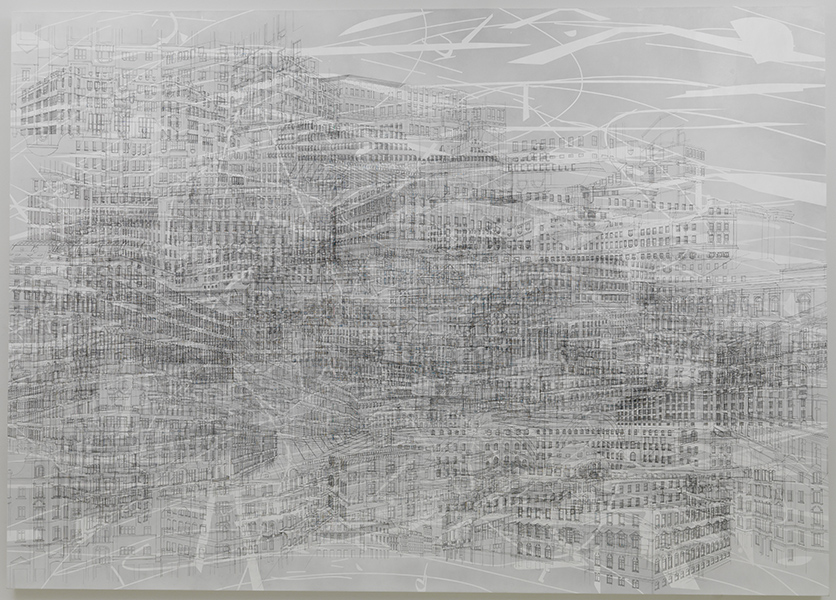 The Installment
The upcoming exhibition will be presented in chronological order; thirty-seven works on paper will be on display on the bridge of BCAM, Level 3, while thirty-five paintings will be on view in BCAM, Level 1 and BCAM, Level 3.
To be more precise, the works displayed on BCAM, Level 3 bridge will show Mehretu's approach to printmaking, an activity she has been devoted to since her graduating, which is characterized by exposed applied drawing and different media such as collage, ink, graphite, colored pencil on paper, etc.
The galleries in BCAM, Level 1 and BCAM Level 3 will showcase paintings from 1996 to the present. For the artist, each painting starts with drawing as a solid base which is then extended by other techniques (masking, printing, digital collage, erasure, and painterly abstraction). Mehretu draws inspiration from an array of sources including cave incisions, graffiti, cartography, as well as Chinese calligraphy, architectural renderings, and news photography.
The early works such as Map Paint (white) (1996), Untitled (two) (1996), and Untitled (yellow with ellipses) (1998), show how thoroughly Mehretu investigates the cumulative effect of time by layering materials resulting in expressive compositions reminiscent of fossilized topographies. On the other hand, there are later paintings such as Stadia II (2004) and Black City (2007), based on the artist's deliberation of sports and military typologies.
Mehretu's latest paintings reflect bold gestural marks and the use of techniques such as airbrushing and screen-printing. These works are based on her archive of images of global crises – abuses of power, protests, and dismays, which are digitally cropped, blurred, rescaled, and overlaid with calligraphic sweeps and fragile drawings.
For instance, Conjured Parts (eye), Ferguson (2016) disembodied anatomy is juxtaposed against a site of violence and political struggle. The painting is based on a blurred photograph of an unarmed man standing in front of a group of police officers in riot gear holding his hands up, which was taken during the protests that followed the fatal shooting of Michael Brown in Missouri. The painting Hineni (E. 3:4) (2018), explores the fire caused by climate change, and the intentional burning of Rohingya homes in Myanmar as part of ethnic cleansing.
The work Epigraph, Damascus (2016) represents Mehretu's major achievement when it comes to printmaking and it features a new insertion of architectural drawings and painting; here the artist used photogravure, a 19th-century technique that fuses photography with etching which is a result of a collaboration with master printer Niels Borch Jensen.
Many of Mehretu's monumental paintings will be on display in BCAM, Level 1. Those large horizontal canvases are saturated with layered drawings investigating complex themes and histories, such as African liberation movements. For instance, Transcending: The New International (2003) is base on a map of Ethiopia's capital city, Addis Ababa, which is then over layered with maps of all African economic and political capitals.
On display in BCAM, Level 1 will be a four-part painting titled Mogamma made by the artist in 2012. It is primarily based on the 2011 Egyptian revolution, part of the Arab Spring phenomenon of uprisings in the Middle East and North Africa, and is titled after a government administrative building on Tahrir Square that was perceived as a symbol of modernism and the country's liberation from colonial occupation after it was built in 1949. Mehretu started working on canvases by exploring the layered surrounding of Tahrir Square, where different architectural styles (structures built in European, Islamic, and Cold War styles) coexist.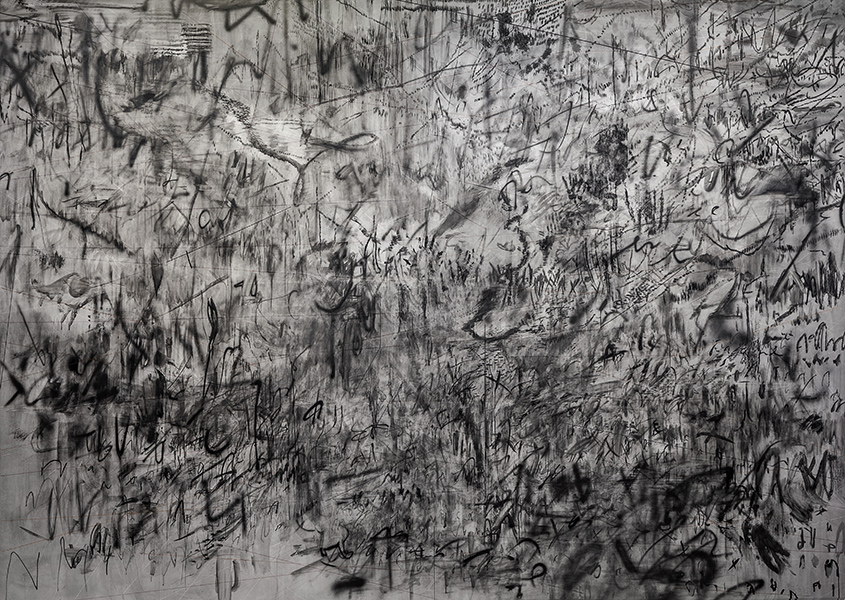 Julie Mehretu at LACMA
It is obvious that the upcoming exhibition tends to examine Julie Mehretu's practice to the core and show how meticulous her approach is in the conceptual and formal terms.
Julie Mehretu will be on view at LACMA from 3 November until 22 March 2020 at BCAM, level 1, and also from 3 November until 17 May 2020 at BCAM, level 3.
The exhibition will then travel to the Whitney Museum of American Art, New York, NY (June 26–September 20, 2020), then the High Museum of Art, Atlanta, GA (October 24, 2020–January 31, 2021); and finally the Walker Art Center in Minneapolis (March 13–July 11, 2021).
Featured images: Julie Mehretu - Black City, 2007. Ink and acrylic on canvas, 120 x 192 in. Pinault Collection © Julie Mehretu. Photograph by Tim Thayer; Julie Mehretu - Untitled 2, 2001. Ink and acrylic on canvas, 60 x 84 in. Private collection, courtesy of Salon 94, New York © Julie Mehretu. Photograph by Tom Powel Imaging; Julie Mehretu - Haka (and Riot), 2019. Ink and acrylic on canvas, 144 x 180 in. Courtesy of the artist and Marian Goodman Gallery, New York © Julie Mehretu. Photograph by Tom Powel Imaging. All images courtesy LACMA.