Artist Julius Bissier has traveled a long way from his early portraits and landscape images to his critically acclaimed miniature artworks. The artist who started his career as a realist but quickly turned to abstract non-figurative paintings and drawings, is known for incorporating elements of eastern philosophy into his works. The upcoming Julius Bissier exhibition at Galerie Carzaniga will present a wide variety of the artist's miniature works created on small patches of fabric between 1955 and 1965. This is considered to be the most prolific period for the artist that reached the highlight of his career with two Venice Biennale participations in 1958 and 1960.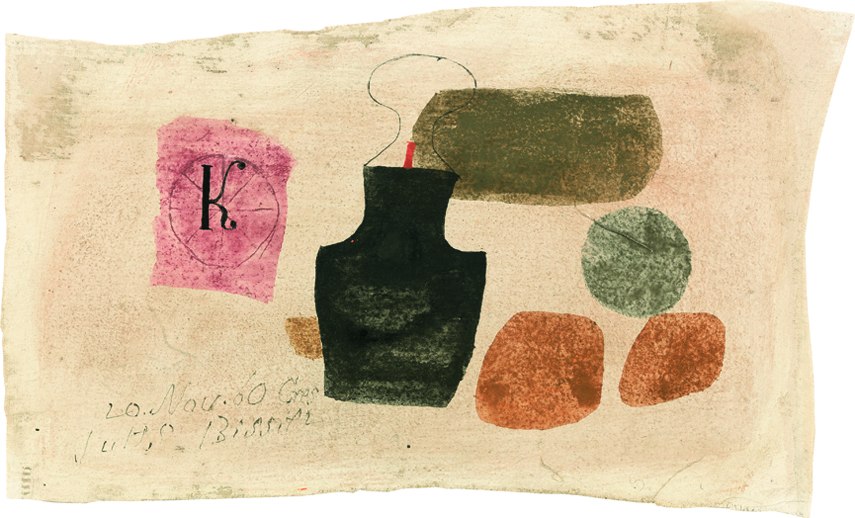 Eastern and Western Influences
Julius Bissier's paintings open up gradually to the viewers and engage into a dialogue between objects and observers that's full of profound values, hidden meanings, and surprises. The German artist had several breaks and delays in his career that also reflected on his work. Through his friendship with sinologist Ernst Grosse, Julius Bissier introduced himself with east-Asian ink paintings and ceramics but also with the Far Eastern philosophy (especially Taoism and Zen) which resulted in numerous calligraphy elements visible in his pieces. Julius Bissier was also influenced by the works of western philosophers like Johann Jakob Bachofen. In his paintings, Julius Bissier often portrayed the dualities present in the philosopher's writings, (such as male-female, wave-rock, life-death constellations,) and many motifs from Johann Jakob Bachofen's works such as poppy capsules, cists or lamps. These motifs dominate the artist's celebrated miniatures that will be on view at the upcoming exhibition in Basel.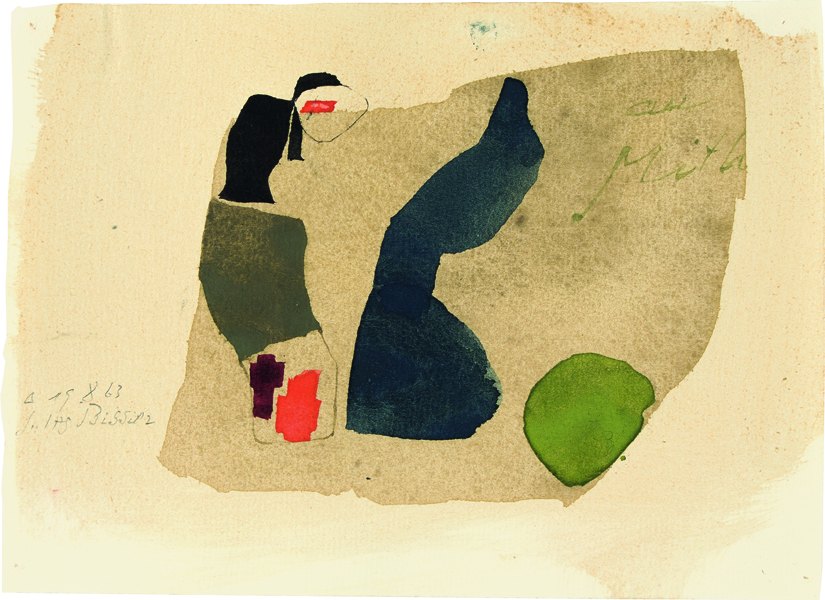 Ethereal Miniatures at Julius Bissier Exhibition
Julius Bissier : Works 1955 –1965 exhibition at Galerie Carzaniga will focus mainly on his watercolor and egg tempera miniature paintings. Earliest abstract art pieces that will be featured at the exhibition date back to 1955 when the artist first turned to these new artistic techniques. The creation of miniatures took an incredible amount of time and effort. Julius Bissier would first prepare the canvases, which usually consisted of irregularly cut or torn pieces of cotton. Then he would focus on the composition, aiming to achieve a balance of numerous objects which were until then kept as a suspension, hidden and inactive. These objects appear as if they are floating in thin air and fluctuate between writings and organic sculptures. By adding his signature and date and time references to the images, the artist emphasizes the lettering elements further, thus turning his artworks into books or certificates of a sort. The images convey the notion of capturing a series of floating elements in one specific moment of time before they continue their journey. Julius Bissier's miniatures represent the perfect integration of spirituality and abstraction to which the artist strived for his entire career.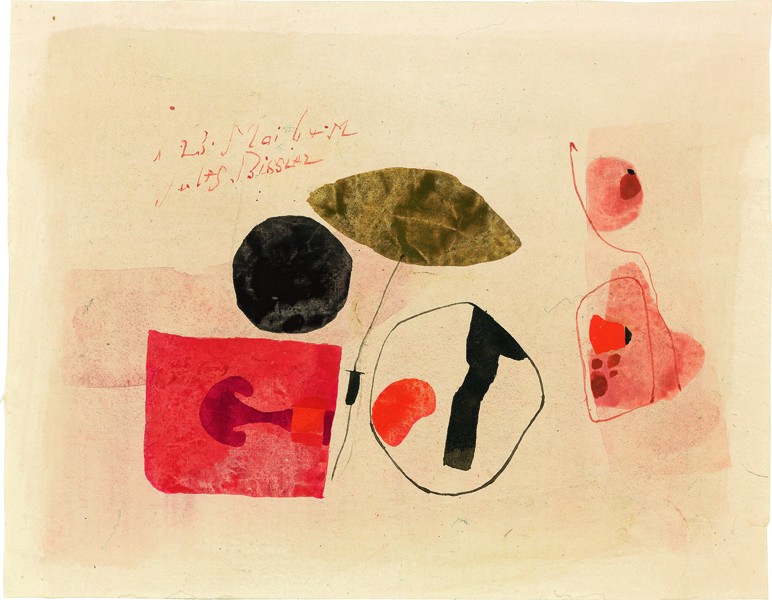 Work by Julius Bissier and Flavio Paolucci at Galerie Carzaniga
Simultaneously with the exhibition of works by Julius Bissier, Galerie Carzaniga will host a show featuring sculptural works by Flavio Paolucci. An artist known for employing aura of stillness to portray human connection with nature, will present a series of works created between 2007 and 2016 at an exhibit entitled Illuminated paths. Both exhibitions Julius Bissier : Works 1955 –1965 and Illuminated paths by Flavio Paolucci will be on view from May 7th till June 19th, 2016 at  Galerie Carzaniga's premises at Gemsberg 8 and 10 in Basel, Switzerland.
Featured image : Julius Bissier - 11.April 63, 1963, All images are : Copyright Serge Hasenböhler,  courtesy of Galerie Carzaniga