Justin Bieber reveals the cover of his new album, due to come out on November 13th! Now, this news would be very much irrelevant to our readers if there weren't for a famous artist who designed it. In this particular case, it's Marquis Lewis, whom you probably know better as Retna, an LA-based calligraphy artist. In an unusual turn of events, the two teamed up to create the cover of the singer's long-awaited album, entitled Purpose, and even the way this collaboration was announced was kinda artsy.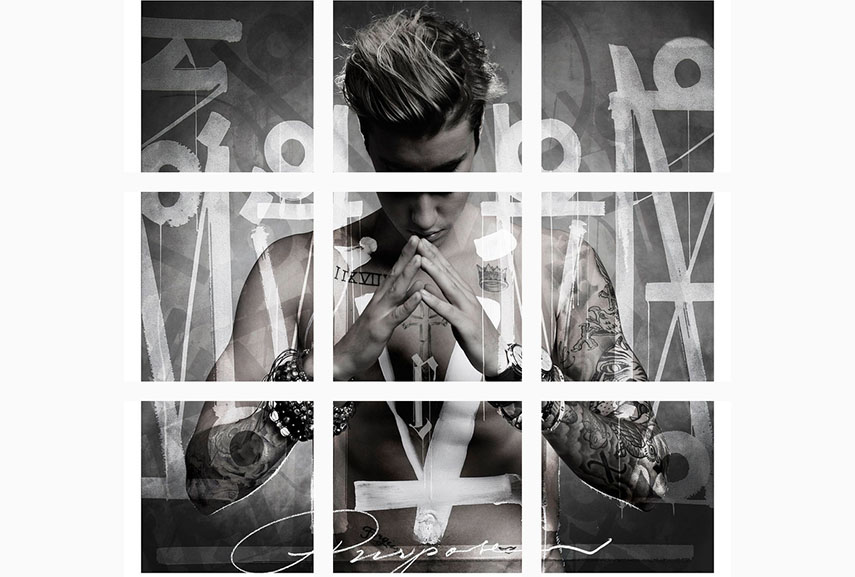 Retna Designs for Justin Bieber
Justin Bieber started the unusual promotion of his latest album last week, when he revealed a new tattoo, which reads "purpose", turning out to be the name of the compilation. On October 9th, through a series of images posted on his Instagram, the popular singer created a collage which unveiled the final image designed by Retna. Using his signature calligraphic scripts, the street artist covered up the photograph of Bieber in the nude, and for now there are three versions: with blue, black and white lettering. Followed by hashtags #retna, #purpose and #5weeks, as a countdown until the album is released, the image caused a lot of uproar among Justin Bieber fans, who are more than in love with the artwork, while Retna's admirers received the news with mixed reactions. This is not the first time that the artist created designs for singers, having previously collaborated with Mike Reese for the cover of The Carter Family Reunion album, and he also created campaigns for brands like Nike, Helmut Lang, Louis Vuitton and Vista Jet.

The Art of Album Covers
It was only yesterday that we reported about another famous singer hiring an artist to do their album cover. Contemporary artist Roy Nachum designed the cover of Rihanna's 8th studio album called Anti, tackling the idea of blindness. This is only one of many times that musicians collaborated with artists of all mediums in order to create album artworks - let's remember when D*Face painted Christina Aguilera's Bionic or when Keith Haring's work became the cover of David Bowie's Let's Dance. While it's true that musicians of this caliber hardly need help of artists to sell albums (or whatever it is they sell to survive these days), it is true that album covers have a part in attracting buyers with their visual appearance, and successful artists might just know a little something about that.
All images used for illustrative purposes only.