Founded in 2014, JustKids made a name for themselves by supporting, producing and promoting various art projects on an international scale, granting equal opportunities to both the established pros and the up-and-coming young talents hungry for success.
Such a vision was recently introduced to Fayetteville, Arkansas, where JustKids launched a brand new and one of a kind public art event called Green Candy.
Green Candy's primary goal was to create an environment where a community conversation concerning waste and sustainability could take place. Commissioned by Experience Fayetteville, this event was a major success story and it saw the city welcome thousands of art enthusiasts during the 4 days Green Candy was taking place.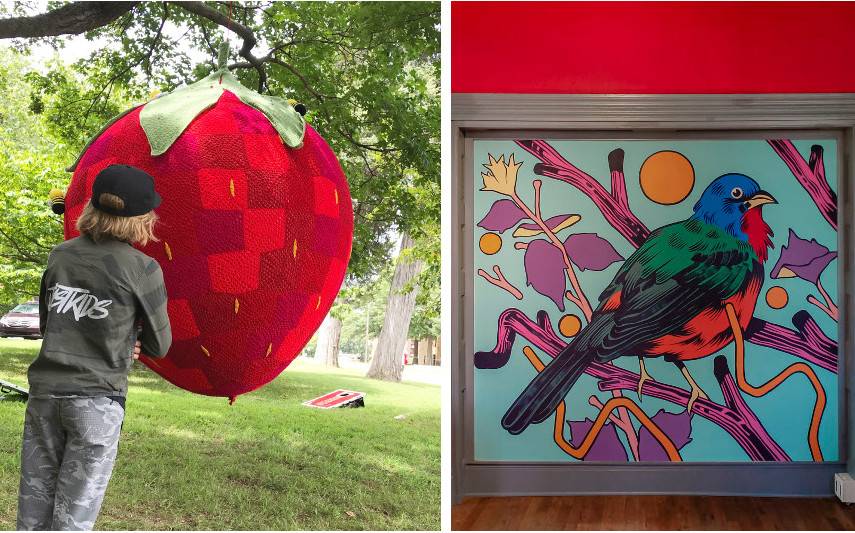 Green Candy and JustKids – Creating an Eco-Friendly Legacy
With what is supposed to be the first edition of Green Candy, JustKids assembled a diverse and rich assortment of artworks of a public character.
All of these works, in one way or another, deal with the themes of waste, ecosystems and sustainability, all pressing matters in our contemporary reality.
The artists behind the artworks of Green Candy used materials, the contexts of the location and iconography in order to get their eco-friendly messages across to the visitors.
Due to the variety of the artistic roster JustKids managed to put together, this event was a true celebration of diversity and originality, two main aspects that helped turn urban art into what it is today.
JustKids: Green Candy Art action Fayetteville Arkansas
An Impressive Roster of Artists
Six main artists that were invited for this first edition of Green Candy: Bordalo II from Portugal, Ernest Zacharevic from Lithuania, Bicicleta Sem Freio from Brazil, Marina Zumi from Argentina, Gina Galina from the United States and her countryman Jason Jones.
Often called the Portuguese "thrasher" sensation, Bordalo II contributed with a large scale exempt sculpture made out of local trash titled Deer Half Deer. Assembled in three days, this piece depicts the local fauna in the midst of a heated battle.
Brazilian Bicicleta Sem Freio took their talents indoor for this event – the duo painted a fascinating and colorful tropical environment.
Marina Zumi paid her respects to micro and macro balance by creating a large-scale rendering of her cosmic beehives produced in tune with the recent eclipse.
Lithuanian artist Ernest Zacharevic applied his talents to depicting local fauna. He concentrated on the Arkansas Black Bear, painting some adorable cubs climbing on urban residencies.
Jason Jones, a local Northwest Arkansas artist, also joined the lineup and painted a giant bunny with a gas mask.
Gina Gallina, another local artist, created a huge strawberry yarn installation and placed it on a tree.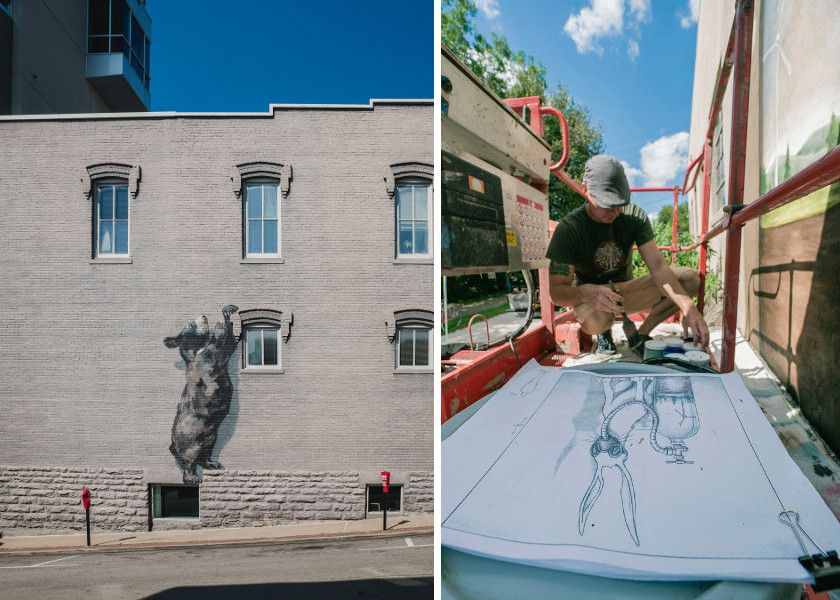 A Mission Well Done
Green Candy set out to create and promote community conversations around waste and sustainability, and it managed to do so with flying colors by relying on interactive and participatory urban art.
It should also be noted that this project ran parallel to Fayetteville Roots Festival, an event dedicated to similar eco-friendly goals.
Featured images: Bordalo II - Deer Half Deer; Photo of Marina Zumi and two pictures of her work; Two photos of Ernest Zacharevic painting a wall and two images of his Arkansas Black Bear mural; Three pics of Bicicleta Sem Freio's House; Three photos of Bordalo II preparing for and working on Deer Half Deer; Jason Jones' Artwork. All images courtesy of JustKids.