The global creative house Justkids in partnership with Life is Beautiful Festival took over the three 18 story towers of the iconic Plaza Hotel & Casino in Las Vegas as the playing field for legendary American artists Shepard Fairey, Faile and the UK artist D*Face. After a week of hard work, they brought the city of Las Vegas the three largest art murals ever painted in the city.
The Plaza Hotel Murals project has now been awarded the top prize in public art by Las Vegas Mayor Carolyn Goodman. A part of the Mayor's 2018 Urban Design awards, the recognition is aimed at granting a project that makes Las Vegas a more beautiful and sustainable place to live.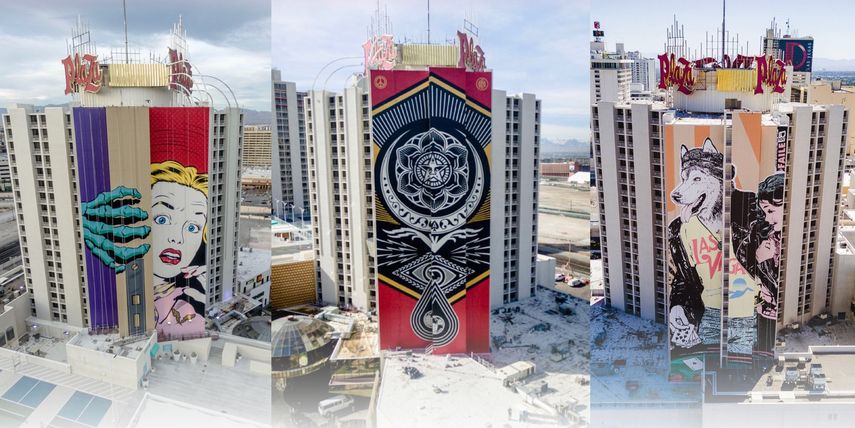 The Plaza Murals Project and Its Impact
A colossal triptych mural piece, the Plaza Murals Project have brought together the work of three biggest names in urban contemporary art. Commissioned by Plaza Hotel Las Vegas and curated by Justkids, three 18 story vertical murals were completed in September for the Life is Beautiful Festival.
The project had an incredible impact, generating a lot of positive reactions locally and internationally and confirming the visceral power of art, as opposed to billboard advertisings. Carefully complementing the iconic architecture of the hotel, murals could be seen from various vantage points of downtown Las Vegas, making a perfect addition to this buzzing city.
To find out more about this project and the award, we had a chat with Charlotte Dutoit from Justkids, D*Face and Shepard Fairey.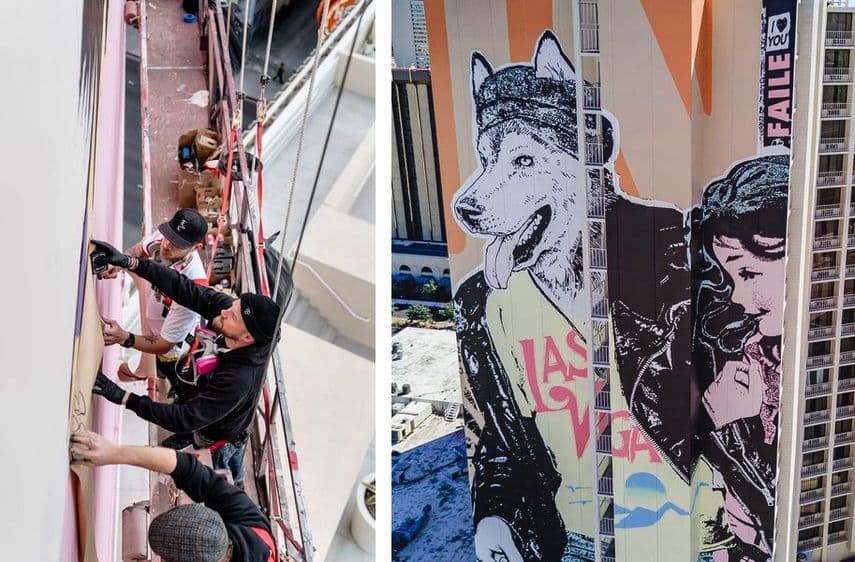 Lighting Up the City of Los Vegas
Widewalls: What do these awards mean to Justkids and for what you do for the community and urban architecture?
Charlotte Dutoit: I feel very honored that the Plaza Mural project received this award. Its a great consecration of the artistic work Justkids has been doing for half a decade now with and through the Life Is Beautiful Art program in Downtown Las Vegas. Trying to show that the city is way more than a gambling and entertainment spot but a fertile place where art can flourish in many different forms and representations. It's also reinsuring that not only the public but also the city representatives recognized this type of Art.
Widewalls: What was your own experience of working with Shepard, D*Face and FAILE?
CD: Overall and besides the high that makes me nervous it went pretty smooth. This trilogy of artists are at the very top of the creative "chain" in my personal opinion, it was both inspiring and challenging to produce something where the three of them could harmoniously fit and transcend.
It was the second time that I worked on a project with Shepard (both in Vegas). He just arrived from the Women's March in Los Angeles where he created the "We the People" poster series and went straight to work. It was very inspiring to see how he and his team were able to confront the immensity of this wall under any weather conditions and at the same time to create with such a perfect mastery. Shepard was also immensely cooperative and open with all the aspects of the production, video, interviews etc. despite his busy schedule.
I worked with D*Face on about 15 projects (murals, installations, sculptures, shows...) and it's always a pleasant experience. We have a very good chemistry and I am always amazed at how incredibly versatile and sharp he is. His design for the Plaza is very clever as perfectly adapted to the architecture of the wall and the context. He and his team were on point once again and even find the time to go bike riding in the desert.
With Faile, it was the first time that we worked together. I have been a big fan of their work for years. The truth is that they don't do so many murals so being able to organize such a large scale one with them was both a personal gratification and a professional achievement. They were here right before Life Is Beautiful, it's probably the best moment to be in Downtown and I was very happy to have them with us on site.
Widewalls: And, of course, Life is Beautiful and The Plaza Hotel?
CD: Life Is Beautiful has been a central part of Justkids in Las Vegas. We are their curatorial arm since 5 years and very grateful for the collaboration and the result. With them, Vegas feels like working from home. On one side the festival itself has quickly become one of the best of its kind and its a key mover for this part of the city.
The Plaza hotel team, Roy Zabludowicz and Jonathan Jossel, have a very open mind and a go for it attitude. They have a new and daring vision for Las Vegas, reinforced with a strong initiative to do things differently and with great taste. They also ensured a pleasant and exciting atmosphere all along our stay. Working with them is like finding an ally in the middle of the desert.
Widewalls: What's next for Justkids?
CD: We are expending Justkids to NYC so that's a very exciting move. We are already working on LIB 2108 line-up and a few others projects in Las Vegas. We are continuing our public art and place-making initiatives in Northwest Arkansas, a region that we enjoy a lot and that is booming culturally and economically. We continue the artist residency program in Puerto Rico which is very important especially after hurricane Maria and we have some exciting projects with artist Okuda San Miguel in the United States and the Brazilians Bicicleta Sem Freio but shhhhh...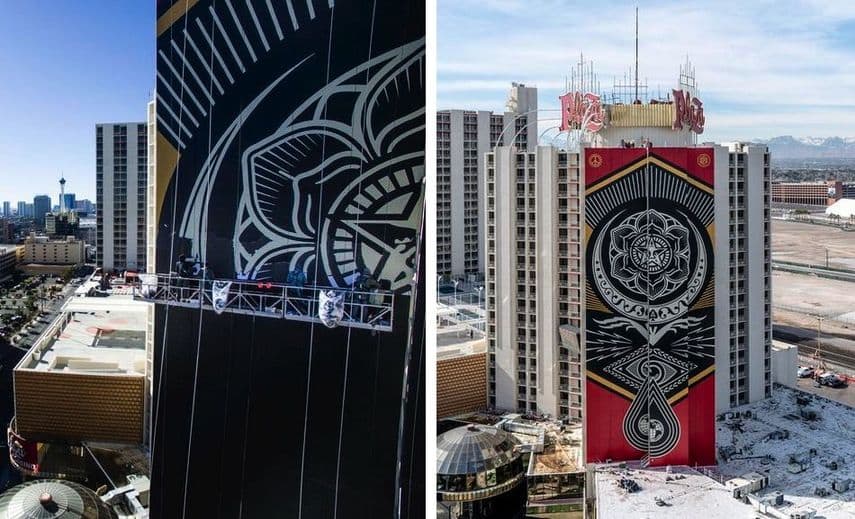 D*Face and Shepard Fairey About the Project
Widewalls: How did you choose the image for your mural and how does it relate to the space, and the time, it belongs to?
D*Face: All the pieces I paint are created specifically for their environment; how that relates to the building, the surroundings, the public that will ultimately view it, this isn't a piece you'll see somewhere else or a slight adaption reworked into another artwork, its specifically for this building. So with this piece, firstly of course its a massive wall, but its also particularly awkward as its in 3 sections with the middle section set forward of the other 2, it's also on the side of a well-known downtown Vegas hotel and Casino, The Plaza, with a very interesting history, so as with all my murals I wanted there to be a back story behind the artwork, that the public can either choose to read into or judge purely on surface value.
I wanted with this wall to utilize the particular nature of the structure, so I saw the middle section of the wall as the edge of a door, a hotel door, the skeleton hand opening the door, the lady frightened/surprised to see the visitor… is it death that's come for her or her past lover... or husband... or has she come for them... you can be the judge to whether it works or not, I worried that the idea of using the structure this way, to interplay with the mural, in the end, was lost in translation, the public can be the judge of that, well it seems the mayor thought it worked at least! HAHA!
Shepard Fairey: A lot of my work is overtly political and dealing with current events, which won't always work in a large community space that will stay up for years. For The Plaza, I chose the "Cultivate Harmony" lotus because I think decorative lotuses and mandalas are visually appealing but also symbolize peace and harmony, which are values I want to emphasize.
Our current times are very divided, so the image addresses the need to treat each other AND the planet with respect and dignity.
Widewalls: What does being a part of this prize's winner team mean to you personally?
D*Face: Honestly, all my work is a selfish act, I get to paint what I like, what I think looks good and I get amazing offers to do this in public, so my lesson and my mistakes have also been made in public, it's not an easy thing to always have sit on your shoulders, but I spend considerable time planning and working out what I'm painting and where, when I say it's a selfish act, it doesn't mean it's not a heavily considered one, so to hear that the public like or love what I paint is more than I ever imagined, so to be part of a team that has won such an amazing award is incredibly humbling, this is purely public art for the public, it's not a mural wrapped up as an advert for a brand, this is art in the public domain on a monumental scale, it's an amazing achievement and I'm proud to be part of such an awesome team.
Shepard Fairey: It means that the city government recognizes the value of public art, which to me is a major triumph when most public spaces are reserved for commercial signage and advertising.
Widewalls: Was this your first time collaborating with JustKids? How would you describe the experience and the organization?
D*Face: Unfortunately for them no, its one of many times, haha!! I'm a veteran to collaborating with Justkids, Charlotte who heads it up is one of my favorite people, she understands what I'm trying to achieve and why, in turn, I understand what she's trying to achieve with Justkids, together we've created some incredible pieces of public art from murals to sculptures and Justkids go above and beyond with organization and planning, I turn up knowing that the right materials will be on hand, the right equipment will be ready and more over and in particular with something of the scale of these murals, that my team will be safe, we're not messing around18 floors up, it's a time to know that professionalism is paramount and with Justkids I know this is the case.
Shepard Fairey: This is my second time working with JustKids, I also worked on a mural that they facilitated in downtown Vegas near the Fremont Experience. They are very artist-friendly and professional. They understand how to address both the artist's needs and the concerns of the building owners and the city.
Featured images: Faile, Shepard Fairey and D*Face painting their murals in Las Vegas. All images courtesy of Justkids.