An acclaimed Spanish street artist, Okuda San Miguel became famous for his unique iconographic language characterized by multicolored geometric structures and patterns. In these vibrant works, the artist blends rainbow geometric architectures with organic shapes, bodies without identity, headless animals and symbols.
The artist recently returned to Las Vegas with global curator Justkids to create his latest colorful installation. Commissioned by PARK MGM, Mother Natura is comprised of three sculptures and a mural, all inspired by the legend of Mayahuel, the Mexican goddess of agave and fertility.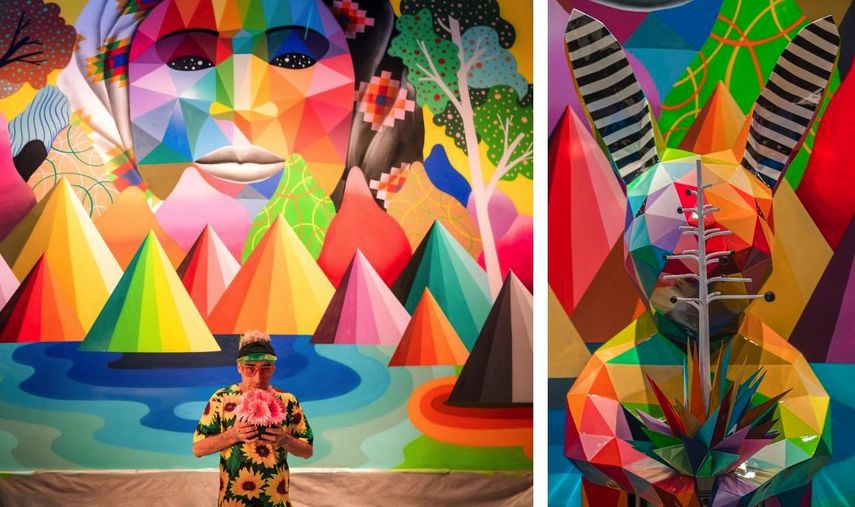 The Myth of Mayahuel
Mayahuel was one of several Aztec gods and goddesses of fertility, each of whom had specific roles. According to the Aztec myth, she died as a result of an ill-fated love between herself and the god Quetzalcoatl. After Quetzalcoatl burried his lover, a plant began to grow on the burial site - the first plant of agave.
Inspired by the myth, Okuda's Mother Natura features a large-scale mural portrait of the goddess Mayahuel, looking down upon a valley with agave. The mural is accompanied by three hand-painted fiberglass sculptures rendering two slot machines embedded deers and a throne in the shape of a bunny towering above at 16' feet.
Rendered in Okuda's distinct pop surrealistic visual language, the installation examines the relationship between nature's mystical elements and the creative role of feminine power, in all its strength and vulnerability.
The Justkids Collaboration
This is not the first time Okuda has collaborated with the global creative house Justkids. The creative pair is also behind Air, Sea and Land, a vibrant kaleidoscope of seven large-scale sculptures on Seaport Boulevard in Boston, and the recent Rainbow Embassy in Northwest Arkansas.
As Okuda explained, he was immediately "drawn and inspired by the strong visual traditions of indigenous cultures and the women of Mexico." Justkids founder and curator Charlotte Dutoit said the artist is "simply game for any artistic challenge."
Everytime Justkids has brought him a new project to the table, he was not only keen but able to accomplish them with a unique vision and mastery.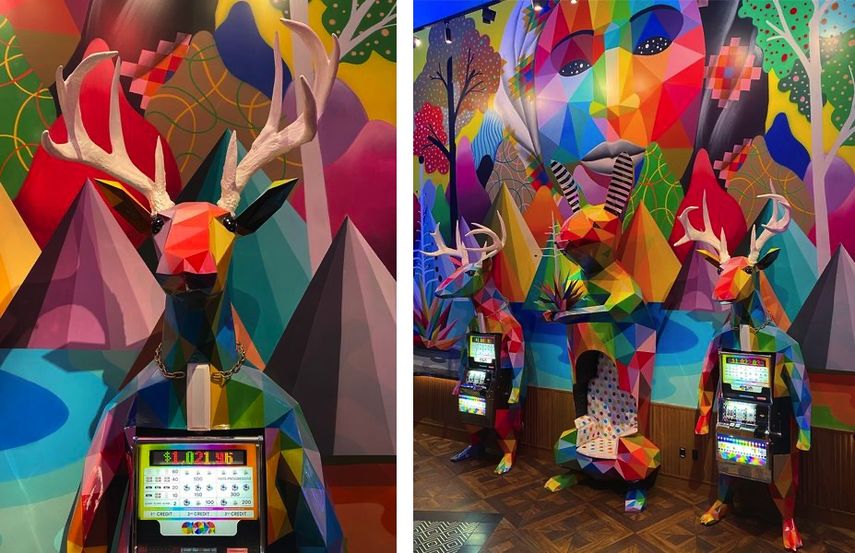 MGM Resorts Fine Art Collection
The MGM Resorts Fine Art Collection encompasses a multitude of styles and media—ranging from sculptures and paintings to large-scale installations—engaging visitors on a visual and intellectual level.
This Okuda artwork is located at Mama Rabbit, the newest bar of the luxury resort. It is the latest addition to the renowned collection that includes Picasso, Maya Lin, David Hockney, Jenny Holzer, Claes Oldenburg and Coosje van Bruggen, Ugo Rondinone, Henrique Oliveira and many others.
JUSTKIDS: Okuda "Mother Natura" at Park MGM
Featured images: Okuda, Deer head; Okuda in the studio; Okuda, WIP sculpture. All images courtesy of Justkids.