A network of curators, artists, designers and art consultants, JustKids conceives, produces and promotes comprehensive art projects on an international scale. Dedicated to spreading art all over the world, the initiative creates new experiences with some of the world's most engaging visual artists using a variety of mediums, including large scale murals, public installations, live performances, videos and exhibitions. A month ago, JustKids has organized their third edition of The Unexpected, bringing together some of the most renowned artists from all around the world to create larger than life art experiences in Fort Smith, Arkansas. Through a variety of interdisciplinary projects, viewers had an opportunity to revisit some of the historic landmarks in Fort Smith, discover hidden gems of the downtown and participate in the creative process.
The week-long art programming brought together legendary artists such as Doze Green, who introduced his metaphysical reinterpretation of life The Divine Sparks Project within Fort Smith's former New Theater; Lakwena Maciver, who created a 360° mural titled Still I Rise on the county's Juvenile Detention Center; Felipe Pantone, who delivered a massive free-standing sculpture Multistabilitas right in front of the Fort Smith National Historic Site; Crystal Wagner, who created a public sculpture installation Lithotroph around the remaining facade of the historical Reynolds Davis building; the collective Circus Family, who created a mesmerizing light installation Triph that was adapted to a former neon and sign maker shop in the downtown area; Ana María, who put forward her solo exhibition titled Feral Kingdom; and Saner and AEC, who collaborated in the creation of a large scale mural at the corner of 8th street and Garrison ave. Additionally, JustKids also popped up two D*Face monumental zombie inflatables that were floating by the Arkansas river.
To find out more about The Unexpected 2017, we've had a chat with Charlotte Dutoit, JustKids owner and curator. In an exclusive Widewalls interview, they talk about the idea behind the project, curatorial concept, the relationship between artworks and the area, and much more. Joining the conversation is also Diane Carroll, the director of communications of the local Crystal Bridges Museum of American Art, who strongly supports the initiative! Scroll down.
JUSTKIDS - The Unexpected 2017
Charlotte Dutoit, JustKids Owner and Lead Curator of The Unexpected
Widewalls: How did the idea for The Unexpected come to be? How did it grow over the past three years and what was the response from the local community?
Charlotte Dutoit: The Unexpected Project actually came to us through Irish artist Maser, who resided in Arkansas for a year and put us in contact with local Fort Smith non-profit 64.6 Downtown. From there, JustKids conceptualized and curated The Unexpected as a recurring cultural event and shortly after as an all year programming, with the mission to bring high quality contemporary and public art to Northwest Arkansas region.
Since its first edition in 2015, bringing in artworks by internationally recognized artists like Vhils, Roa, D*Face, just to name a few, the Unexpected has been a key part of opening the historic and beautiful town to globally relevant artists.
The community response has been immediately overwhelmingly positive, involving a lot of neighbors from all ages and generating amazing discussions around creativity, culture, history and the future of their downtown. I think that the Unexpected has also restored a sense of pride for a city that was a bit underrated culturally and under the effect of a recent economic crisis.
For three consecutive years, we have been continually amazed by the warm embrace the local community gives to the artists and the amazing volunteer turnout we have. Getting to meet them, work alongside them and watch them take ownership of the art being left behind is what this is all about. More than that, the relationships we have built with local team, volunteers and entrepreneur are incredibly rewarding for us.
Widewalls: Placing this project in "unexpected places" poses challenges for both you and the artists. How did you choose the participants? What were the curatorial and artistic criteria they had to meet (if any)?
CD: More than a challenge, creating public art in Downtown Fort Smith represents endless opportunities for us to do ambitious and meaningful work, introducing incredible artists to larger than life scales. At first, the artist we contacted were a bit perplex by the destination but because of our relation and past collaboration they just followed us. But once on site, they were actually pleasantly surprised, exactly as we were at first.
In terms of curatorial criteria, despite the production challenges the geography may bring, the artists we choose are closely considered firstly by the quality of their work and the potential to maximize on this opportunity to bring it to a new level.
This year we thought it would be interesting to open some structures and landmarks, which are part of the downtown history but are not systematically accessible to the public or simply just not highlighted and therefore unnoticed, and revisit them with art inviting people to discover these locations through the artist's vision. And on the other hand, it would allow the artists to express themselves in a new environment on some unique canvas, proper to the city. Like Doze Green major undertaking at the Theater, Crystal Wagner installation on the Reynold Davis Facade, Felipe Pantone skate park or Lakwena 360 murals at the Juvenile Detention Center, we lean toward artists that are able to create a full experience and keen to work in an unlikely location, quite remote from the art world. Obviously, the artworks are more complex as 3 dimensional, enormous and very ambitious on a production level. They required a lot of local human resources and therefore engage a lot of exchange between the artist and the community. I believe this creative process and the art making exchange it organically generates is also part of the artistic experience that the curation brings here.
Widewalls: How would you say their artworks reflect on the area and the idea of the project, now that they are completed?
CD: Fort Smith was a  real western town, conceptualized and urbanely developed as the margin towards the lawless Indian territory with a rich history of legendary heroes and outlaws such as The Dalton, the Jesse James Gang and Billy the Kid and a bit later Bonnie and Clyde. It was also on the map of the "Trail of Tears", the terrible native American removal.  This definitely makes Fort Smith, unique source of inspirations for participating artists. However, this deeply ingrained sense of history can also become a sort of restraining jacket for creativity. With every new edition of The Unexpected,  we strive towards a balance between acknowledging and building on the history of the area, while still pushing forward the visual sensibility and cultural experience of the community. Artists don't come to Fort Smith to pay tribute but to create within its context and looking forward.
Now Fort Smith has around 20 public art pieces combining installations, sculptures and murals as well as a few indoors gems that will be revealed punctually during the year.
On a larger scale with the artist collaboration we are building a real cultural capital around the Northwest Arkansas, in the heart of America, that is accessible to all, adding a new artistic proposal to the great effort that has been done already by some cultural institutions such as Crystal Bridges Museum of America, which is, by the way, one of the greatest art destination in the country.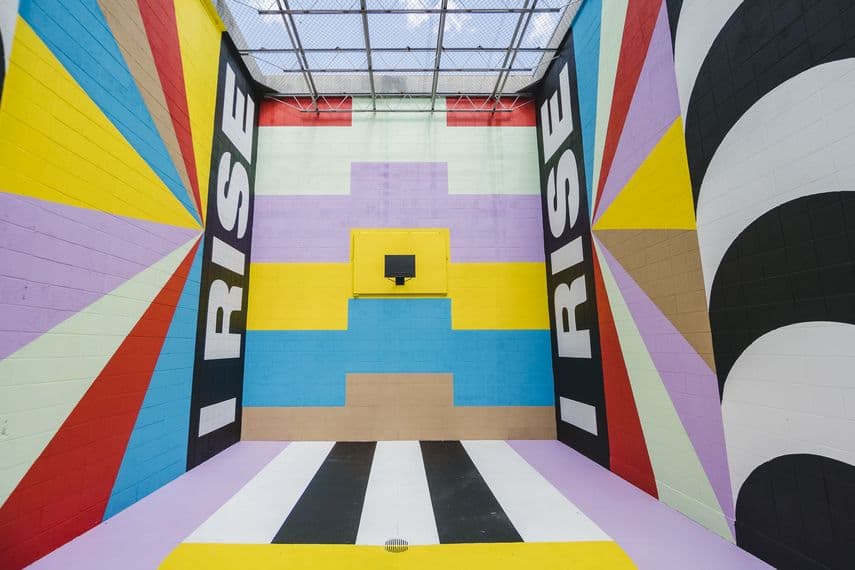 Diane Carroll, Director of Communications, Crystal Bridges Museum of American Art
Widewalls: What are your thoughts on The Unexpected initiative?
Diane Carroll: The Unexpected is a great example of how arts can build community—bringing in artists from around the world for art installations, which draws visitors from around the world, and gives the regional community not only excellent art, but a sense of pride that it's in their city. There are so many positive outcomes of this, from the community volunteers working side by side with international artists and both parties gaining a window into the other's world, to businesses thriving in the revitalized areas where art has drawn people downtown. There are vision and passion behind this project, and I credit the founders with thinking big, going outside the box, and now, seeing what a beneficial difference it's made to their community.
It's challenging to quantify the value of an arts experience, but we know that art can have a transformative effect on people's lives. What JustKids through the Unexpected has brought to our region is similar to the vision behind Crystal Bridges Museum of American Art—it's a belief in the power of art, and that everyone should have ready access to it. Crystal Bridges has only been open five years, and the Unexpected is in its third year, these are all new experiences for our region. We can already see though that children have greater access to art than ever before, and they'll grow up with a wide range of art as an accessible part of their lives. People who have never stepped foot in a museum before or wouldn't have thought twice about wall murals or art installations downtown are paying attention and coming back, they're enjoying themselves and along the way, they're having a cultural experience. It's an invaluable addition to the quality of life.
I had an incredible experience volunteering with the British artist Lakwena on a mural that transformed a basketball court at a juvenile detention center. Lakwena and her sister, Abimaro, turned the gray concrete block into this inspiring, colorful place which includes a phrase from the poet Maya Angelou, Still I Rise. Here are two sisters from London, one an artist and one a singer, they've never been to Arkansas, and they're spending a week transforming a basketball court for kids in our area who need some help. They've delved enough into our culture to know that Maya Angelou grew up in Arkansas, and they're using her text to help inspire. A few of us from the museum helped paint the stripes on the walls during two days of volunteering, and we are all grateful for the experience. We were simply painting colors on a wall, but it was an international arts exchange that touched us as much in the making as I hope it does for the kids who use it.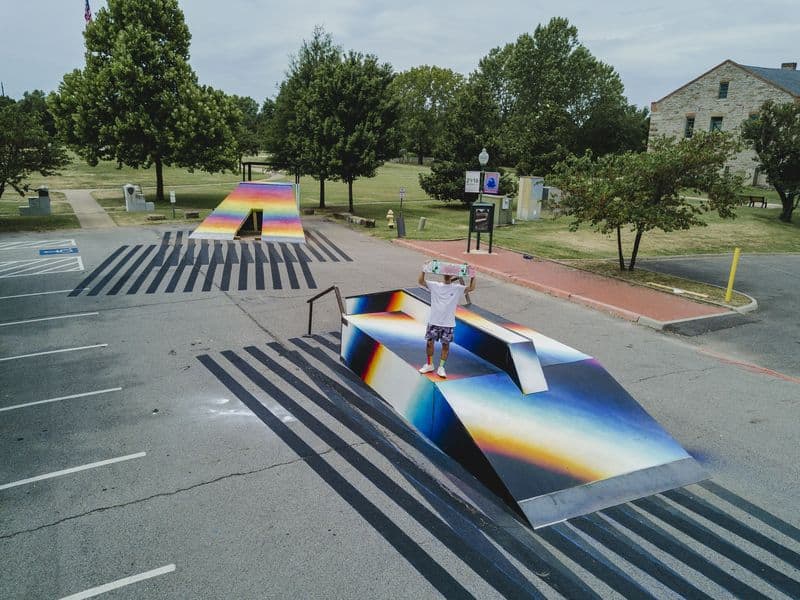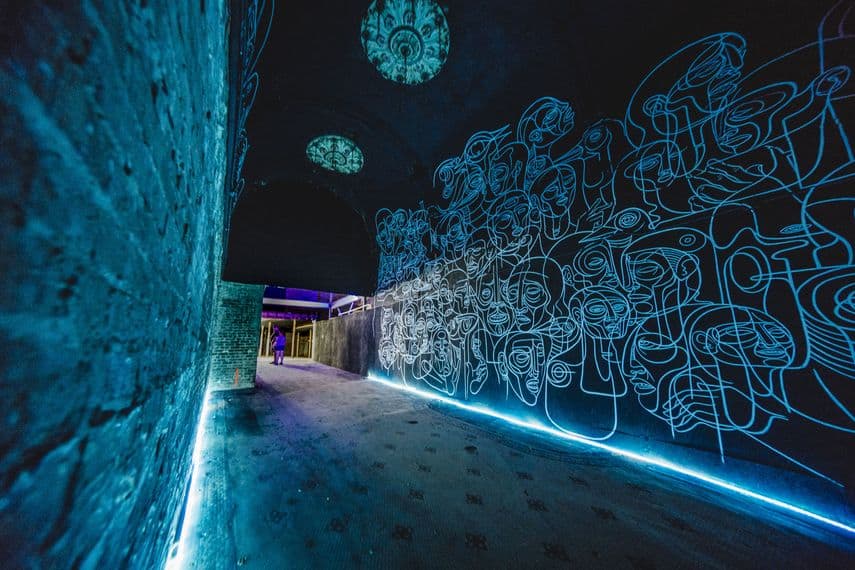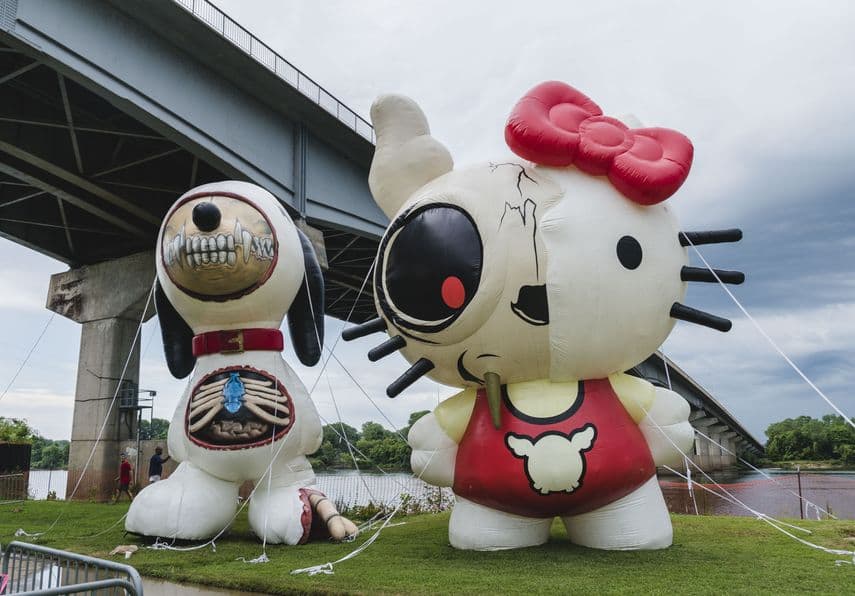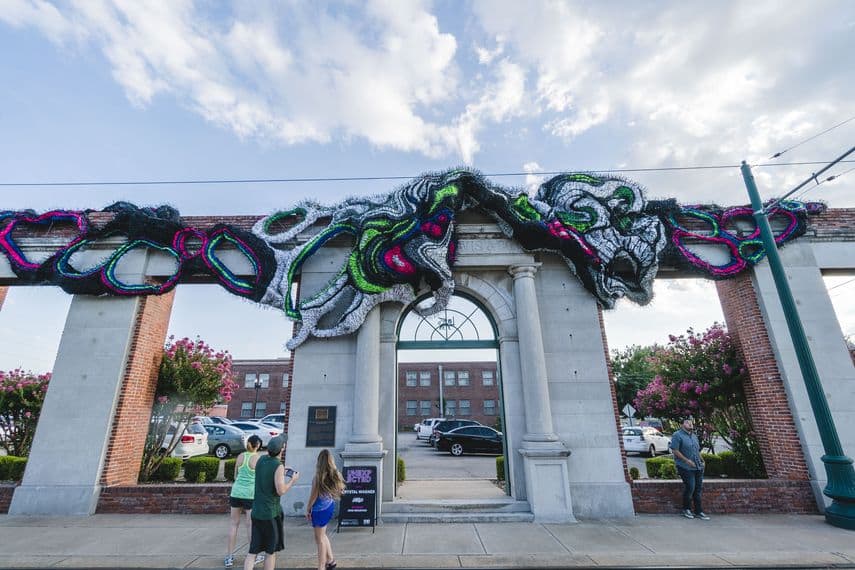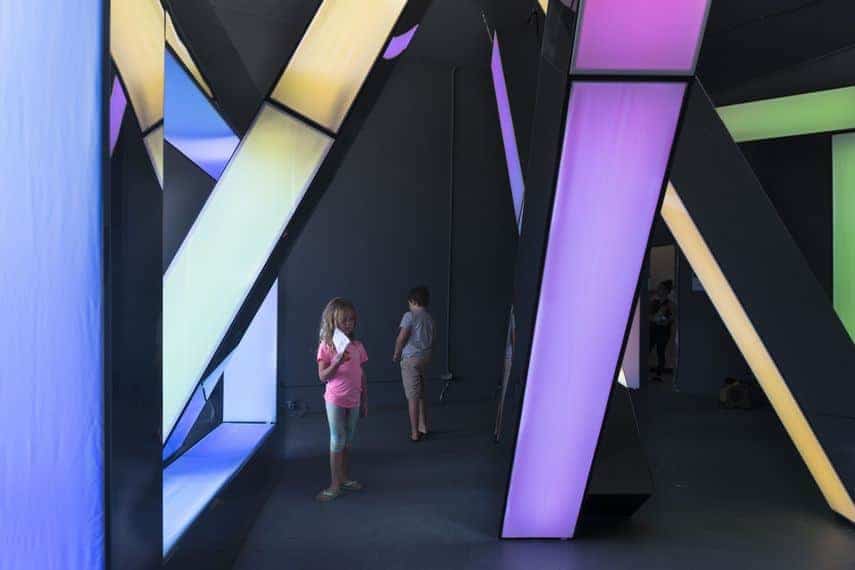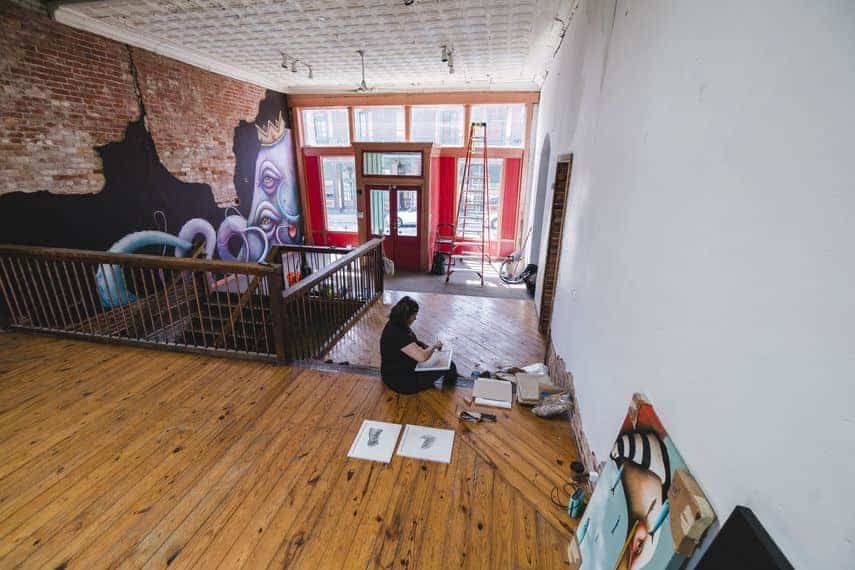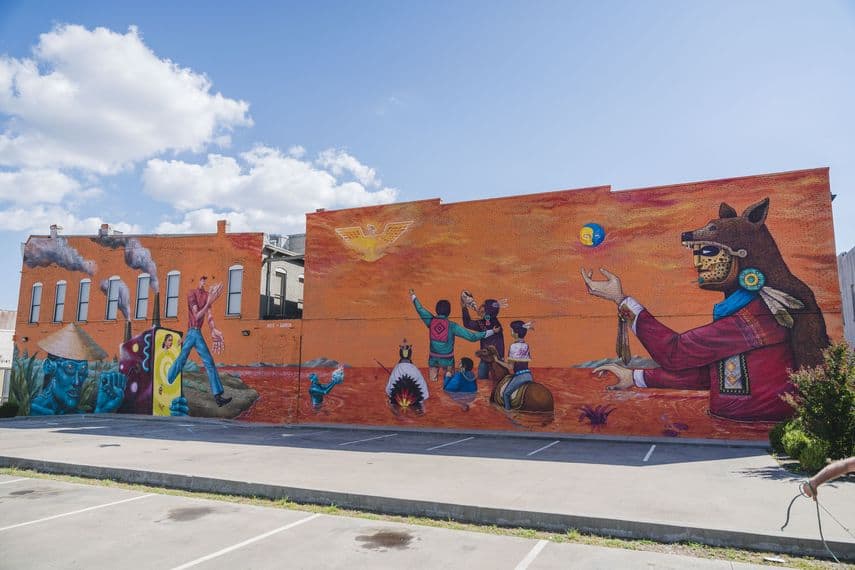 Featured images: AEC and Saner Mural; Lakwena Maciver - Still I Rise; Felipe Pantone - Multistabilitas; Doze Green - The Divine Sparks Project; Crystal Wagner - Lithotroph. All images courtesy of JustKids.