Live mural painting, art installation, curated exhibitions, music, comedy and gourmet cuisine - all of this can be found this September in California, for the occasion of the one and only KAABOO Del Mar! The third edition of this incredible event is ready to kick off, as the full ARTWORK line-up has been announced. Conveniently located at the Del Mar Racetrack and celebrated as San Diego's largest multi-day major music and entertainment festival, KAABOO Del Mar overlooks the Pacific Ocean and enjoys pristine weather and numerous lodging options. The festival previously announced the music lineup including nearly 100 acts and performances including Red Hot Chili Peppers, P!nk, Tom Petty and the Heartbreakers, and Muse, but let's see what they have in store when it comes to contemporary art as well!
KAABOO presents the 2017 ARTWORK lineup
Contemporary Art at KAABOO Del Mar 2017
Showcasing their art throughout the festival, the 2017 participants of KAABOO are more than familiar to us and our audience. Among them, we have the world-renowned street artists such as Nychos, Bicicleta Sem Freio, Felipe Pantone and PichiAvo, followed by photorealism pioneer Case Maclaim, interdisciplinary artist Crystal Wagner, graffiti artist Elle, as well as creatives Erin Yoshi, Hula, Lauren YS, Lucien Shapiro, Spenser Little, Gloria Muriel and many more! Many of their artworks will be created on the spot and specifically for the event, allowing the public to witness the very act of art-making.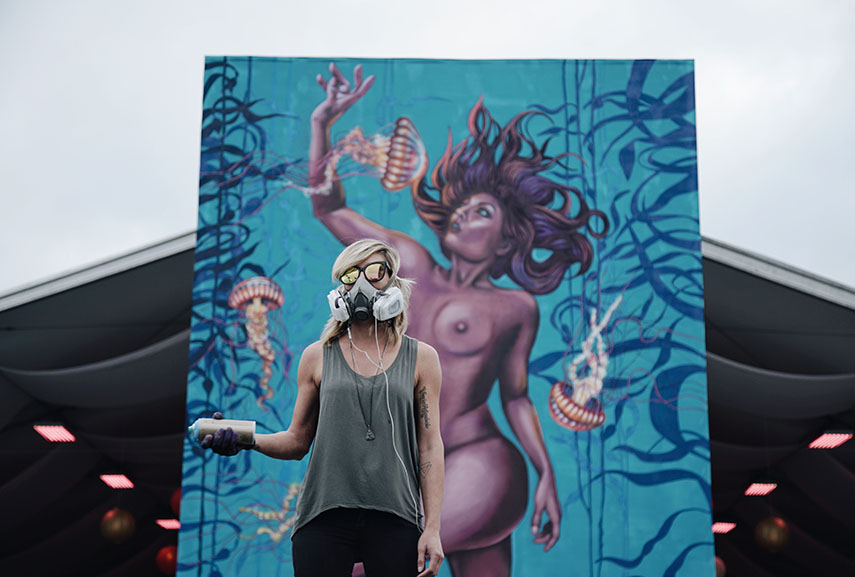 Pop-Up Gallery Exhibitions
Nearly 100 installations by national and global artists will be in place ahead of KAABOO Del Mar, while many more will be creating during the festival itself, making this event one of Southern California's largest contemporary art fairs. The pop-up exhibitions will be curated by numerous participating galleries, including 111 Minna (San Francisco), C.A.V.E. Gallery (Venice Beach), Distinction Gallery (San Diego), San Diego Museum of Art, Sparks Gallery (San Diego), Sugar Press (Los Angeles), and VISUAL Urban Contemporary Gallery (San Diego). All works in this exhibition are for sale on-site.
Full Artist Line-Up
Practical Information
The 2017 KAABOO Del Mar promises a festival to remember, filled with music and art on the highest of levels. "We've curated a program that is filled with an extremely diverse roster of artists who have programs we wholeheartedly believe in," says ARTWORK Director Ariel Gordon. "KAABOO has given our art program the opportunity to be woven into the DNA of the entire event. It's a chance for everyone to find a work of art to fall in love with." KAABOO Del Mar 2017 will be held between September 15th and 17th and you can purchase the passes on the official website.
All images courtesy KAABOO Del Mar.