IF is a fictional character created by Los Angeles-based artist Kai. Becoming his voice to comment on life realities and issues facing our society, IF has been appearing all over the world from NYC, Los Angeles and Miami to Amsterdam, Tel Aviv and Paris. From the streets, Kai artwork has moved to the gallery space and is currently on view at Markowicz Fine Art. For this occasion, he has decided to make a collection of unique multiples of these cement works in order for his message to reach as many people as possible. The exhibition is featuring 14 messages and 7 different frames, but the unique combination of the message and the frame will only be created 20 times. Since copies are not made perfect, no two pieces are alike.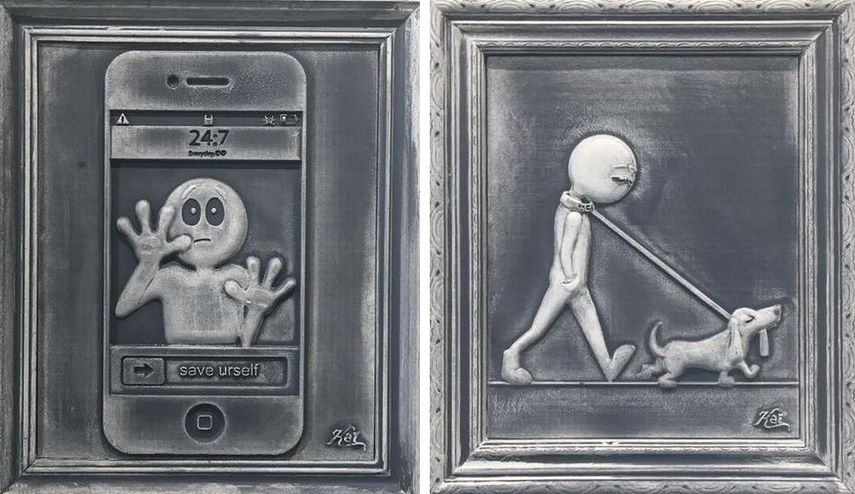 Bringing the Street into His Street Art
At the early age of 14, Kai made the streets of Los Angeles his canvas. Continuing to pursue his creative passion, he graduated from California Institute of the Arts and L'ecole des Beux Arts in Paris. Working with a wide range of mediums, he uses his art to convey powerful messages. What sets him apart from other artists is his unique style and social commentary. Preferring to make his work as simple and as elegant as possible, he has been tackling a variety of themes, from consumerism to exploitation and marketing. Yet, he ultimately leaves the images up to the viewer to interpret. Using the materials that are used in making houses and roads, he has managed to bring the actual street into his street art.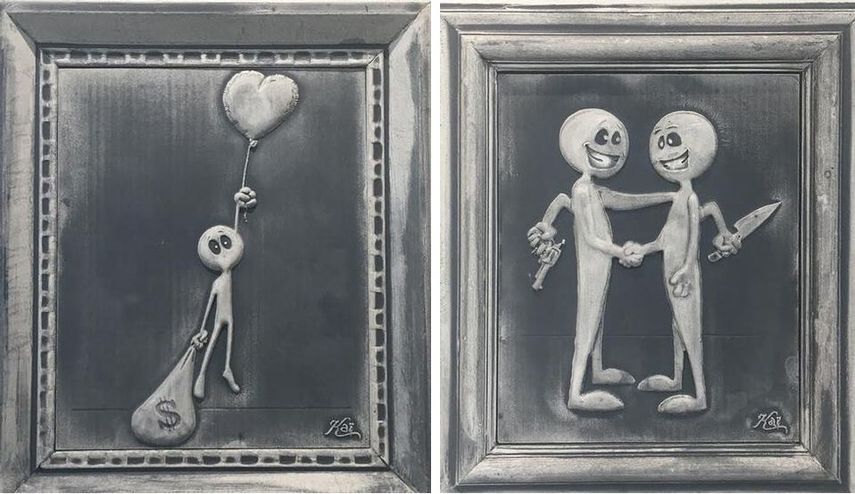 Shedding Some Light with Art
The whole idea behind Kai's work is to shed light in the darkest of places. Whether using concrete pieces, spray paint, or printing on dollar bills, his characters force the audience to internalize his obvious and universal messages. As part of his world tour, he took his talents to various cities including New York, Tel Aviv and Paris. While visiting the hostile territory in Israel, he created some controversial pieces, combating the tribulations of war with satirical messages of peace. During his time in NYC, he placed his art onto the walls and subway cars in the most subtle way possible. Recently, he collaborated with Chris Brown to create iconic pieces that were sold within 24 hours of exhibition.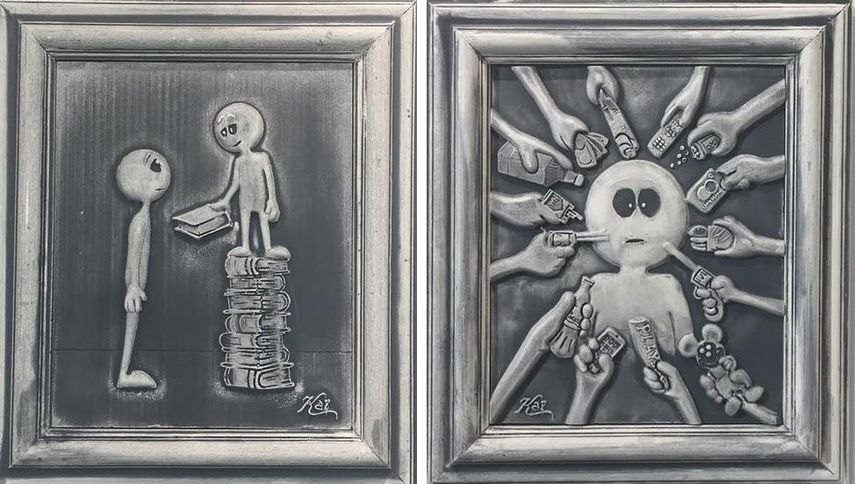 Kai Artwork at Markowicz Fine Art
It could be argued that Kai is the present and future of art. His works have been on view since October 1st at Markowicz Fine Art in Miami as a permanent show. Offering an ever-changing collection of artworks and representing a diverse range of artists, Markowicz Fine Art organizes many exhibitions through the year and participates in diverse international art fairs.
Featured images: Kai Installation View. All images courtesy of Markowicz Fine Art.