She is an Indian girl living in Berlin, she is 22, a student of languages, a hip-hop dancer, a beauty and fitness vlogger and one of India's first female graffiti artists out there. Going under the name of Dizy, Kajal Singh has been painting the walls of many cities, including Delhi and Berlin, where she is currently based, spreading the word (quite literally) using that ever-green "old school" block lettered style from the 1980s New York. Kajal Singh's letters are bold, in every sense of the word, and her signature, often accompanied by a cartoonish character, has now become a frequent sight on walls across the German capital and beyond. Until now, she has done a wall for an Indo-German Urban art project and has collaborated with Nike to support girls in sports - all of which you can check out on her Instagram profile - and we can already tell that the girl is bound to have a shiny future. Constantly in evolution, Dizy's art will surely pave the way for even more female artists making graffiti and street art not only in India but also worldwide.
What was it that made a match out of graffiti and Kajal Singh? How is Berlin street art scene different from the one in Delhi? Why does Dizy only paint walls with permission? On all of this and more, make sure you scroll down and enjoy our chat with India's first female graffiti artist!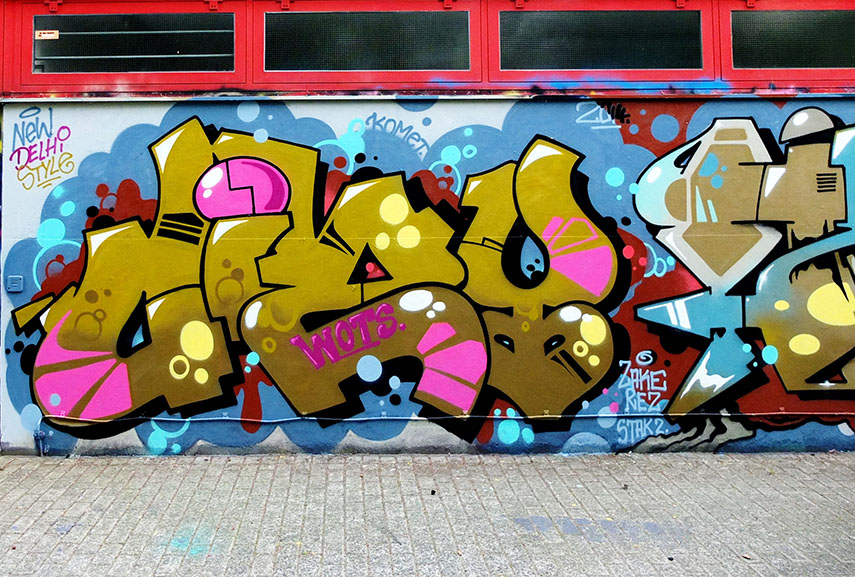 Becoming Dizy - Kajal Singh Interview
Widewalls: Could you describe your journey into becoming one of the first female graffiti artists in India? How do people respond to your work?
Kajal Singh: I was drawn towards Hip-Hop in around 2008-09 through my friend and I started putting my interest into it as it was very impressive culture. Then i started going to Hip-Hop jam and events knowing each other who were into the scene,started doing break dance.
As I was into Hip-Hop, we (me and my brother) got to know that Graffiti is also element of Hip-Hop and then we started Graffiti as it was very appealing and new thing for us to paint through spray paint is so cool :) and that time there were only handful of artist in India...
I always wanna do something else from everyone so I can stand out of crowd, that's why I continued... People appreciated because for them it's new art form and it's fascinating.
Widewalls: Have you come across any other female graffiti artists from India?
KS: Yes there were 2,3 girls but they stopped and/or [are] not so active anymore..
Widewalls: You come from an artistic background: your mom is a painter and your brother is also a graffiti writer How would you say this influenced you to become an artist yourself?
KS: Yes, art is in our blood... so that's why I got more attracted towards graffiti. My mom supported us all the time... she also enjoys the journey through us :) Even though she criticizes me sometimes, when I am being lazy, [asking] why I don't paint or practice more.... In this matter I am very lucky to have supportive parents throughout.
Widewalls: What inspires your writing style?
KS: When we (me and brother) started doing graffiti we used to look into internet and follow the New York oldschool style which was more blocky, 3 dimension ,bubble letters.....Also Slone (WOTS Crew) from New York used to give us skype class in the evening....which was quite cool and helpful for us to understand the basics.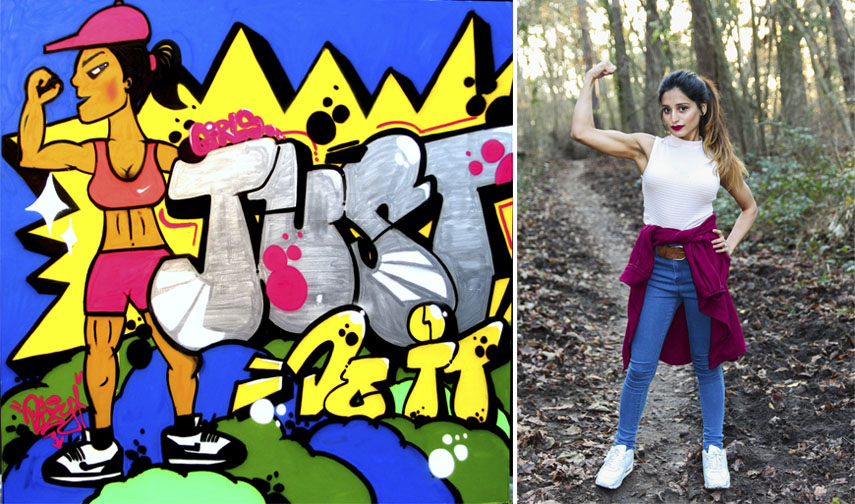 On the Graffiti Scene in Berlin and Delhi
Widewalls: What are the differences between street art scenes in Delhi and in Berlin? How does your work fit in both of them?
KS: Delhi is very small but it's growing... as we are right now in 80s era in Graffiti....And people are not aggressive here [like] "if you go over my piece" , it's more friendly scene.
I don't see any problem regarding how my work fits.... I have own style and that is perfectly fine... I just paint without thinking so much as it's not my job to think what others think.
Widewalls: I read somewhere you always ask for permission to paint at a given location. Why is this important to you?
KS: Yes , i do legal wall because I wanna be free from worries and paint calmly. I wanna show my work to everyone beyond the graffiti culture people. And my artist name "Dizy" is more popular than my real name that it became my identity.
Widewalls: You were also a part of the International graffiti and hip hop team which commemorated the 25th anniversary of the fall of the Berlin wall in 2014. Can you tell us about that?
KS: Yes, I worked in Indo-German Hip-Hop Urban Art Project In Delhi, Mumbai, Kolkata and we also celebrated the 25th anniversary of the fall of the Berlin Wall which was part of German National Day Program
Widewalls: Were there any artists from Berlin or Berlin-based that you collaborated with? How did that go?
KS: Zebster, from Hip Hop Stützpunkt-Berlin. He organised the Project with the German Consulates. And it was fun.
Widewalls: Tell us about your ambitions for the future: where would you like to be in, say, five years?
KS: I will be living and studying in Berlin, but hopefully travelling more around the world and paint more. Open my own fashion clothing or jewelry line incorporated with graffiti. The rest is secret!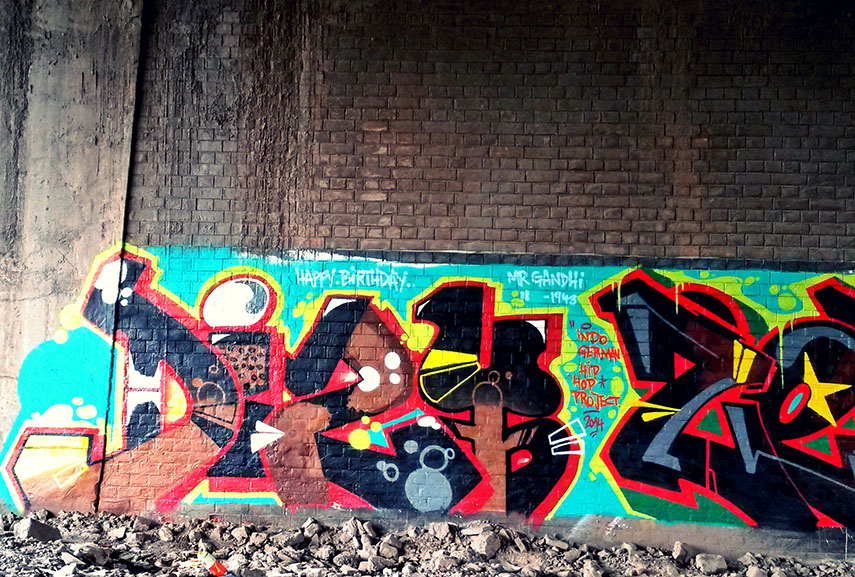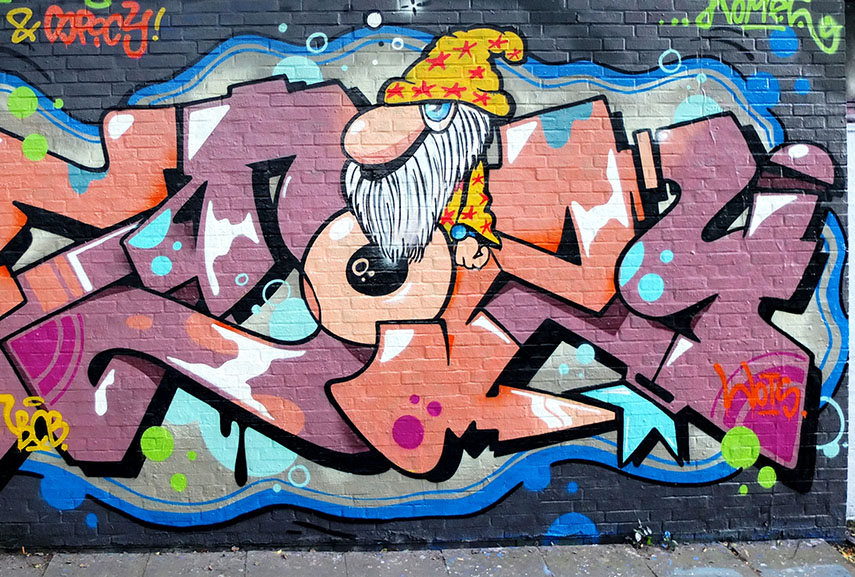 All images courtesy the artist.