When we talked about the history and influence of geometric abstract art, we mentioned that its distinct intentions to present the world in its purest, simplest form also had an impact on street art. Many talented individuals today rely on bold blocks of color that fill out basic shapes and cover entire walls, enriching and embellishing an otherwise grey urban landscape. Among such artists there are Okuda San Miguel and Anna Taratiel, two Spanish creatives that embed abstraction in their work in highly distinctive manners. A chance to compare them in a single space comes from Kallenbach Gallery, soon presenting their joint exhibitions in Amsterdam.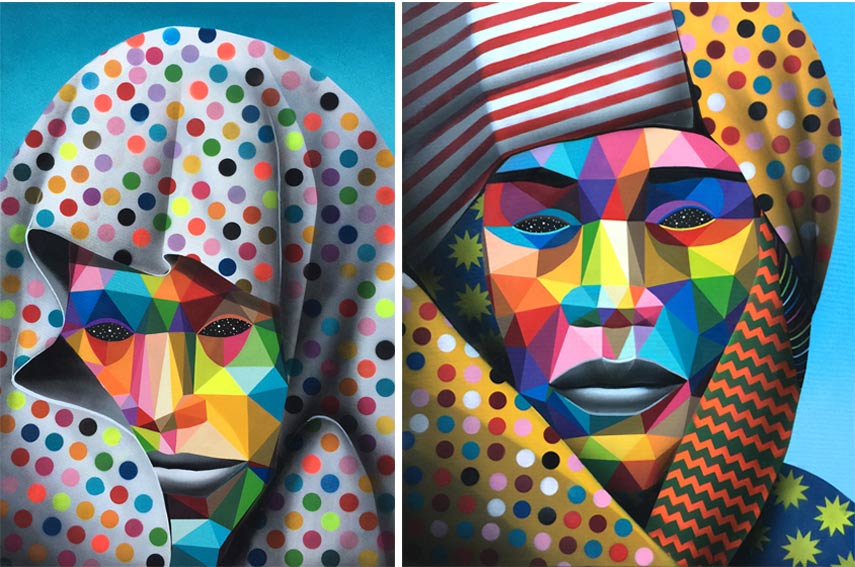 The Exoticism of AsiAfricalism
Japan, India, Mali, Mozambique, South Africa, Mexico, Chile, Brazil, Peru, the United States and pretty much all over Europe. These are only some of the places where one can find the works of Okuda San Miguel, who is known for his vibrant interventions that turn abandoned factories (and even churches) into temples of colors. As street art provided him with an opportunity to travel, the artist was lucky to have encountered many interesting individuals during these trips. In his latest exhibition, entitled AsiAfricalism, his fans can now meet these people themselves, through the unique portrayals of Okuda San Miguel. These works will encourage the viewers to look a bit further, in order to understand their environment, and to explore the things we have in common, regardless of ethnicity, origin or any other differences between us.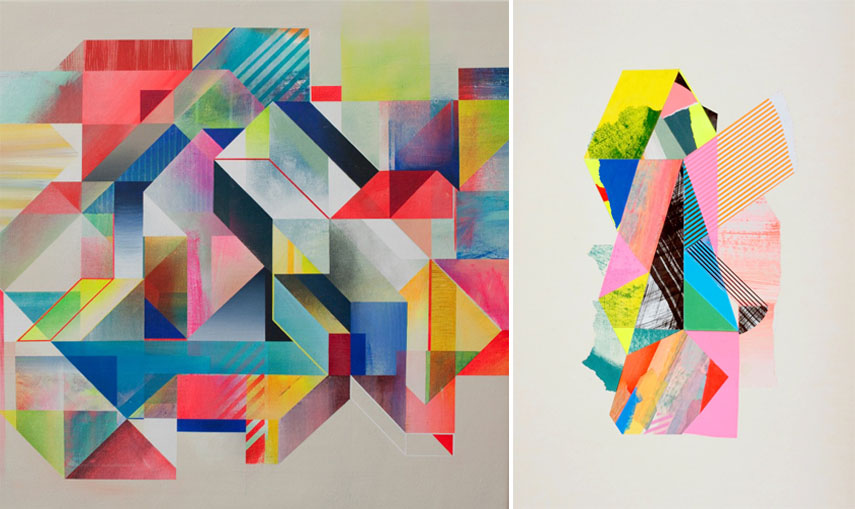 The Essence of Magnetism
The art of Anna Taratiel may follow the concepts of abstract art in aesthetics, but the artist claims it is not about the abstraction per se; rather, it's about the creation of layers and structures of a fantasy world that is almost tangent. For her Magnetism series, she presents contemporary collages made with paper, tape and canvas in her trademark style. These new works don't have a sole focus on one central object, like it's the case with her previous pieces. Instead, they come together as a composition, interacting and referencing one another. Anna Taratiel's practice explores the limbo between the two-dimensional and three-dimensional space, employing a broad sense of design that involved her into being commissioned to do murals for people's homes as well. One of these interactive projects is the Parts 'n' Pieces, a series of murals she painted on 26 houses in Amsterdam.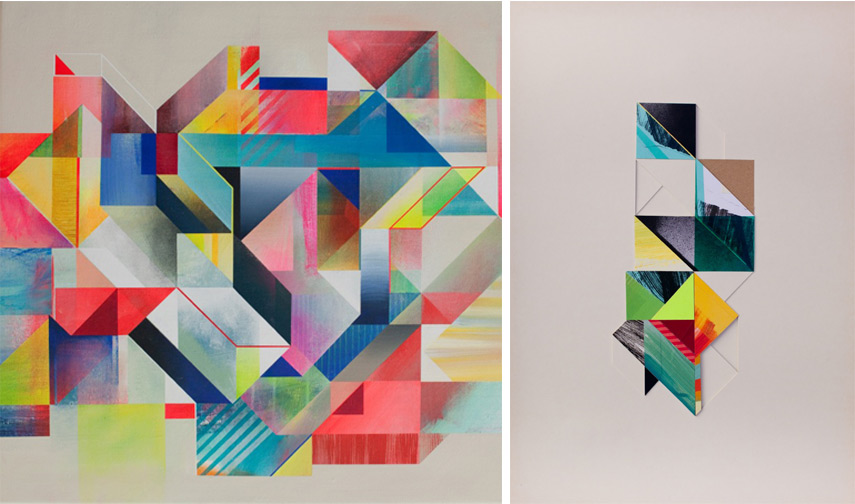 Okuda San Miguel and Anna Taratiel at Kallenbach Gallery Amsterdam
The two upcoming exhibitions at Kallenbach Gallery in Amsterdam, Magnetism by Anna Taratiel and AsiAfricalism by Okuda San Miguel, will be on view from April 1st to May 1st, 2016. As two remarkable representatives of the contemporary art scene, both artists create within the realms of both urban and fine art, emphasising the influence of abstract art on today's creative consciousness. Okuda San Miguel and Anna Taratiel will also be present at the opening reception, scheduled for April 1st from 5pm to 8pm.
Featured image: Anna Taratiel, detail. 80x80. All images courtesy of Kallenbach Gallery.