Some artists settle for creating works of art. Others use their imagination and skills to create entire fictional worlds composed of ephemeral landscapes and inhabited by mysterious creatures. Karla Ortiz art pieces construct one such world where nymphs, dandies, and tribeswomen live in repetitive periods of battles and harmony. Her richly detailed, illustrative works blur the line between painting, drawing, comic books and film while taking the best from every field to complete her unusual nightmarish microcosms. The visitors of Spoke Art will soon have the opportunity to enter the magical world of Karla Ortiz at her upcoming solo show entitled Chimerical.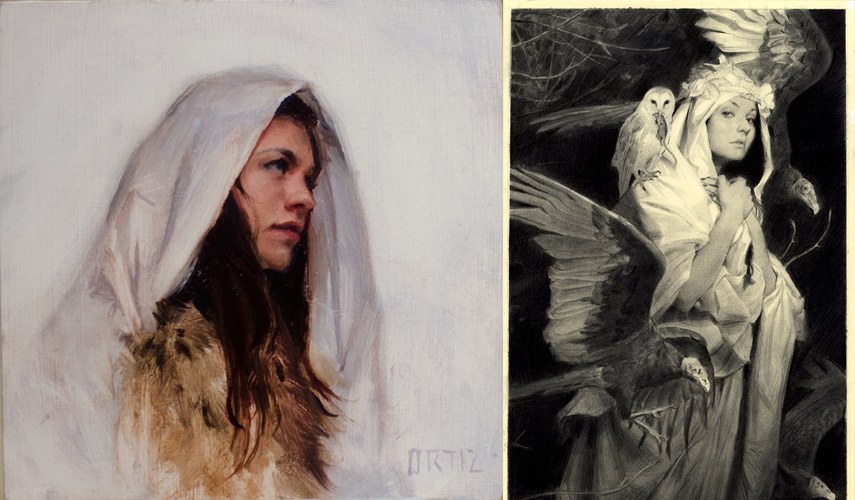 The Versatile Influences on Karla Ortiz Art
Karla Ortiz is an artist and an illustrator who has worked on a variety of computers games, critically acclaimed sc-fi TV series and popular films based on Marvel's comic books. The artist uses her background in illustration, gaming and film industries and her storytelling skills to create dark and mysterious fantasy world of her own where people live side by side with nymphs, fairies, and other mythical creatures. Karla Ortiz art is influenced by Grimm Brothers fairy-tales, folklore and similar mythological stories that are hugely responsible for the eerie atmosphere in her work. The influence of artists John Singer Sargent and Norman Rockwell and masters from Golden Age of Illustration are also visible in her works that portray the high-level mastery in drawing and skillful light and darkness juxtaposition.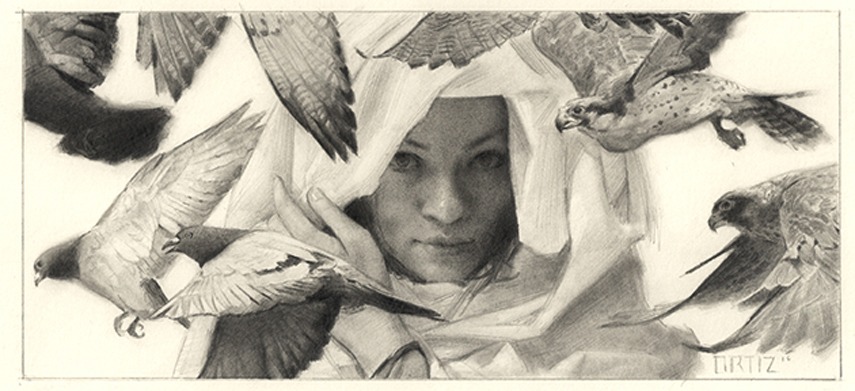 Ethereal World of Karla Ortiz
For her upcoming Chimerical exhibition the artist created a series of artworks inhabited by ghostly creatures covered in robes and drapes thus resembling the Roman marble sculptures. Simultaneously vulnerable and energetic, the characters convey a variety of emotions ranging from sadness and loneliness to rigidness and strength. Her strange but seductive subjects have an uncanny ability to lure the viewers into the artist's mystical landscapes, fantastical forests, and antique interiors that complete the ethereal world of Karla Ortiz.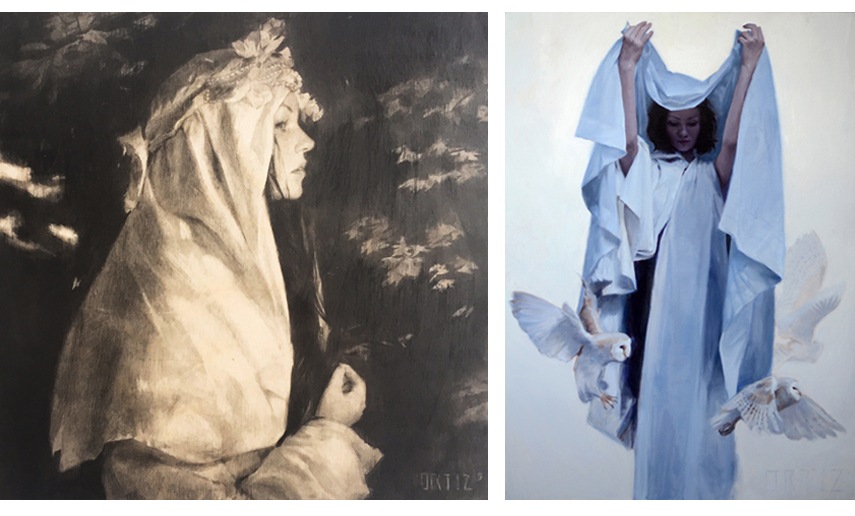 Chimerical Solo Show at Spoke Art
Chimerical exhibition of works by Karla Ortiz will be on view from August 4th till August 27th, 2016 at Spoke Art in San Francisco. The upcoming exhibition will represent the artist's first solo show ever and a wonderful opportunity to introduce yourself with the works of this talented artist. The show will consist of selected oil paintings made on panel and graphite drawings created on paper that will serve as portals and transfer the Spoke Art gallery visitors into a different reality.
Featured images: Left: Karla Orgiz - Rigidium / Right: Karla Ortiz - La Fae; Images courtesy of Spoke Art