Kate McCarthy art has been exhibited all over the world including Germany, England, Australia, and now in Chicago, with a show titled The Fantastic Nest at Matthew Rachman Gallery. She is a Tasmania-based artist who brings together pastels, rainbows and fluffy animals to form collages that are cute and just a little bit twisted. She lives and works from the Bay of Fires on Tasmania's East Coast. She relies on the memories triggered by her young sons, developing milestones for her imagery which is then transferred into the purest works of shapes, color and intent, full of mix media and patterns. Kate McCarthy's biggest critic is her son, who is quoted on her site saying: "Mummy's paintings are really weird and I don't even know what they are."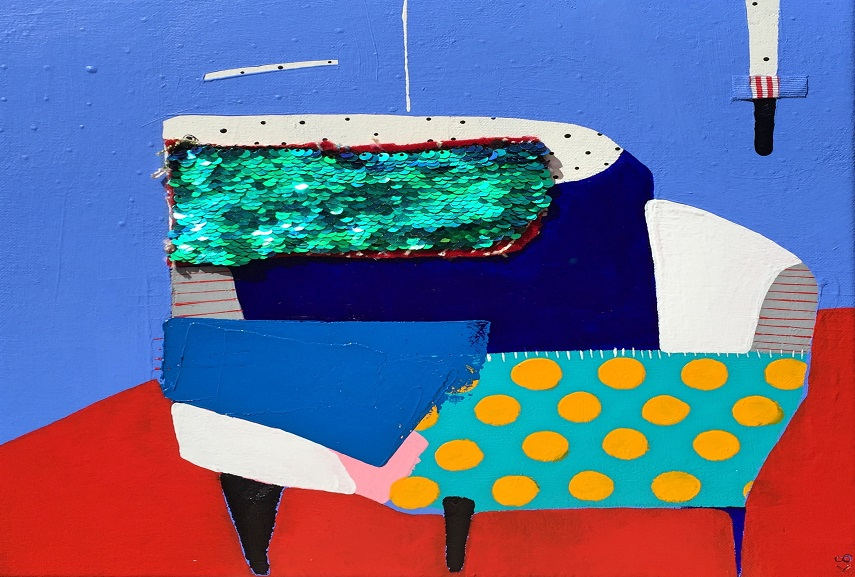 Woving Traditional Methods of Embroidery Into Painting
In the past, Kate McCarthy focused her practice purely on painting. However, as of late, the artist has directed her attention to modern soft sculpture and embroidery. She enjoys incorporating the traditional methods of embroidery into a painting to welcome the conversation about the role of technical handicraft within contemporary art. Visually, both with her paintings and soft sculptures, McCarthy mixes pattern and color to transport the viewer back to deeply rooted memories of comfort and childhood. She utilizes both figurative and abstract styles to achieve this, often calling on a rather illustrative approach. Human comfort, nesting, and personal expression rely heavily on the use of fabric, design, and their intrinsic tactile qualities. With embroidery at the cornerstone of The Fantastic Nest, Kate McCarthy uses stitching as a narrative tool throughout her body of work. Chairs hint at rest, conversation, and repose. The pillowy, fantastical figures are a wonder begging to be squished, touched, and adored. The visceral reactions to her works are representational of all things that are fantastically human.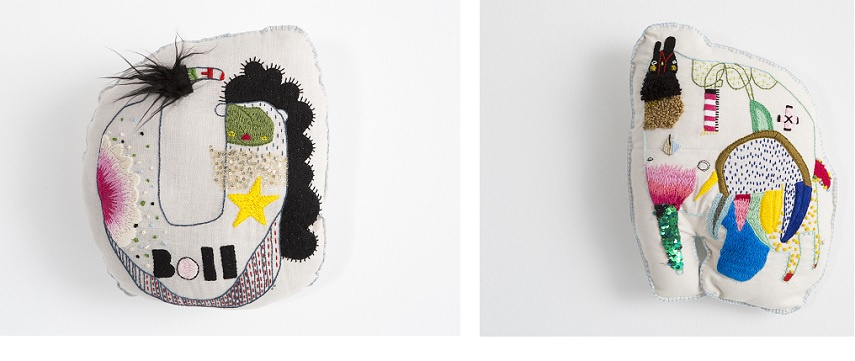 The Fantastic Nest
The artist says her works are "things of comfort dressed up," and she uses a pattern to inspire nostalgia in her viewers. With childlike shapes and mysterious figures, there is something uncanny about her works. They are at once familiar and strange. They feel cozy, they appear wrapped up like a gift, and they are definitely hiding something. Also of note is the fact that, while these peaces appear to be made with traditional materials, McCarthy sometimes incorporates coffee and cigarette smoke into the work. We also appreciate her use of texture and color. Kate also creates adorable designs and patterns for tea towels and other objects. She said: "The thing I admire most at the moment, artistically speaking, is a balance between naivete and expression, and where the material is celebrated." She is multifaceted artist and creator. With a keen sense of whimsy, and a dash of psychedelic surrealism, McCarthy's creations are a unique breed of a familiar spirit.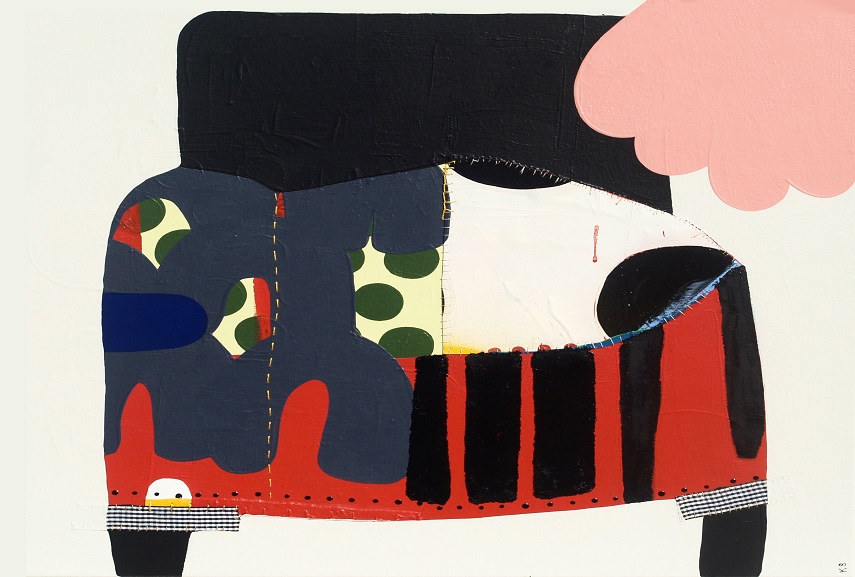 Experience Kate McCarthy Art at Matthew Rachman Gallery
Kate McCarthy holds exhibitions at least every eighteen months. Her latest solo exhibitions include Big Little, Penny Contemporary, Hobart (2015), The Small Things, Penny Contemporary, Hobart
 (2014) and Chux Redux, CSart, Reggio Emilia, Italy (2010). The exhibition on view at Matthew Rachman Gallery in Chicago starts on June 2nd and closes on July 23rd, 2017. The gallery will host an opening reception on Friday, June 2nd from 6 pm to 9 pm, and the artist will be in attendance.
Featured images: Kate McCarthy - Office Party, oil, thread, enamel and acrylic on canvas, 60cm x 60cm; Middle English, oil, thread, enamel and acrylic on canvas, 12in x 16in. All images courtesy of Matthew Rachman Gallery