Throughout the history of the arts, landscape paintings have always been one of the most represented ones. In contemporary practice, the examples of Kate Shaw art are perhaps those that recall the most glorious depictions of nature of the past. The Australian artist is now returning to Hong Kong for a second showcase entitled Solastalgia at the local Cat Street Gallery, bringing along a series of brand new pieces. Once again, the complex painting techniques she uses reveal the beautiful and the horrible in the world around us in quite an original way.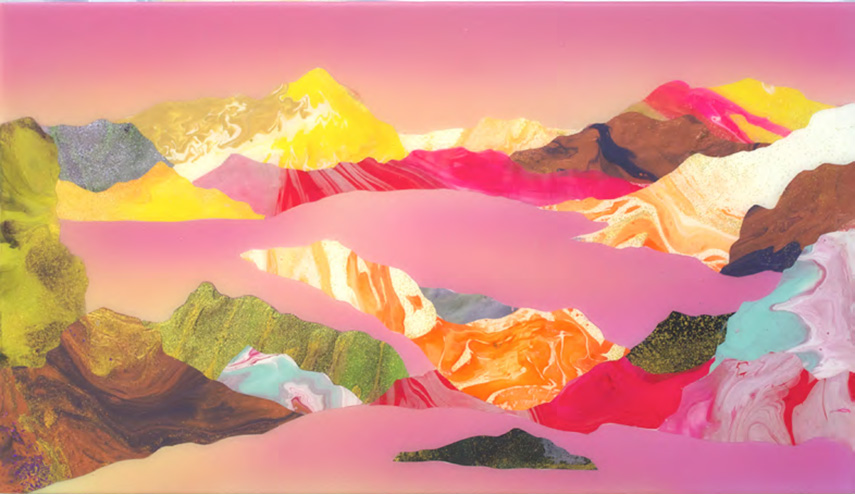 Solastalgia
Coined by philosopher Glenn Albrecht in 2003, "solastalgia" is a neologism that describes a form of psychic or existential distress, caused by environmental change such as mining or climate change. It comes as a combination of two words, one being Latin "solacium" (comfort), and the other being a Greek root -algia, meaning pain. In fact, looking at Kate Shaw art, even though at first sight her artworks are captivating in all their hues and saturations, they give out a feeling of unease, as if her world is too perfect to be true. Behind the psychedelic scenery, there are hints of pollution and corruption which furthermore draw our attention to our own conflicted relationship with the natur - one flight with awe and fear, closeness and distance.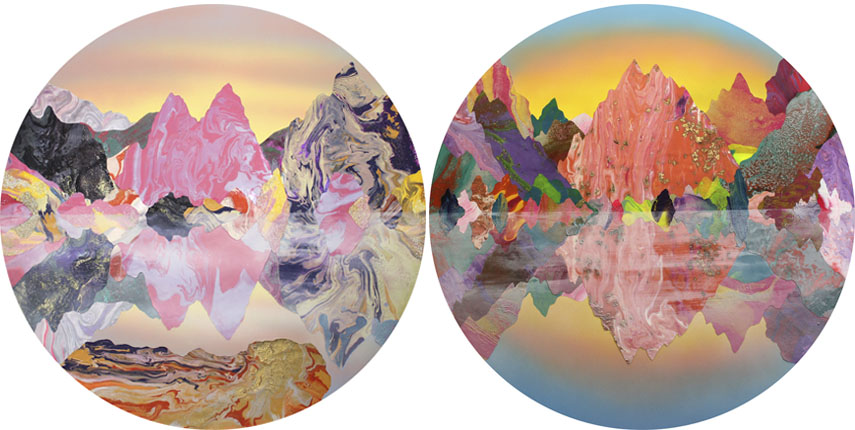 The Sublime and the Toxic
Kate Shaw's art is now famously created through several processes. First, the artist pours layers of acrylic paint and lets them form naturally, adding ink, glitter, and powders. Then, she looks for landscapes within these abstract forms, which she then cuts and re-arranges into what we then see as familiar mountains, lakes, views, trees. While her paint reveals the mesmerizing aspects of the natural world around us, what lies underneath is discomfort, rooted in the endless cycle of creation and destuction. According to Kate Shaw, her practice aims to convey ideas of nature, alchemy, the tensions and dichotomies in the depiction of the natural world and our relationship to it. "I am concurrently exploring the sublime in nature whilst imbuing a sense of toxicity and artificiality in this depiction," comments Kate Shaw.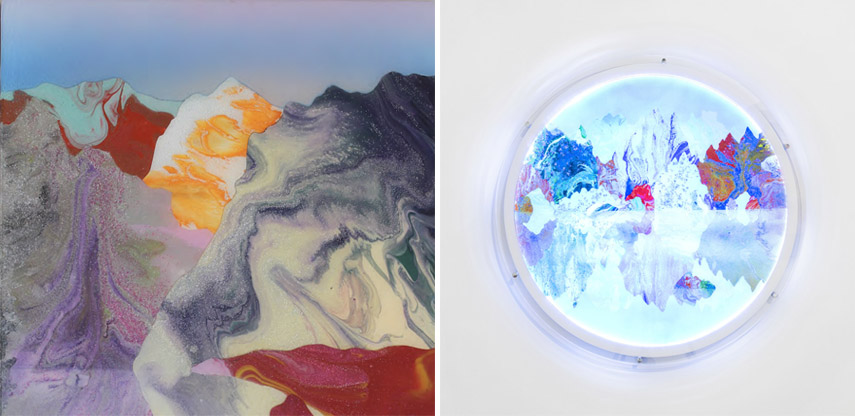 Kate Shaw Art at The Cat Street Gallery
What do we feel while looking at these artworks? Do we feel guilt about destroying our own habitat or do we choose not to go beneath the pretty surface? The only way to know is to visit the Solastalgia exhibition of pieces by Kate Shaw, which will be on view at The Cat Street Gallery in Hong Kong from March 23rd through April 10th, 2017. The opening reception including cocktails and canapés is scheduled for March 23rd, from 6pm to 9pm.
Featured images: Kate Shaw - Tellus, detail; Solacium. All images courtesy the artist and The Cat Street Gallery.