A multidisciplinary artist, the Russian artist Katya Zvereva explores a wide palette of emotions and intense interrelationships. Combining raw emotion with vivid colors and deliberate forms, the artist had forged a distinct and powerful visual language.
Currently on view at Untitled Space is her debut solo show, premiering a wide range of new works including large scale acrylic and oil paintings, woodcuts, monotypes, drawings, and sculpture. Titled Katya Zvereva: Femme Fleur, the exhibition features a vibrant new body of work that examines raw emotions, women, and relationships.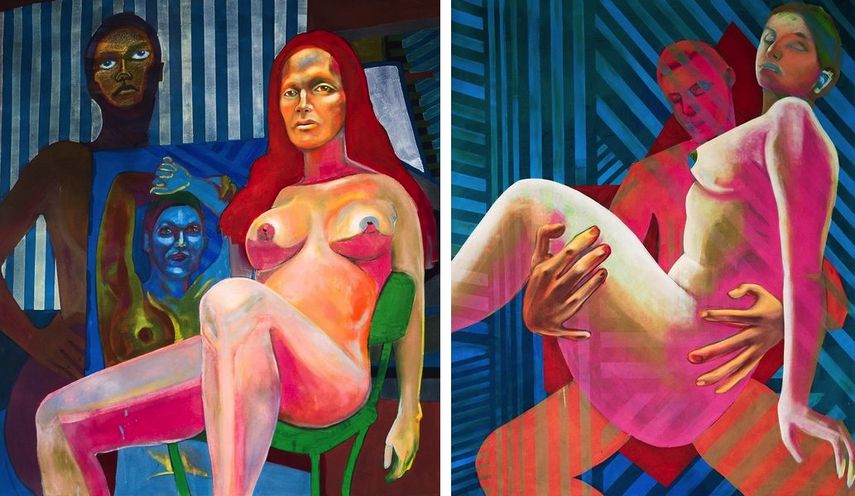 The Practice of Katya Zvereva
Born in Saint Petersburg, Katya Zvereva works between many media: from painting, printmaking, drawing, and sculpture, to explorations with object d'art and furniture. She has developed her own printmaking technique based on monotypes mixed with drawing, which she often prints on multiple layers of fabric or hand-made paper. Zvereva also creates large-scale installations based on analog woodcuts, which are printed by hand on a multitude of surfaces.
Creating art as an act of visual meditation, the artist creates works imbued with private, subjective, and unfiltered references from her past and future. Communicating a visual dialogue between her intimate world and contemporary social and political issues, her vibrant works serve as emotional self-portraits, evoking emotional metaphors of the subconscious.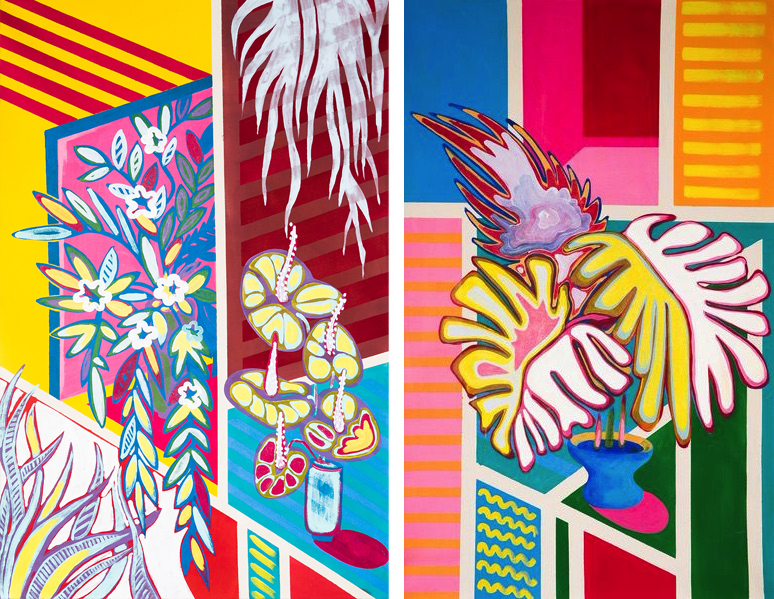 Exploring Complex Interrelationships
In her latest body of work, Katya Zvereva tackles a broad spectrum of human emotions and relationships, using color and texture as a storytelling vehicle. Characterized by textured nuances and bold strokes, these color-saturated works evolved from her early monochromatic woodcuts.
Drawing inspiration from her female friends, the artist explores her inner psychological world and her own womanhood in relation to the most universal emotions of humanity. Telling complex stories, she aims to create art everyone can identify with. She explains:
The emotions that I'm showing in my paintings are mostly basic emotions: fear, anger, curiosity, love, pain. I want people to look at my paintings and say 'I can hear it, I can feel it, it's part of me.'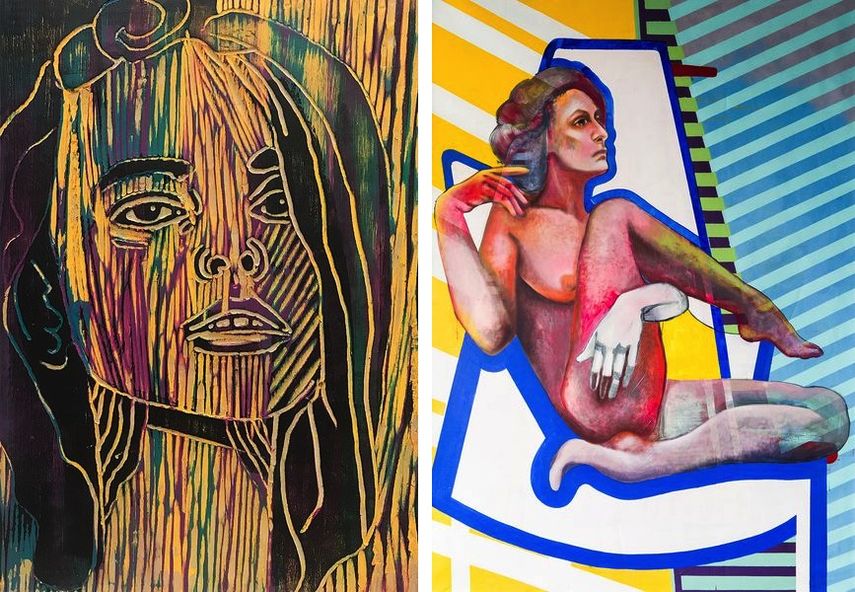 Katya Zvereva Exhibition at Untitled Space
Before the show closes, we had a chance to catch up with the artist.
Widewalls: This is your first gallery solo show! How does it feel?
Katya Zvereva: It feels like a very good start! Like I've passed one more level with the boss in a video game. I have been working on this project with Indira from The Untitled Space for over 6 months and it's amazing to be work directly with the curator of the exhibit because you can stay on the path more clearly. Previously, I worked on multiple projects at the same time and it was more like writing a book of short stories and now it's the whole novel - about particular characters. I guess you also need to be ready mentally for these kinds of things, and I put everything down to work hard on the show.
Widewalls: You work across a diverse range of media. Do you have a favorite one?
KZ: I don't have a favorite. For me, all forms of media are like letters in my own alphabet of a language that I'm developing. So I know what I want to say and I'm using different techniques to express it. I feel like it's a better way for me to express my artwork.
Widewalls: What does each of them bring to your practice?
KZ: All of them bring different textures. Like in a movie you need to have different characters which tell the story. It's the same with different mediums. They are all interesting and exciting to use. I don't feel the need to work in one particular medium because I'm changing every day but the core doesn't change, so there is still similarity and something consistent.
Widewalls: You are inspired by women: do you think your work is of particular resonance in the era of #MeToo?
KZ: I can't say that about myself directly. I started this theme inspired by women because I wanted to know what kind of woman I am, as well as my female friends. I make work about the emotions that we have and the situations we are in. #metoo is a very straightforward thing and I think a lot of women have experienced it in one way or another and it's the worst. But I'm also very happy that #metoo exists because it has helped a lot of women to talk about what has happened to them and deal with it. If you hide things like that inside of you, it affects your life significantly.
Widewalls: How challenging would you say it is for you to transfer feelings onto your support of choice?
KZ: It [means] a lot, because all my life experiences I'm sublimating in my art. I hear a lot from other people that the emotions I show in my artworks, they feel too. Like in "What If," for example, everyone told me, "yes, this is how I feel everyday living in New York City."
Widewalls: What has the public's reaction to your work been so far?
KZ: For me, the main goal was to create something that everyone will understand. I hear a lot from people what they see is the same emotion that I was hoping to show. This continues to drive me because it helps people to see that they are not alone.
Widewalls: What's next for you?
KZ: Next is always more creations, more artwork! I'm already working on new projects that I'm very excited about. One of them is a continuation of my art furniture collection which is a collaboration with one of my friends Gerard Williams.
The exhibition Katya Zvereva: Femme Fleur is on view at Untitled Space in New York until May 24th, 2019.
Curated by Indira Cesarine, it is part of a series of solo shows presented by The Untitled Space throughout 2019, featuring artists with an extraordinary body of work that aligns with the gallery's mission to promote women in art and unique voices that are under-represented.
Featured images: Katya Zvereva: Femme Fleur, Solo Exhibit at The Untitled Space, May 2019.