Although some critics consider the Baroque to be the first popular culture, what immediately comes to mind when popular culture and art are considered are Pop Art and Andy Warhol. However, contemporary art with the proliferation of street and urban styles has brought the world of Pop closer to art than ever. KAWS art is one of the best examples, with its distinct and yet recognizable assortment of popular iconography. KAWS started his career in the early 1990s as a street artist and soon became one of the leading names on the scene. His imagery consists of both established popular motifs and characters, which he transforms, or from those that are a product of the artist's imagination completely. His new works will be featured at the Contemporary Art Museum St. Louis (CAM), in the exhibition titled KAWS: Far, Far Down.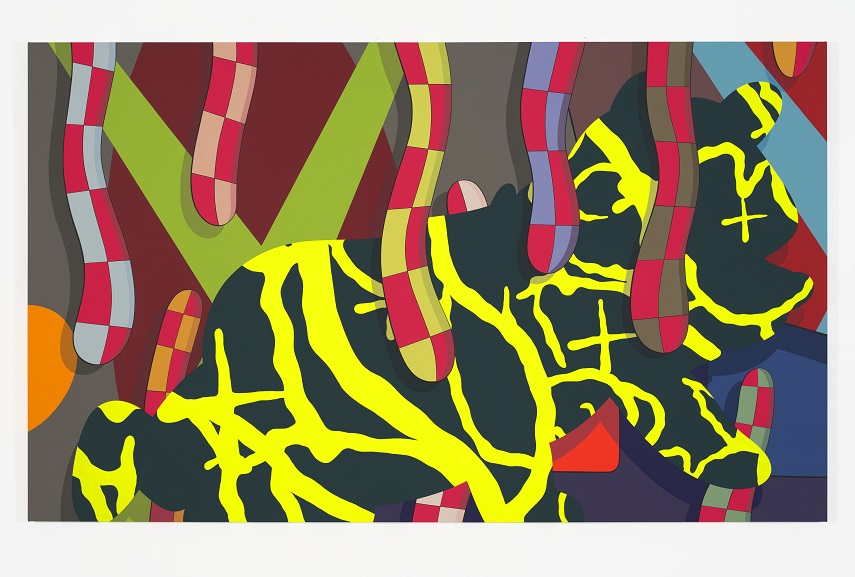 Between Popular Culture and Human Condition
For the occasion of the Far, Far Down exhibition, KAWS will create a unique painting on the museum's Project Wall, which will serve as a background for a series of large-scale paintings. In addition, he will have one of his new bronze sculptures unveiled in CAM's courtyard. Titled Together, the sculpture evokes pathos and contemplation, while being immediately endearing, while the painting on the Project Wall creates an engaging visual experience with vibrant colors and distinct patterns. The painting is titled as the exhibition itself and implies either physical or emotional descend, or both, while inviting viewers to discover barely recognizable popular figures inlaid within the scene.
KAWS works possess a unique emotional energy. Instead of criticizing popular culture, they draw links between commercialization and the human condition, without being didactic or overbearing. The lightness of the artist's spirit conjoins the serious formal aesthetic, creating results of high artistic quality.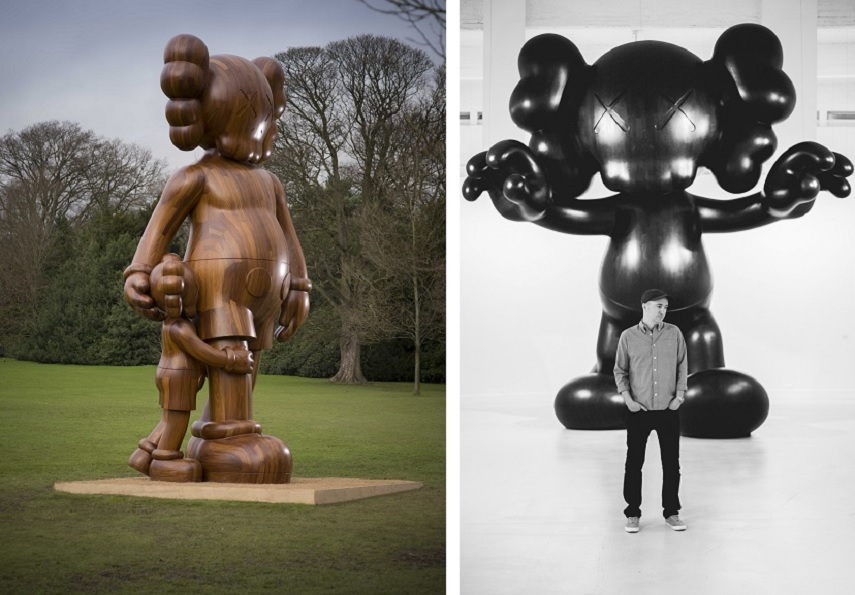 KAWS Art
Born in 1974 in Jersey City, New Jersey, KAWS lives and works in Brooklyn. He started out as a street artist, only to move later to studio mediums, such as paintings on canvas, screen prints, and sculpture. Although his works have been a part of popular culture for some time now, he is still inspired and draws from the world he is so firmly a part of, including the iconic imagery that he transforms into his recognizable style.
His art is mostly figurative in style, and he is known for the number of recurring characters dating back to his artistic beginnings in the 1990s. Some of them are his own creation, of which the most recognizable element is X symbol for eyes. Today, KAWS encompasses the realms of both art and design and has collaborated with some of the world-known brands such as Nike, Comme des Garçons, Supreme, and Uniqlo.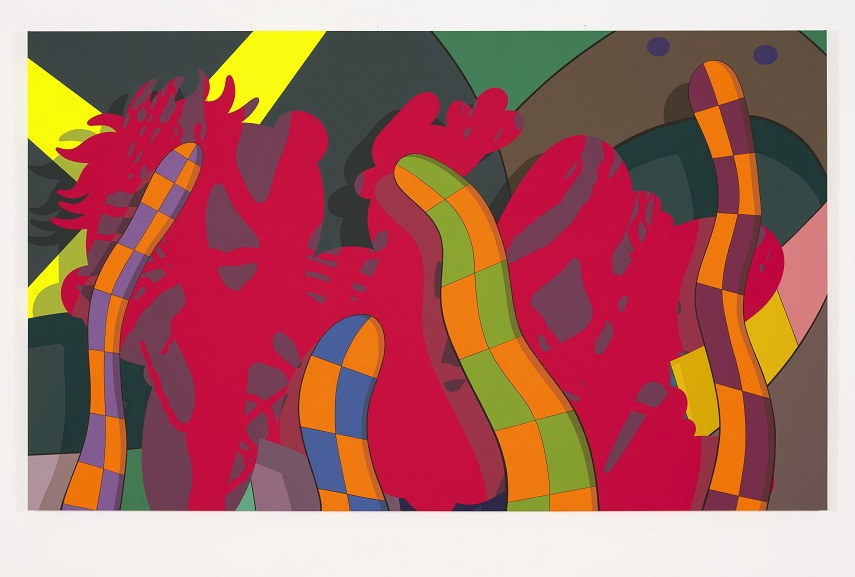 Far, Far Down at the Contemporary Art Museum St. Louis
So far, KAWS has exhibited his work in major US and international museums and art institutions, including Brooklyn Museum, Pennsylvania Academy of Fine Arts, Nerman Museum of Contemporary Art, High Art Museum, Modern Art Museum of Fort Worth and Yuz Museum, Shanghai, More Gallery, Giswil, Switzerland, Galerie Perotin, Seoul, Korea, Yorkshire Sculpture Park, and Longside Gallery.
The Far, Far Down exhibition of KAWS works opens at the Contemporary Art Museum St. Louis on 5th May, and will be on view through 13th August, 2017.
Featured images: KAWS - Bff, installation view, Central Embassy, Bangkok, 2016. Courtesy the artist; KAWS - Alone Again, 2016. Acrylic on canvas, 72 x 60 inches. Courtesy the artist. All images courtesy of the Contemporary Art Museum St. Louis.