An artist straddling high art, pop culture and his own signature style, KAWS has become an art world phenomenon of sorts. Wherever it pops up around the world, his art attracts thousands of people. Transitioning from his earlier graffiti career, the artist has developed a recognizable visual language, transforming imagery from popular culture with his own unique twist.
KAWS' COMPANION, the Mickey Mouse-inspired character with signature a skull-and-crossbones head, crossed eyes and white gloves, is certainly the artist's most iconic creation. KAWS: HOLIDAY, the artist's iconic installation featuring COMPANION, has landed in Seoul, Taipei, Hong Kong and Japan since 2018, attracting a global audience.
Now, marking the character's 20th year in existence, COMPANION went to space! In collaboration with AllRightsReserved, the iconic character goes beyond our atmosphere, looking back at Earth from a new vantage point.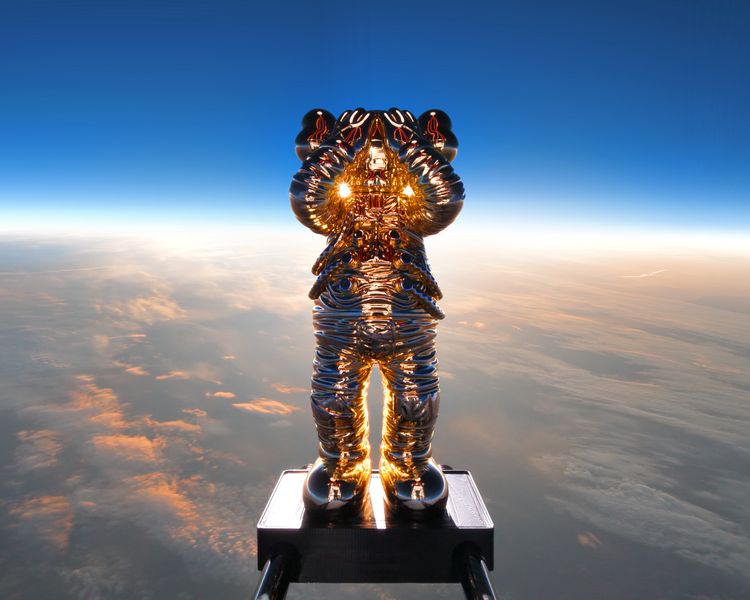 The Practice of KAWS
An artist who has been experiencing the meteoric rise in the past few years, KAWS has been playing with Pop culture in some unexpected ways, transforming many familiar television and cartoon icons into forms that draw on the tradition of abstract painting, such as characters from The Simpsons, the Michelin Man, the Smurfs, and even SpongeBob SquarePants. Transcending both language and culture, the artist seeks to make works universally understood.
Christie's associate specialist Noah Davis described KAWS as "omnivorous," adding that "no cartoon is safe from being consumed and turned into KAWS."
KAWS: HOLIDAY in Space
Equipped with an astronaut's suit, COMPANION took a sounding balloon 41.5 kilometers (136,296 feet) up into the Stratosphere. After reaching super high speeds, COMPANION had a 2-hour, zero-gravity walk in uninhabited space before returning to Earth. Taking about 8 hours, from preparation for lift-off, departure to landing, this historical moment was recorded with a 360-degree panoramic video camera.
Always thinking about what sculpture can be, KAWS explained he wanted to create "one that could be experienced safely from home."
Because this year marks 20 years since I created COMPANION, I tried to find a way around all the restrictions and do something special. I felt so confined the past few months that creating a project like this has really given me a chance to escape.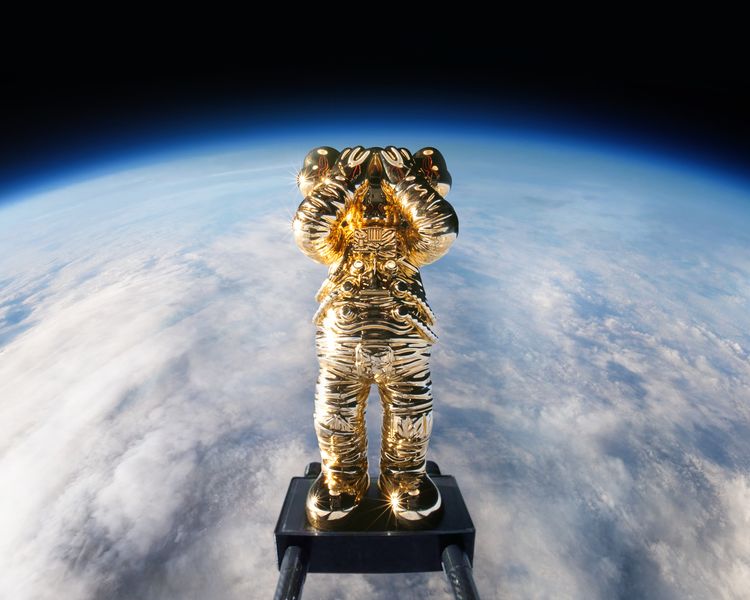 About AllRightsReserved
A creative studio based in Hong Kong, AllRightsReserved can be described as daring architects of fresh projects, compelling exhibitions and memorable experiences. They bring the most astonishing and influential outstanding projects that receive attention but also allow the public's participation.
APR and KAWS have been long-term partners, first collaborating in 2010 on KAWS:PASSING THROUGH, and continuing to KAWS:HOLIDAY exhibited in different locations, including Korea (July 2018), Taipei (2019) January), Hong Kong (March 2019) and Japan (July 2019). This recent sculpture is also on sale and you can find the information here.
Featured image: KAWS:HOLIDAY in Space. All images courtesy of AllRightsReserved.