Straddling high art, pop culture and his own signature style, KAWS has become an art world phenomenon of sorts. Transitioning from his earlier graffiti career, the artist has developed a recognizable visual language, transforming imagery from popular culture with his own unique twist.
The Brooklyn Museum will present a sweeping survey of the artist's career, from his roots as a graffiti artist to a dominating force in the contemporary art world. Titled KAWS: WHAT PARTY, the show brings together a range of works from the artist's diverse career, including drawings, paintings, bronze sculptures, smaller objects, furniture, and monumental wooden sculptures of the beloved COMPANION character, as well as a selection of new and existing works that have never been publicly displayed.
The visitors will have an opportunity to directly engage with KAWS's work through Acute Art, an augmented reality app the artist has partnered with. In conjunction with the exhibition, a towering new sculpture by the artist will also be installed at Rockefeller Center's historic plaza in summer 2021.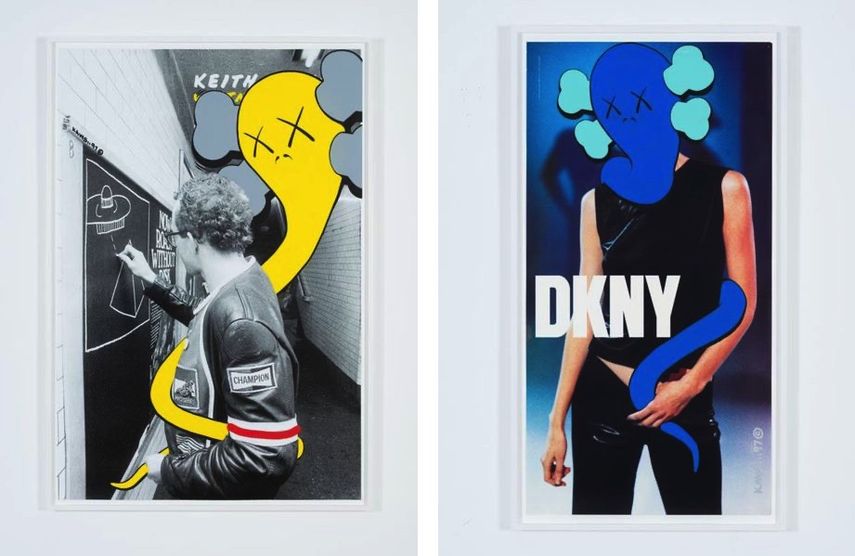 The Practice of KAWS
Celebrated for his playful use of abstraction and his meticulous execution, KAWS has developed a practice outside of orthodox art world channels and rooted in graffiti art, drawing, and animation. Bridging the worlds of art, popular culture, and commerce, he repeats iconic imagery in an attempt to make works universally understood, transcending both language and culture. He is famous for reworking many familiar television and cartoon icons into forms that draw on the tradition of abstract painting.
As Eugenie Tsai, John and Barbara Vogelstein Senior Curator, Contemporary Art, Brooklyn Museum and the curator of the show says, the museum has been working with the artist since 2015.
While participating in a cultural environment shaped by image and consumption, KAWS simultaneously emphasizes the constant presence of universal emotions in his work, such as love, friendship, loneliness, and alienation an emphasis that is now more important and relevant than ever before.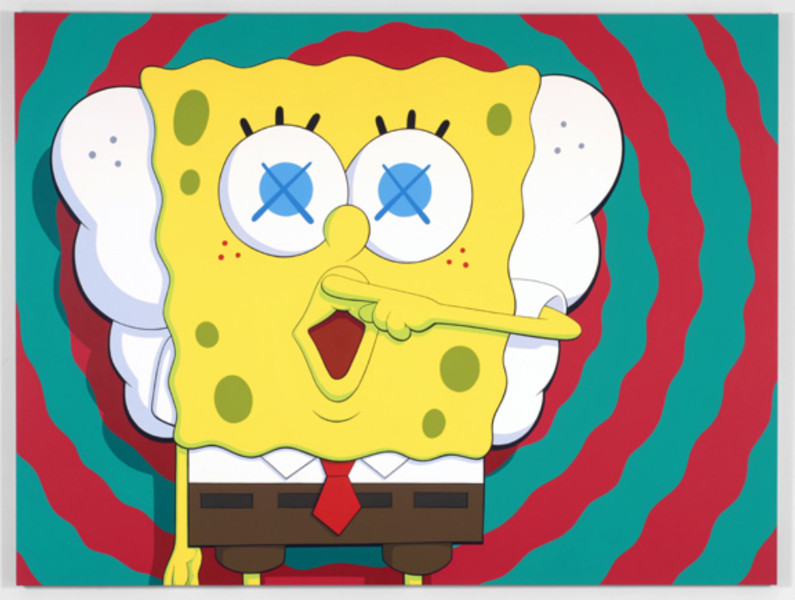 The Display
The exhibition is divided into five parts, each highlighting his evolving artistic practice.
The first section brings together works from his early career, including graffiti drawings and notebooks from the early 1990s, on view for the first time in the United States, as well as his altered bus shelter and phone booth advertisements with which he first rose to prominence.
The second section features his appropriation, alteration, and abstraction of characters from popular American cartoons, and includes a selection of shaped canvases featuring characters like the KIMPSONS and KAWSBOB.
The third section displays the new work that addresses the current social climate, including a series of paintings and a grand, introspective sculpture, evoking ubiquitous feelings of sadness, grief, anxiety, and isolation.
The fourth section brings together collaborations with other designers and brands in fashion and industrial design, including preparatory sketches and furniture, as well as toys and other products.
Finally, the fifth section focuses on KAWS's acclaimed COMPANION figure, including a number of newly fabricated COMPANION sculptures from the artist's popular HOLIDAY project accompanied by never before seen cinematic short films highlighting the project.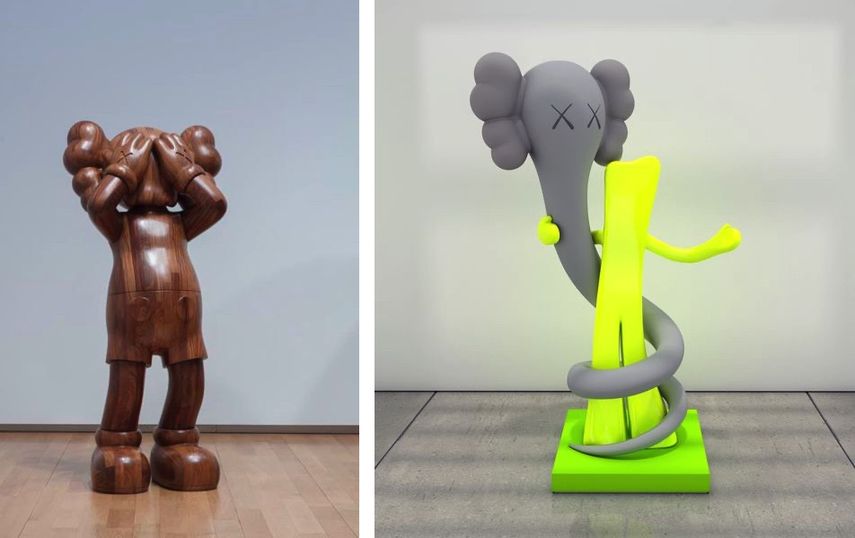 KAWS at the Brooklyn Museum
The exhibition KAWS: WHAT PARTY will be on view at The Brooklyn Museum in New York from February 26th until September 5th, 2021.
The exhibition is accompanied by a fully illustrated catalogue, co-published with Phaidon Press. Essayists include Daniel Birnbaum, art critic, curator, and director of Acute Art, and Eugenie Tsai, John and Barbara Vogelstein Senior Curator, Contemporary Art, Brooklyn Museum.
Featured images: KAWS - Take, 2019. Bronze, paint, 76 × 35 3/4 × 27 7/8 in. (193 × 91 × 71 cm); New Morning, 2012. Acrylic on canvas over panel in two parts: 72 × 45 × 1 3/4 in. (182.9 × 114.3 × 4.4 cm). © KAWS. All images courtesy Brooklyn Museum.