An artist straddling high art, pop culture and his own signature style, KAWS has been experiencing the meteoric rise in the past few years. Wherever it pops up around the world, his art attracts thousands of people. Following the extraordinary ascent, this celebrated graffiti maker, painter, illustrator, sculptor, toymaker, and product designer has become an art world phenomenon of sorts.
One of today's most celebrated artists is launching a new type of augmented reality works, creating new ways to own, trade, and live with art via the Acute Art app. Demonstrating the enormous potential of AR, the artist presents EXPANDED HOLIDAY, a work conveying a sense of mischievous humor through the juxtaposition of physical and virtual worlds.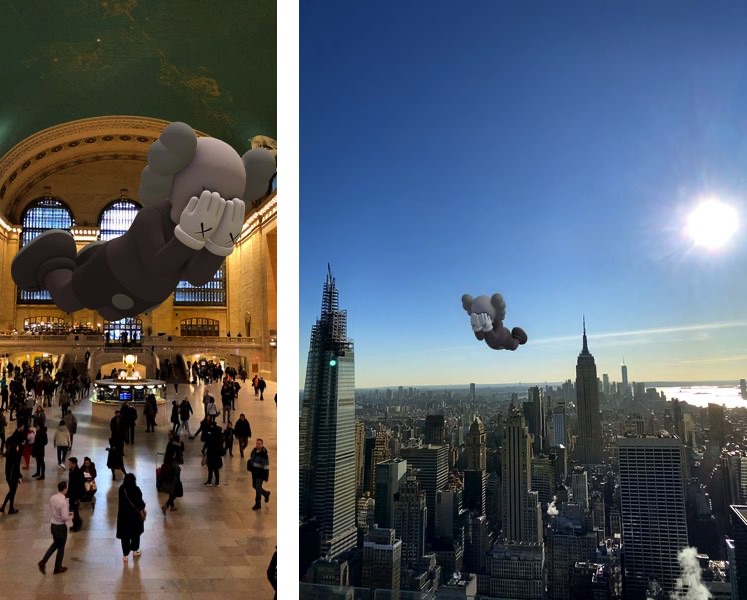 The Three Components of the Launch
This global launch consists of three components: a public exhibition and two editions. The exhibition COMPANION (EXPANDED), available for audiences in major cities and locations in Africa, Asia, Australia, Europe, Middle East, North America, and South America, will include 12 monumental AR sculptures. Made possible by the latest technology, it will reduce transportation and travel for a global artworld.
The project will also offer an edition of 25 AR sculptures which would be possible to purchase from the Acute Art website. Owners would be able to place, capture, and document these AR works at different locations using the Acute Art app. As part of AT THIS TIME (EXPANDED), the public can also acquire AR sculptures in three colorways, with the possibility to keep the works for 7 or 30 days at a time and can share their experiences through social media.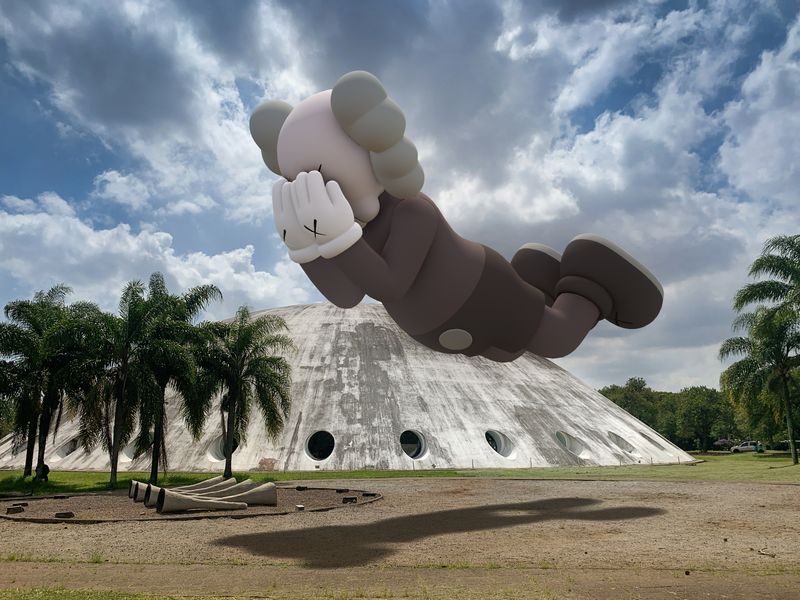 EXPANDED HOLIDAY in AR
KAWS' COMPANION, the Mickey Mouse-inspired character with signature a skull-and-crossbones head, crossed eyes and white gloves, is certainly the artist's most iconic creation. The latest iteration of the character demonstrates the amazing potential of AR, at the same time revolutionizing the way art can be experienced.
KAWS commented:
I have been creating objects and exhibiting works in public spaces throughout my career, and this allows me to expand on that in a whole new arena. The possibilities of locations and scale are endless, and I'm excited to start a new dialogue in this medium.
Jacob De Geer, the CEO of Acute Art, explained that these editions will demonstrate that works of art in virtual space can be just as precious and sought-after as those in our physical surroundings.
In fact, they are even more exciting when shared with audiences across the globe on social media. For collectors, this means their art can travel with them in their pocket wherever they go. These prized artworks can be enjoyed and traded globally with the push of a button.
Daniel Birnbaum, the Artistic Director at Acute Art, highlights the new for the rise of a new immaterial art form.
With this project, KAWS breaks new ground but also returns to his beginnings. With roots in public interventions as well as late emanations of Pop Art, KAWS has created new global audiences. There is no artist more talked about today than KAWS.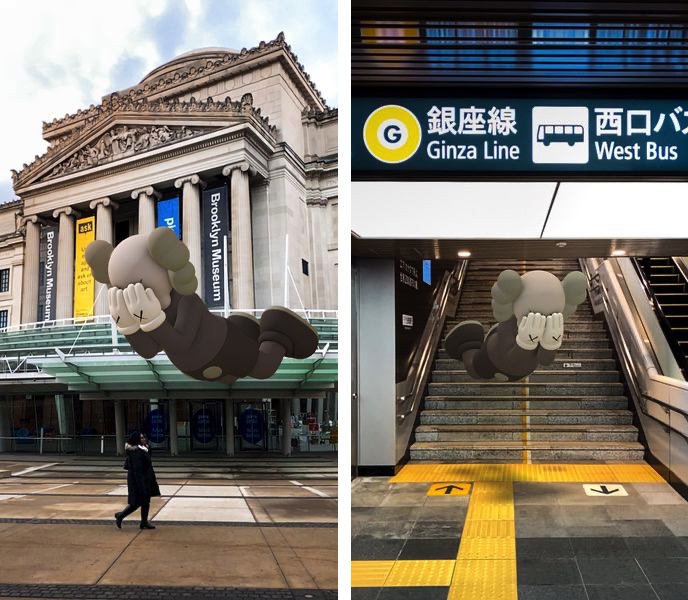 KAWS COMPANION (EXPANDED) Around the World
The exhibition COMPANION (EXPANDED) will be on view from March 12th until March 26th, 2020.
The work will be on view in Doha (MIA Park - Museum of Islamic Art), Hong Kong (Observation Wheel), London (Millennium Bridge), Melbourne (National Gallery of Victoria), New York (Brooklyn Museum), New York (Times Square), Paris (The Louvre Pyramid), Sao Paulo (Ibirapuera Park), Seoul (Dongdaemun Design Plaza), Taipei (National Chiang Kai-shek Memorial Hall), Tanzania (Serengeti National Park) and Tokyo (Shibuya Crossing).
Acute Art Presents EXPANDED HOLIDAY: KAWS LAUNCHES NEW ART FORM
Featured images: KAWS, COMPANION (EXPANDED), 2020, augmented reality; KAWS, COMPANION (EXPANDED) in Serengeti, 2020, augmented reality; KAWS, COMPANION (EXPANDED) in Paris, 2020, augmented reality; KAWS, COMPANION (EXPANDED) in Hong Kong, 2020, augmented reality; KAWS, COMPANION (EXPANDED) in Taipei, 2020, augmented reality. Courtesy KAWS and Acute.