The revolutionary works of Japanese artist Kazuo Shiraga began attracting much attention of the Western world when a group of American art collectors discovered him while traveling to Japan in 2011. Since then, his paintings started gaining on market value, and the exhibitions kept lining up. As for 2015, the show at Dominique Lévy ended on April 4th, while Mnuchin Gallery hosted another one until April 11th. Now, Fergus McCaffrey will present not only Kazuo Shiraga, but his wife Fujiko Shiraga as well, who is also an artist, in their first ever joint exhibition in collaboration with the Estate of Kazuo Shiraga.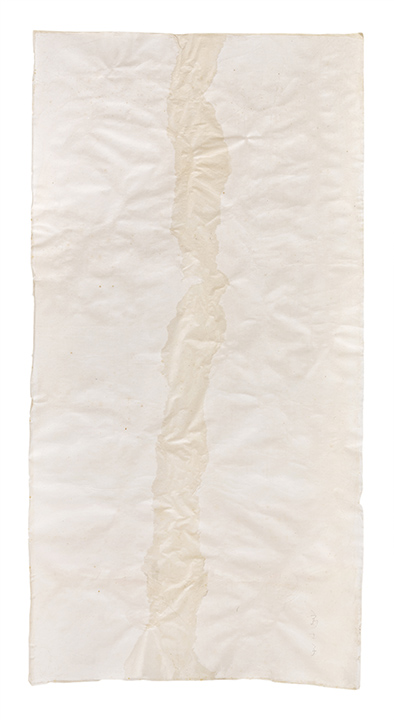 The Legacy of Kazuo Shiraga
Led by his professor Jiro Yoshihara's instructions to "create what has never been done before", Kazuo Shiraga did just that. One of the most important figures in history of Japanese art, he is widely known for his large pieces he painted with his body and, later on, feet, usually hanging from the ceiling while holding onto a rope. In the process, Kazuo Shiraga mixed painting and performance, producing art of a remarkable visual impact and an innovative meaning. He remained faithful to his unique artistic method for over sixty years, and his Gutai group was the first radical, post-war artistic group in Japan, influencing many and leaving an important mark on art history.
In the Spotlight: Fujiko Shiraga
Much less famous than her husband, Fujiko Shiraga is, however, equally noteworthy as an artist. She started off by making large and fragile collages of torn and layered paper. She also worked with concrete and wood, making engraved sculptures. Before abandoning her own art to support Kazuo Shiraga in his own endeavors, Fujiko Shiraga created paintings composed of broken glass, wax, torn paper and pigment. After his death, many of her forgotten works were discovered in his studio, offering a look at her hidden talent and finally giving her the recognition she deserves. Fifteen of these artworks will be on view at Fergus McCaffrey Gallery, together with a publication exploring both artists' work.
The Fergus McCaffrey Exhibition
Kazuo Shiraga was born in 1924, four years before his wife Fujiko Uemura. They married in 1948, right after graduating from Kyoto Municipal School of Painting. Kazuo Shiraga co-founded the Zero Society collective, of which Fujiko Shiraga became part soon after. In 1955, they both joined the Gutai Association. Kazuo Shiraga died in 2008, but Fergus McCaffrey Gallery remained dedicated to promoting his extraordinary art on the US soil, this being his third solo show there.
The Kazuo & Fujiko Shiraga exhibition will be on display at Fergus McCaffrey Gallery in New York City, USA, from April 30th until June 20th, 2015. An opening reception will be held on April 30th from 6pm till 8pm.
Sign up for My Widewalls and enjoy all art in one place!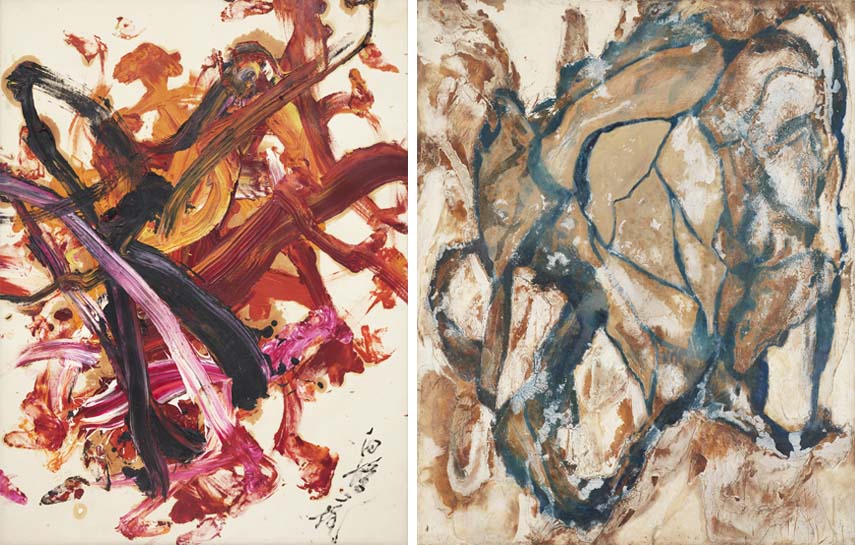 Featured image: Kazuo Shiraga - Ryusen, 1991. Oil on canvas, 71 5/8 x 101 3/4 inches, 181.9 x 258.4 cm. Copyright The Estate of Shiraga Kazuo, Courtesy Fergus McCaffrey, New York
All images courtesy of Fergus McCaffrey Gallery