We can never get enough of Keith Haring, one of the 80's kings, the father of the subway drawing and one of the most political artists of the early street scene. His activism was largely philanthropic, much devoted to giving a voice to the gay, the AIDS affected and the oppressed. Known to general public as an ingenious draughtsman, Haring developed a style which in reduced and schematic manner succeeded in broadcasting his core messages. Influences of indigenous cultures are seen throughout it, while the urban spirit is consistent as well, incorporated in the reduced landscape, in the street art, in performance of his art.
The current exhibition at Pace Print's 521 West 26th Street chapter showcases a special selection of Keith Haring prints, some of which have seen the light of day for the first time.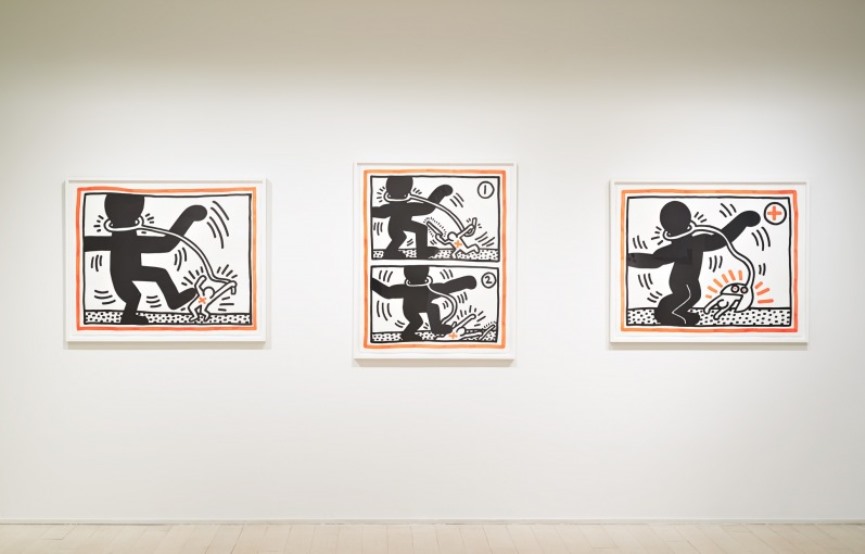 Prints and Paper
Curiously, Keith Haring did not make many limited edition prints in his lifetime, and this is where Pace Prints come in, correcting the historical wrong.
Paper was, perhaps, the primary medium for Haring, as he conducted thousands works on it after 1978, until his death in 1990. Ephemera, original drawings, designs and prints all surpass the number of limited edition prints in numbers, some of which are on show at Pace. The exhibition also includes several rare photographs of the artist's creative process, in which he is shown making prints in different studios across the world.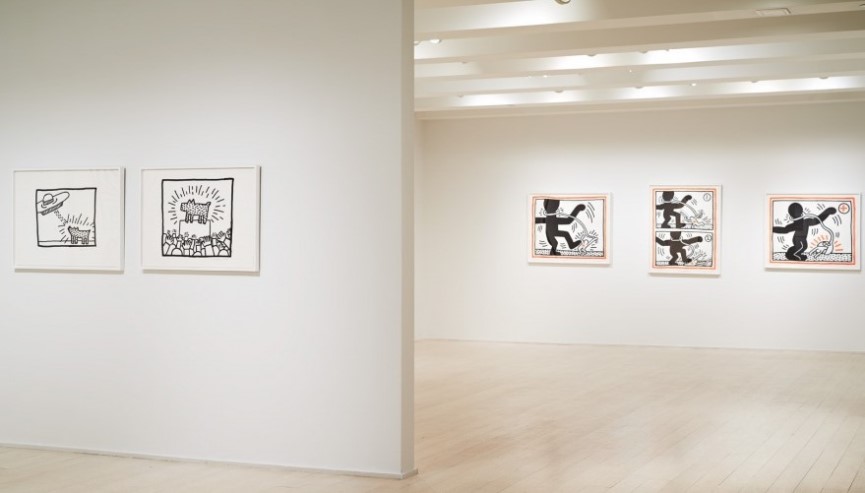 Prints on Show at Pace
Pace Prints visitors now have the chance to see the largest print in the entire body of work of Keith Haring, Untitled from 1986, depicting a schematic hydra-like monster, with tentacles ending in humanoid figures. Series of his Stones (Portfolio) from 1989 shows how the artist approached the use of negative space and transformed it into contours, which is stylistically the closest to the pre-Columbian, Mesoamerican and Aboriginal art influences, marking his diversion from the widely-accepted Western visual vocabulary.
The entire show is dominated by the black and white compositions, emphasizing the purity of Haring's line and his dynamic execution. Retrospect series from 1989 is exhibited for the first time ever at Pace Prints, composed of 24 images from the artist's Pop Shop series, in a precious edition of 10. The famous lithograph Dog from 1985 is also there, visually based on Haring's signature, encompassing symbols of pop culture, such as TV sets, angels, devils and odd-looking creatures. The work is a metaphor of life, power and chaos.
The exhibition is showing two documentary videos from 1979 as well - Painting Himself in a Corner and Circle Play, which show Haring's energetic practice somewhat rooted in performance art, and illustrate the uninterrupted flow with which he guides his line.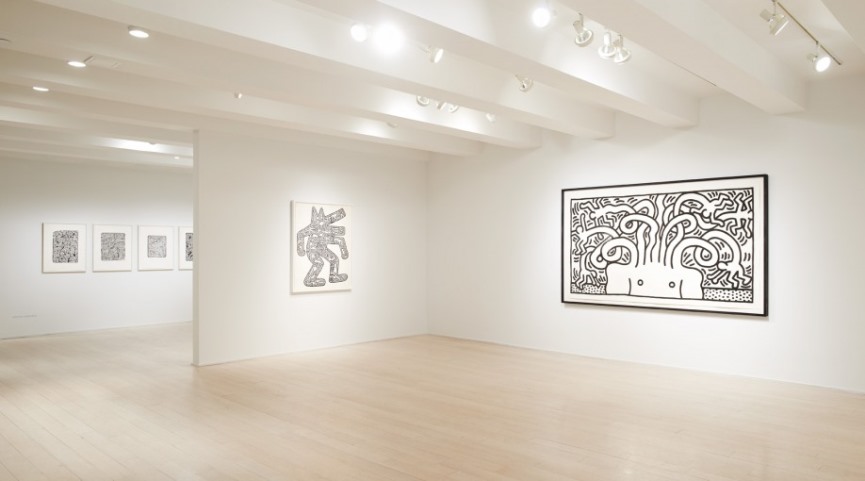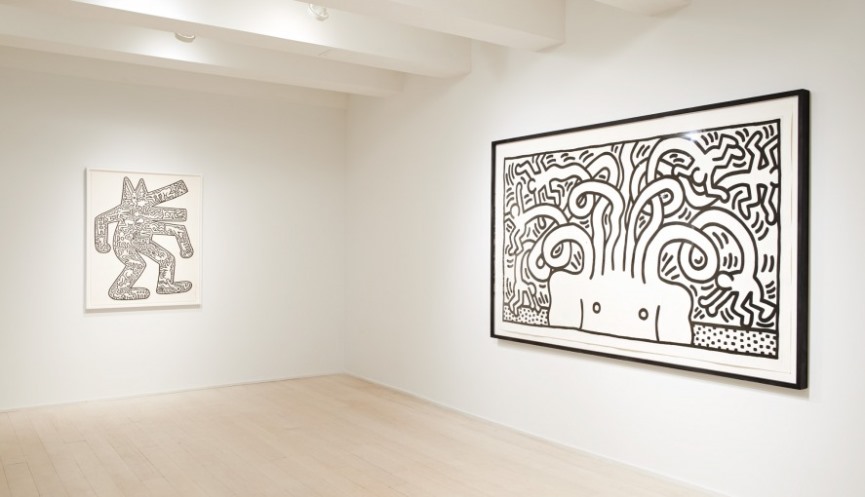 Prints and Films Until the End of Year
Keith Haring exhibition at Pace Prints is organized in collaboration with Keith Haring Foundation, and it's one among the events marking the 25th anniversary of the institution, established by the artist in 1989 ensuring his artistic and philanthropic legacy will go on. Opened on November 14, Keith Haring print exhibition will remain on view through December 24, 2014 at the 521 West 26th Street space of Pace Prints in New York.
Keith Haring was friends with Basquiat, he knew Thierry Noir, and even Banksy honored him by citing his famous dog.
We are huge fans of Keith Haring! If you are one too, sign up for My Widewalls and never miss a post about your favorite artist!