During his tragically short but prolific artistic career, Keith Haring has left a deep mark in the world of contemporary art, inspiring generations of future artists. An artist who emerged from the vibrant dance-club and street-art scene of 1980s New York before becoming celebrated in galleries and museums worldwide, Haring became known for the unique energy and optimism of his art.
Only a few months before he died at the age of 31, Haring completed his last great masterpiece, a large-scale canvas titled The Last Rainforest.
The painting was initially supposed to be a part of 100 paintings Haring had planned to paint as his last project. After he was diagnosed with AIDS, he asked Tony Shafrazi, his long-term gallerist, to get him 100 canvases. Unfortunately, Haring managed to complete only three works before he passed away –  Brazil, Walking in the Rain, and this last masterpiece, regarded as his most important one.
More complete, studied and detailed than any other Haring's work, The Last Rainforest is described as "a melting pot of sorts". It is one where all of the topics that had previously interested him as an artist and a person collide – violence, sexuality, environmental and societal issues, history, fantasy...
The Last Rainforest by Keith Haring - Fighting Stigmatization and Ignorance
The AIDS pandemics was a generation-defining experience for artists working in the eighties and the nineties. Viewed by many as a disease that was only for drug addicts, homosexuals and African Americans, it led to further stigmatization of these communities. The response in the form of political art and activism, coming from the artists who started to experience the disease first hand, brought art closer to politics and life.
Even before his own diagnosis, and particularly after it, Keith Haring reacted strongly against the way the society was perceiving the pandemic and fought hard to bring the disease out from under the shadow of shame and taboo. After being diagnosed with AIDS in 1988, he also founded The Keith Haring Foundation that contributed greatly to raising AIDS awareness and financially supported various programs for fighting the disease.
In the final years of his life, Haring enriched his art with a further complexity, feeling an increased need for more demanding content in his work. He increasingly employed AIDS symbolism in his work, personifying HIV as the horned sperm emblem, explored male sexuality and homosexual relationships and focused on the issues of homophobia that were closely related to the fear of AIDS. As societal dichotomies grew stronger, the division between healthy and sick became synonymous for the straight and gay polarization.
The Last Rainforest was painted during the last months of Haring's life, before he died of AIDS in February 1990. Out of 100 paintings he wanted to create as part of his grandiose parting project and the last piece of his legacy, Haring painted only three, working on all of them at the same time. In all of these works, there is a certain urgency. He realized his time was running out, and he still had so much to say.
However, The Last Rainforest is far more complex and virtuosic than any other work the artist has created in his entire career. Executed in a manner that demands the viewer's attention, it demonstrates his inexhaustible mental potential.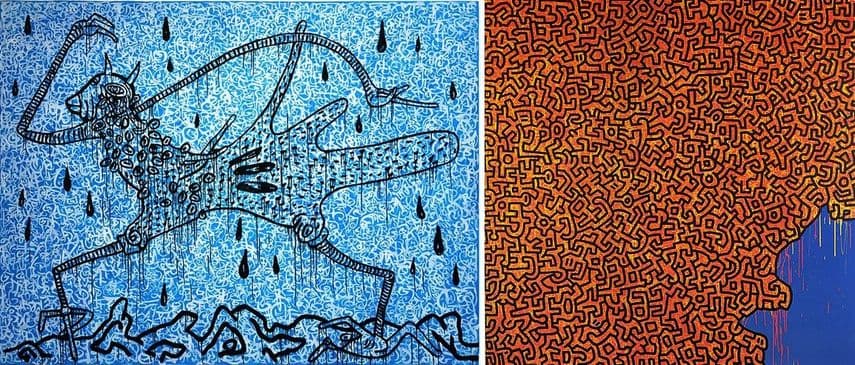 A Dense Jungle
The most engaging work Haring has ever painted, The Last Rainforest seems almost overwhelming to the eye. Instead of one central figure, the surface of the picture is covered over and over with a texture of mutually entangled mini-scenes. Swarming with action and complex tessellation, the painting is a dense jungle full of obscure creatures and human beings that fall prey to their lust.
Lacking any axis or center, the painting evokes Pollock's all-over compositional method. However, panel's figurative nature is revealed in myriad episodes of individual action. Resembling pieces of technical apparatus, trees with labyrinthine branches occupy every inch of the canvas, punctuated by a plethora of figures and objects.
Creating a diffuse scenario of absurd but always interconnected links between men, beasts and nature, Haring offers a thought-provoking image of the rainforest and draws the viewer into an endless cycle of weaving interpretation.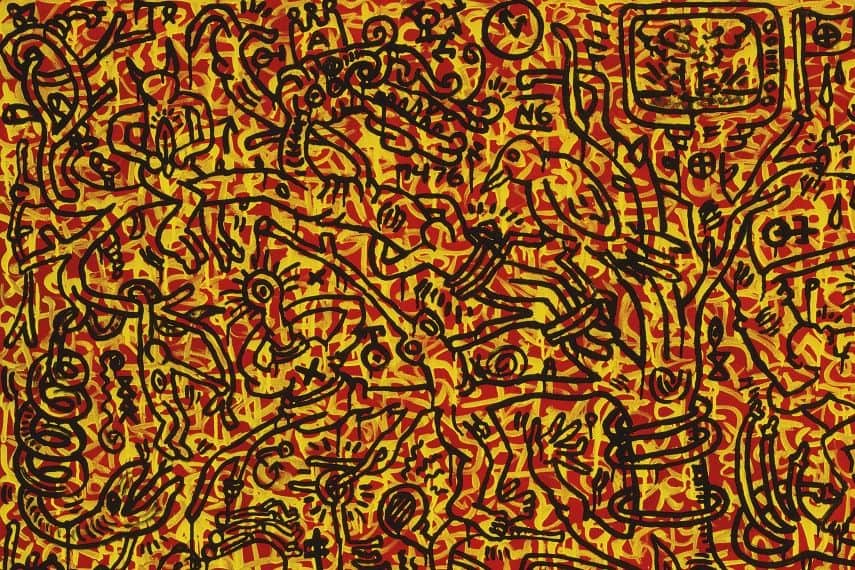 Familiar and New Motifs
The Last Rainforest is a rainforest of nightmares, one that is inhospitable, perverse, and claustrophobic. And this crazy jungle is a home to a menagerie of fantastical beasts scattered across the canvas in the most unimaginable of poses.
Many motifs that appear are entirely unique to this work, such as a six-legged caterpillar with an electrical plug for a tail, a satanic satyr who has been run through with a roasting spit and set on fire, a gargantuan masturbating rat, or several giants serpents. All entwined with trees, they create a dark outlook and make up a scene that is consummately engaging.
On the other hand, there are also familiar recurring motifs in this work, including Haring's often-repeated Pyramid form, a lightbulb, or multiple television sets scattered around the canvas. The most famous of them all is his "radiant baby", a proxy for Haring's identity and a motif that seemed to sum up the joy and optimism of '80s New York.
However, this time, the baby is not crawling like in Haring's previous works, but it sits upright in a lotus position, cocooned within a womb-like hollow tree trunk. Well-hidden within the work, it appears to be at peace. It has reached its destination and seems enlightened, providing an optimistic moment in contrast with the nightmarish scenes that occupy every remaining inch of the canvas.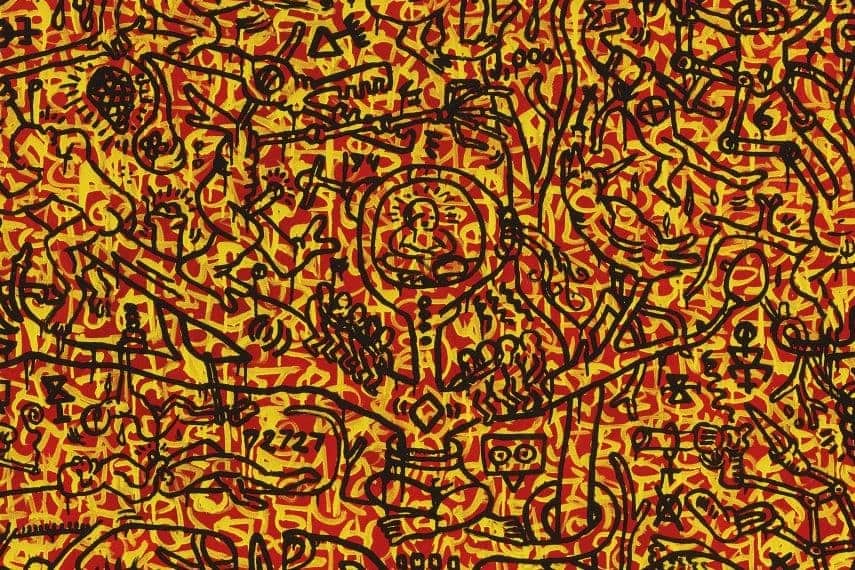 Summing Up His Artistic and Personal Interests
There are several themes running through this work. Death is one of them. Against a hellish background of fiery red and fronds of yellow, human figures are hanging and crucified, burnt or impaled, alongside smoking guns and stabbing knives, creating a rather morbid mood. No elegiac farewell to a world Haring was leaving behind, the painting sums up his anger about AIDS and the way society was reacting to it.
The piece also sums up Haring's fears over humanity's increasing use of nuclear power. Long viewing himself as "a child of the atomic age", he even feared peacetime use of nuclear technology. Forcing us to look at these horrifying mutants, he provides a prophetic vision of our post-apocalyptic future and reminds us of all the possible horrors of the so-called technical progress. This is summed up in a detail of a television screen showing a mushroom cloud that evokes the horrors of Hiroshima.
The painting is also linked to his environmental activism, following a 1980s wave of ecological awareness on saving the rainforest. Having traveled extensively in Brazil with fellow artist Kenny Scharf and his Brazilian wife, it was also a cause Haring personally identified with. With this work, but also two other ones from the series – Brazil and Walking in the Rain, Haring sends a message of environmental awareness and calls the viewer to take action and save the rainforests.
More designed, more painterly and more elaborate than any other work in the artist's oeuvre, it evokes numerous art history references. For its florid imagination, a masterfully hellish composition and despairing outlook on the future of the world, Hieronymus Bosch's Garden of Earthly Delights is the most obvious comparison. The piece features the same level of extraordinary detail and the same ingenuity for inventing fantastical potent creatures.
Apart from Bosch, the piece also recalls William Blake's Last Judgement and Francisco Goya's Disasters of War. Identifying himself with the great figures of art history, he interprets the apocalypse in a contemporary way appropriate for the atomic age he lived in.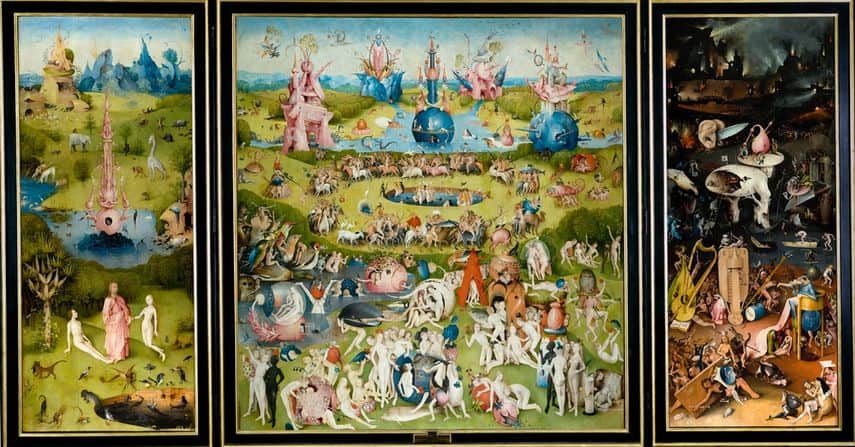 Breaking Sotheby's Auction
The Last Rainforest was first exhibited in Atlanta, at the Fernbank Museum of Natural History, in 1992. Since then, it's been shown at a number of institutions, including during Keith Haring: A Retrospective, which appeared at New York's Whitney Museum of American Art, Toronto's Art Gallery of Ontario, Miami's Museum of Contemporary Art, the San Francisco Museum of Modern Art, Montreal's Musée des Beaux-Arts, and Wellington's City Gallery between 1997 and 1999. Most recently, it was part of Keith Haring: The Political Line, on view at San Francisco's de Young Museum, from April 2013 until February 2015.
Ever since 2001, the painting was owned by the photographer David LaChapelle, when he purchased it from Tony Shafrazi who represented both artists. As he explained, he fell in love with the painting at the very first sight, realizing its prophetic quality. Yet in 2016, he decided to sell the piece. After decades working at the top of the fashion industry, he relocated to a Hawaiian island in 2006. "I live in the rainforest in East Maui," he explained to the auction house. "My home is an open space – there's no glass, it's all screen. So the painting is sitting in a dark living room most of the time, which is not the place for a masterpiece." It was sold at Sotheby's London for $5,529,670.
Unlike his previous work known for its ability to convey a message clearly at first sight, The Last Rainforest demands attention and serious interpretation from the viewer. It invites us to look and think thoroughly. Interweaving personal stories with societal issues, The Last Rainforest should be viewed as Haring's artistic last will and testament, a socio-political warning to those who would outlive him. Identifying himself with some of the great figures of Western art history, he asserts his own place within the discourse with this magisterial piece that ties up his entire oeuvre.

Editors' Tip: Keith Haring by Jeffrey Deitch and Julia Gruen
Closely based on Haring's own concept for the monograph he wanted to publish before his untimely death, this volume represents more than a decade of research and contains a wealth of unpublished photographic and written material including drawings, studio photographs, and journal entries. From chalk drawings deep in the New York City subways to murals in Pisa and Berlin; collaborations with William Burroughs and the famous body painting of Grace Jones, this book follows the incredible trajectory of Keith Haring's artistic career. An incredibly prolific artist, Keith Haring created countless bold, provocative, endearing, and unforgettable images that continue to inspire artists. Tracing the arc from his early subway "tags" to his poignant work on social issues as diverse as AIDS, illiteracy and apartheid, this visually stunning book is the definitive work on Keith Haring.
Featured image: Keith Haring - The Last Rainforest (detail), via Wikimedia Commons. All images used for illustrative purposes only.