The traditional approach to sculpture has largely changed in the post-war period. The 1960s in particular introduced a new vision of this medium. On the avant-garde legacy, mostly Duchamp's ready-made, artists started using everyday objects and by deconstructing or remaking them, they have released new forms and shapes which were very often critically charged.
Such was the artistic practice of Keith Sonnier who managed to produce an extensive body of work by embracing different media.
The Parrish Art Museum in Water Mill has decided to release a retrospective of this important artistic figure in order to reevaluate properly the domains of his multimedia activity in accordance with contemporary moment.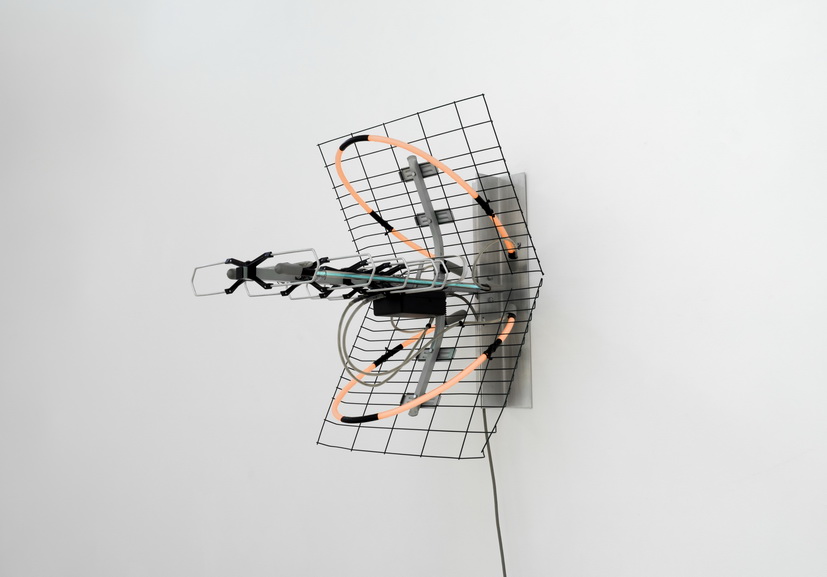 The Continuity of Keith Sonnier
Keith Sonnier came to prominence in the 1960s by producing multimedia works with a special focus on the light.
During that time, he became involved with the Process Art Movement. The artist was constantly pushing the boundaries of the medium of sculpture and his innovations reflected the technological progress of that time.
The guest curator Jeffrey Grove and the Parrish Art Museum Director Terrie Sultan decided to expose the continuity of Sonnier's practice and have selected neon sculptures, sound pieces, and a site-specific neon installation shown in the States for the first time. Therefore, more than thirty works present at the exhibition reveal an astonishing approach of Keith Sonnier from 1967 to the present, and throughout the whole installment hoovers his interest in the mechanics and technology that enabled it.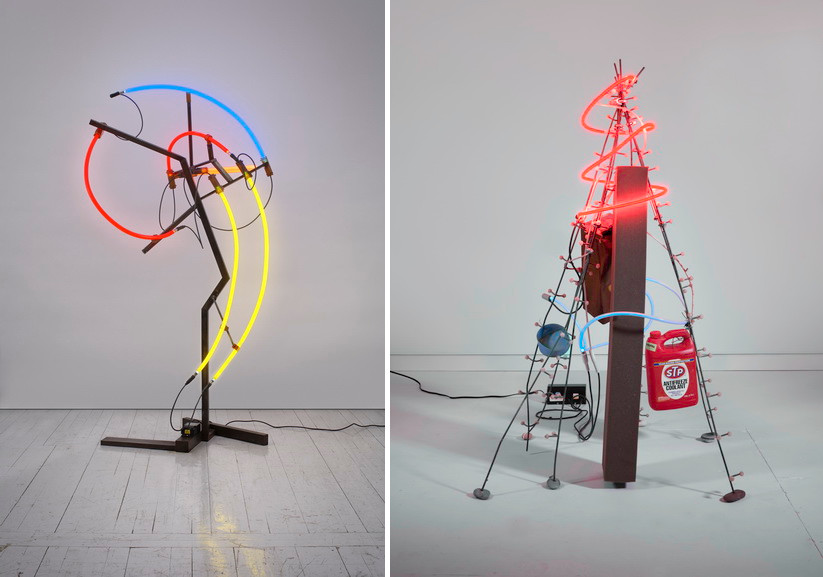 The Installment
Two early minimalist works Untitled (1967) and Rat Tail Exercise (1968) open the exhibition and reveal the best his treatment of unconventional materials (such as latex, rubber, felt, satin and flocking).
On the other hand, neon works from a similar period reveal an interest in the presence of immaterial factors such as reflections and shadows. The following works from the 1970s show Sonnier's fascination with new materials and technologies which was expressed through works in sound and video transmission, experimental film, and surveillance.
The subtle series from the 1980s reflect the artist's examinations of other cultures and natural materials, while the ones from the 1990s display Sonnier's combination of his signature neon with found objects and other unexpected materials.
The exhibition concludes with pieces from the last decade – large-scale neon constructions (Mastodon from 2008 and Schmoo—O.G.V. from 2013) and an immersive neon installation (Passage Azur from 2018).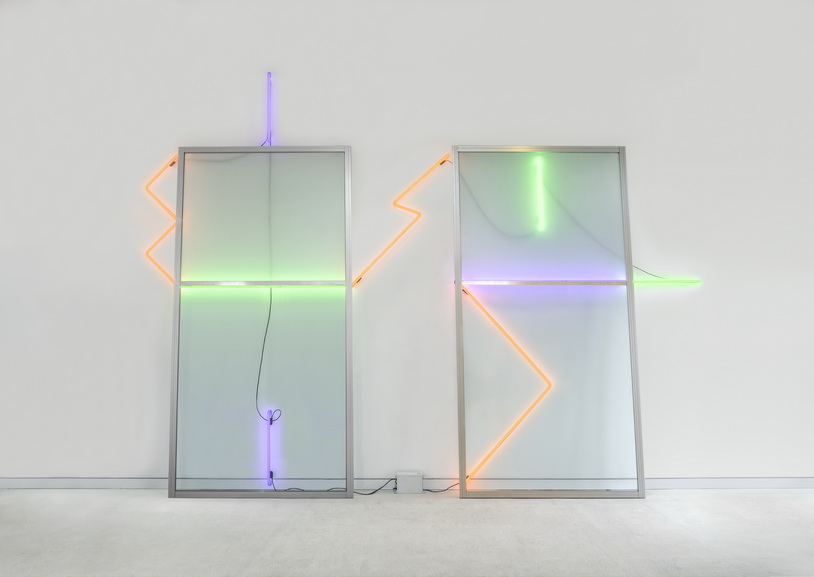 Keith Sonnier at The Parrish Art Museum
This internationally recognized artist has shown his works recently in various galleries, and they can be found in a number of public and private collections worldwide from Centre Georges Pompidou in Paris, over Museum of Contemporary Art Los Angeles, to Sprengel Museum in Hannover. This exhibition is quite important for better understanding of his work, and in addition to that is the statement of the curator Jeffrey Grove:
Keith Sonnier has forged a singular sculptural language that defies easy categorization. With a sensitive and idiosyncratic understanding of materiality and physicality, he has consistently produced work that is at once surprising in its originality and generous in spirit.
Keith Sonnier: Until Today will be displayed at the Parrish Art Museum in New York from 1st July 2018 until 27 January 2019, and after the show will move to the New Orleans Museum of Art.
Featured images: Keith Sonnier - Ba-O-Ba I (Ba-O-Ba Series), 1969. Plate glass, neon tubing, electrical wire, and transformer, 84 x 204 x 18 inches. Courtesy of the artist and Maccarone Gallery, New York/ Los Angeles. Image courtesy of Maccarone Gallery, New York / Los Angeles. © 2018 Keith Sonnier / Artists Rights Society (ARS), New York; Keith Sonnier - Cycladic Extrusion I, 1988. Aluminum, neon tubing, electrical wire, and transformer, 73 1/2 x 73 3/8 x 42 1/2 inches. Parrish Art Museum, Water Mill, New York, Gift of Barbara Bertozzi Castelli in honor of Dorothy Lichtenstein, 2009.2. © 2018 Keith Sonnier Studio / Artists Rights Society (ARS), New York; Keith Sonnier - War of the Worlds (Sagaponack Blatt Series), 2004. Neon tubing, transformer, and found objects, 48 x 48 x 28 inches. Courtesy of the artist and Pace Gallery, New York. Image courtesy of Keith Sonnier Studio, Photograph by Steven Tucker. © 2018 Keith Sonnier Studio / Artists Rights Society (ARS), New York.