In speaking about his art, Kenny Scharf commented: I believe the artist has a social responsibility to engage others in a thought process that ultimately brings the creative process into everyday life thereby enhancing the quality of our experience. In this one sentence, American muralist, painter, sculptor, and installation artist explained his understanding of art, and the reasons why he actually uses a variety of different media in his practice. For his mission as a social responsible artist, Kenny Scharf was apprehended in 2013, for painting a snake on a wall in Bushwick, having been found in front of the wall with spray cans by the police. It's a risky job. But, the artist continues with his amazing practice, and Nassau County Museum is organizing Kenny Scharf exhibition that is entitled simply Kenny Scharf.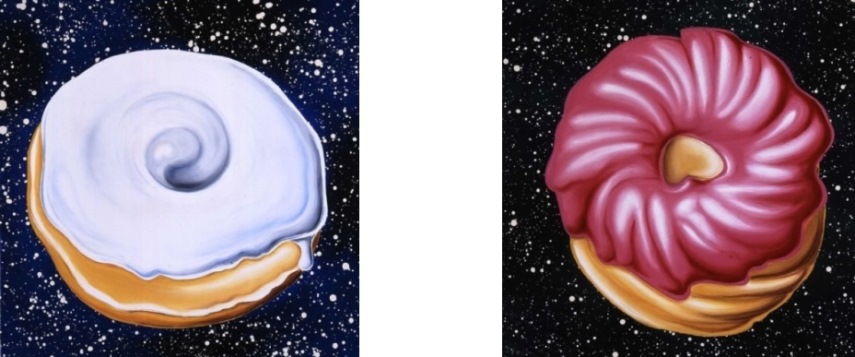 Emerged from New York Graffiti and Street Art Movement – The Art of Kenny Scharf
Emerging with the New York City graffiti and street art movement of the 1980s, Kenny Scharf is known for his vibrantly colorful large-scale paintings and exuberantly playful installations. His imagery draws upon pop icons, media advertising and consumer culture of the 1960s, including TV cartoon characters such as the Flintstones and the Jetsons. Kenny Scharf inaugurated his iconic Cosmic Cavern installations when he turned his basement into one of the day-glo environments that have been his trademark since the 1980s. Versions of these Cosmic Cavern installations have been seen at the 1985 Whitney Biennial and at MoMA PS1 in Long Island City. Works by Scharf are also in the collections of such major New York institutions as the Whitney Museum of American Art, the Guggenheim Museum and the Jewish Museum. Internationally, works by Scharf have been collected by Mexico's Museo de Arte Contemporaneo de Monterrey; the Ludwig Museum in Cologne, Germany; and the Stedelijk Museum of Amsterdam, The Netherlands.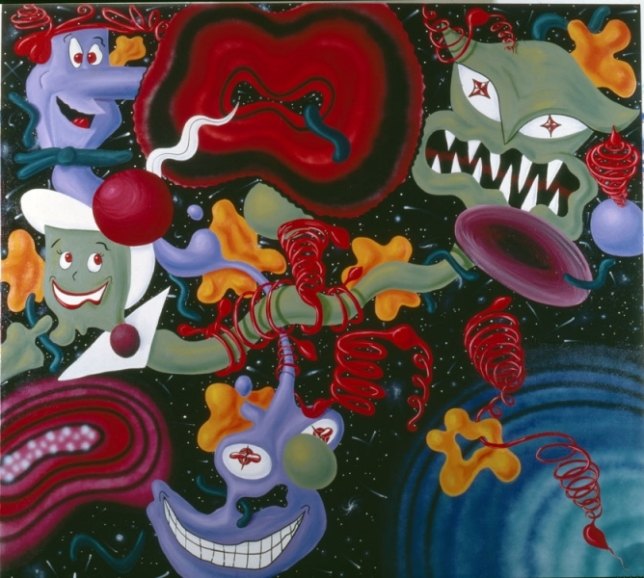 Exhibition Highlights
Curated by Director Dr. Karl E. Willers and the Museum's staff, Kenny Scharf showcases major paintings and sculptures from throughout the artist's career. Highlights of this exhibition are the expansive mural Pop Renaissance that surrounds the viewer, a version of the artist's Cosmic Cavern club-like environment, as well as a recreation of the artist's former Brooklyn studio complete with spattered walls, painted furniture and other workspace ephemera. While his early works were greatly influenced by Hanna Barbera cartoon characters, Scharf gradually moved to biomorphic imagery with astonishing results. He received international acclaim in the late 1980s, when he began a series of Glob paintings, which were inspired by abstract expressionism and surrealism. Even today, he is considered to be one of the 10 New York graffiti artists legends who are still very active and productive.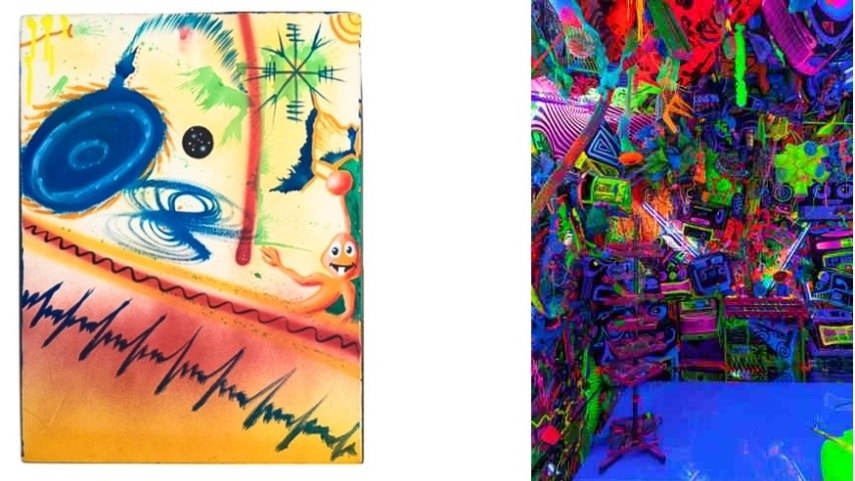 Kenny Scharf Exhibition at Nassau County Museum
Ranked among the US largest, most important suburban art museums, Nassau County Museum of Art is located about 25 miles east of New York City in Roslyn Harbor, Long Island on the former Frick Estate, a spectacular property in the heart of Long Island's fabled Gold Coast. The Museum is chartered and accredited by New York State as a not-for-profit private educational institution and is governed by a privately elected Board of Trustees. And it always organizes great shows, such as Kenny Scharf exhibition; so, be sure not to miss it. Kenny Scharf exhibition will be on view from March 19 until July 10, 2016 at Nassau County Museum in Roslyn Harbor, Long Island, near New York City. The exhibition is sponsored by TAHARI Arthur S. Levine.
Featured Images: Kenny Scharf - From the Cosmic Cavern installation.Collection of the artist; Kenny Scharf -  Pop Renaissance4 (detail) 2013. Oil, acrylic, enamel, silkscreen on canvas. Collection of the artist. Courtesy Honor Fraser Gallery. All Images courtesy of Nassau Country Museum.