Kenny Scharf is one of the true legends of the New York urban art scene. Starting his career in art in the early 1980s, along with some of the biggest names in art like Keith Haring and Basquiat, Scharf first became noticed thanks to his unique and fresh imagery drawn from pop culture that he transferred to streets and nightclubs of the city. Scharf named his own art and style Pop Surrealism, giving it the definition: "Surrealism is about the unconscious, and I feel my work is about the unconscious. The images come from the unconcious except that my unconscious is filled with pop imagery. My unconscious is pop, so therefore the art would be Pop-Surrealism." Since then, Scharf has engaged in numerous projects, exploring different media but never abandoning his signature style and technique. For years, the artist was living and working in Bushwick, Brooklyn, a place he called his Cosmic Cavern. When the artist decided to move to Los Angeles where he actually spent most of his time, he was presented with a different idea.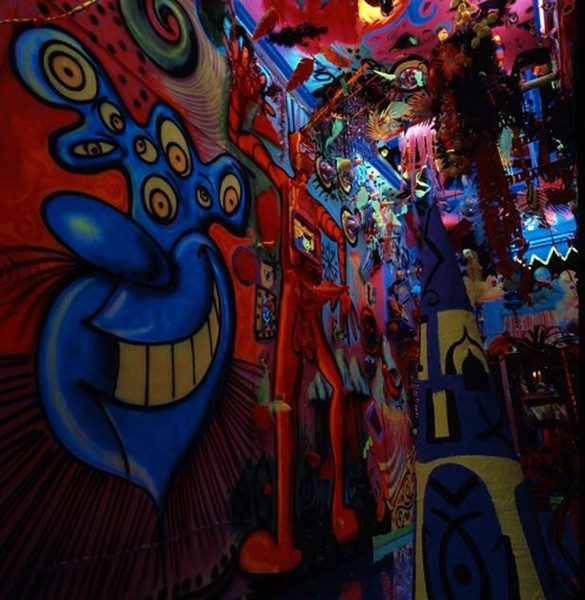 The Final Frontier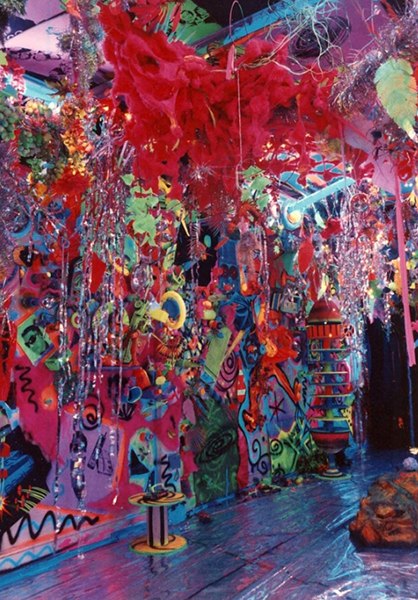 Last May, Kenny Scharf was about to move out from his long time studio and home Cosmic Cavern and throw the last in a series of "Cosmic Cavern A-Go-Go" parties entitled "The Final Frontier". However, this was the evening when Glori Cohen, an art advisor and collector, happened to be in attendance and suggest something else: "You can't take this down. This has to be a museum." And so the initial plan changed and the Cosmic Cavern Museum was born. Scharf plans to open it this fall as a by-appointment art space.
The first of the Cosmic Cavern A-Go-Go series began at the height of the 2008 recession, when the artist decided to turn his flood-prone basement into one of the glow-in-the-dark environments that have been his trademark since the 1980s. But the space has a long and interesting history of its own. Scharf's Cosmic Caverns were, at the time, as he says, mere "Cosmic Closets"—in a room of the apartment near Times Square where he was living with his friend, the late artist Keith Haring. "I just started putting garbage in there and painting it fluorescent, happened upon a black light, and it just kind of started," says Scharf for ArtNews. It continued with installing his Day-Glo environments at the 1985  and MoMA PS1.
A Whole Experience
The parties were insane and quiet diverse – at the enterance, all  guests would have their faces painted by the artist himself. His friend, artist Scott Ewalt, took on DJ duties, playing everything from the B-52s to gospel to psychedelic music—anything to get the crowd moving. "I almost felt like we are filling a void [for people] to just really dance their ass off in an environment that takes them somewhere else" says Scharf.
As the artist confirmed, the Cosmic Cavern Museum will be opened for at least two years, but insists on concretizing its main purpose: "It's not a nightclub. It's not a gallery." He prefers defining it as "a whole experience," reiterating, "It's a Cosmic Cavern."
If you want to know more about Kenny Scharf's art, sign up for My Widewalls today!