The second exhibition of Kenor art at Galerie Celal in Paris brings the latest canvases and sculptures of this eclectic artist. The Barcelona creative is ready to show the works that are soft and incisive at the same time, tackling the topic of movement and highlighting his inspiration in music and dance once again. Rooted in geometric abstract art and the works of the influential 20th century painters, the pieces are immersed in their own rhythm and non-figurative narrative, releasing a kind of positive energy that is bound to transfer to the viewers at any moment. His research of color continues to fascinate us and we enjoy his works one more time.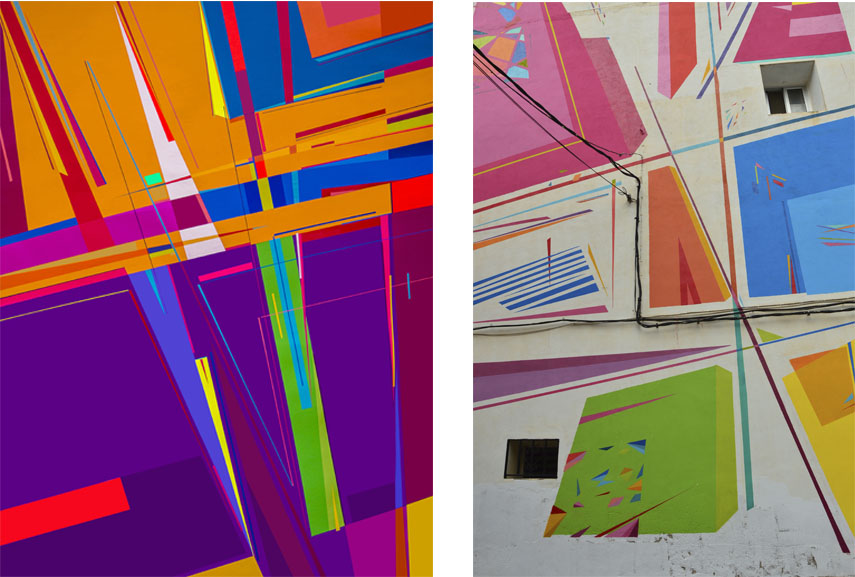 Movimiento
For fifteen years now, and counting, Kenor has been enriching the planet we live in with his versatile exhibitions and monumental murals. His studio works, inspired by his street art experiences, have crossed over to the field of fine art, carrying the same spontaneous style and visual impact. The color, an essential element of his art, traces back to his aerosol-made lines, now grown into proper experiments with the dynamics and aiming to translate rhythm onto whichever surface. Dance and music are, in fact, an indispensable part of Kenor's work; one can say that his works, canvases or sculptures, are on a tireless quest for the best possible translation of a musical moment onto two-dimensional space. His structures are elaborate and complex, yet ooze in the simplicity of the moment, or an assembly of moments, ready to be unveiled and deciphered by the viewers.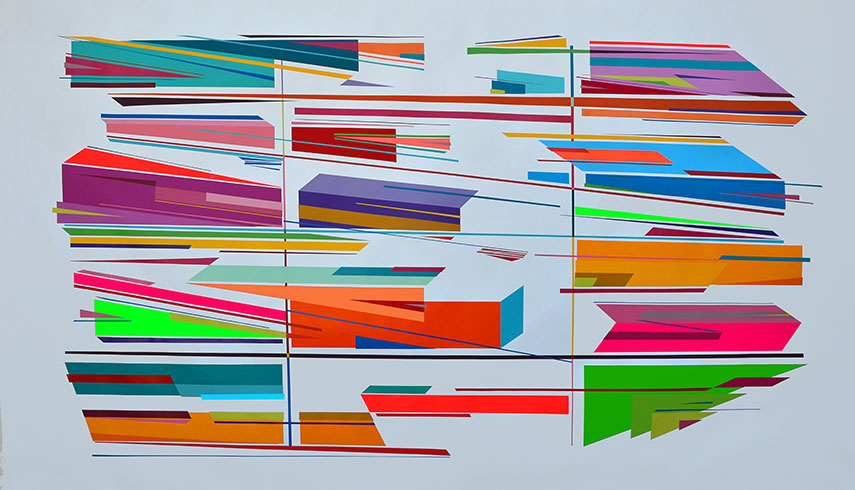 An Ode to Music
The abstract geometries, as the trademarks of Kenor art, are always the result of the visual interpretation of the music that motivates him, particularly the techno genre. The tones and the dances that respond to the sound, the movement that is born and gets translated onto canvas or into a sculpture through curves, lines, shapes. This musical style made of textures makes his interpretations compose their own music through the very act of painting, the gestures of applying paint, the movement of sculpting. Each of them is the launching of an accurate, final line which arises in a visceral way; the composing a piece of work in which no line has privilege over the others, no colour prevails over others. Therefore, his achievement is to generate harmonic and coherent work from the purely expressive.
Kenor Art at Galerie Celal
Each piece of Kenor art creates its own rhythm, every gesture builds a line, a movement; each set of lines forms a sound, a rhythm, a dance. And it is the rhythm of each work that Kenor listens to and paints. Movimiento, an exhibition of works by Kenor, will be on view at Galerie Celal in Paris, France, from December 8th 2016 through January 5th 2017. The opening reception is scheduled for December 8th at 6.30pm.
All images courtesy Galerie Celal.