A key figure in changing Western art-historical narratives, known for depicting only Black subjects ‒ American painter born in Birmingham, Kerry James Marshall ‒ will soon be having a 35-year retrospective and showing 80 works at MOCA LA. The exhibition Mastry will display everything from from his primary influential work Portrait of the Artist as a Shadow of His Former Self (1980), to his most recent expedition trough the history of African Americans. His art is known for examining the representational concept of white characters as ideals ‒ presented in all of the works made by Old Masters ‒ and using this fact as a platform for creating new ideals with Black subjects placed in the center of focus, subjects portrayed while accomplishing their daily life activities; thus, becoming an obligatory figure in the development of contemporary art history.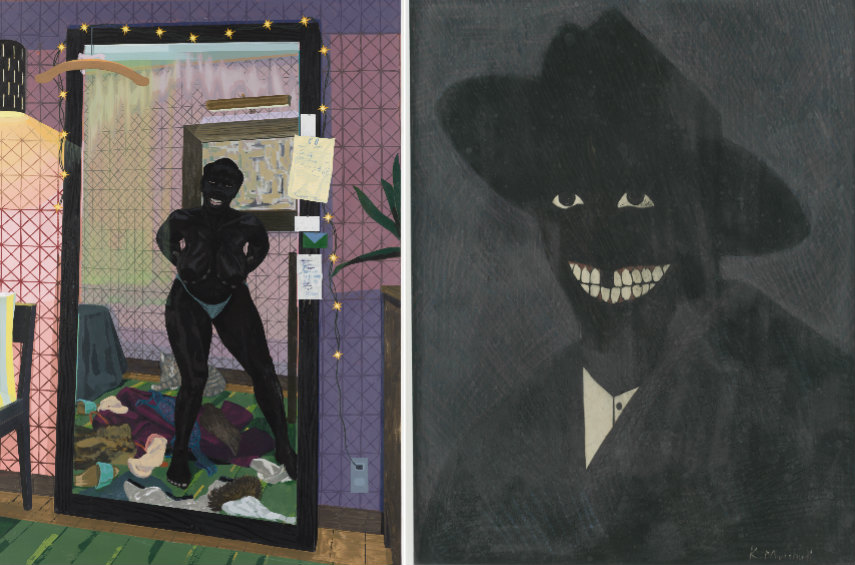 The Invisible Man
Kerry James Marshall's influence on art history is not only measured by the fact that his works are becoming a part of permanent collections by all major contemporary art museums and galleries, but also by his influence on the presence of the Black subject in art as well as today's society, and for introducing the social issues that African Americans face today. He rejected systematized ideals presented in the entire codified art-historical narrative, and replaced them with his own; therefor strengthening and proudly representing an identity not only of himself, but of an entire group of people affected by racial stigma. Influenced by the classic novel Invisible Man, by Ralph Ellison, he starts his career with a work showing a Black subject on a black background, a work which doesn't only show the invisibility of a man in the eyes of the public; but also the invisibility imposed on his own sense of "Self", making him almost invisible to his own eyes.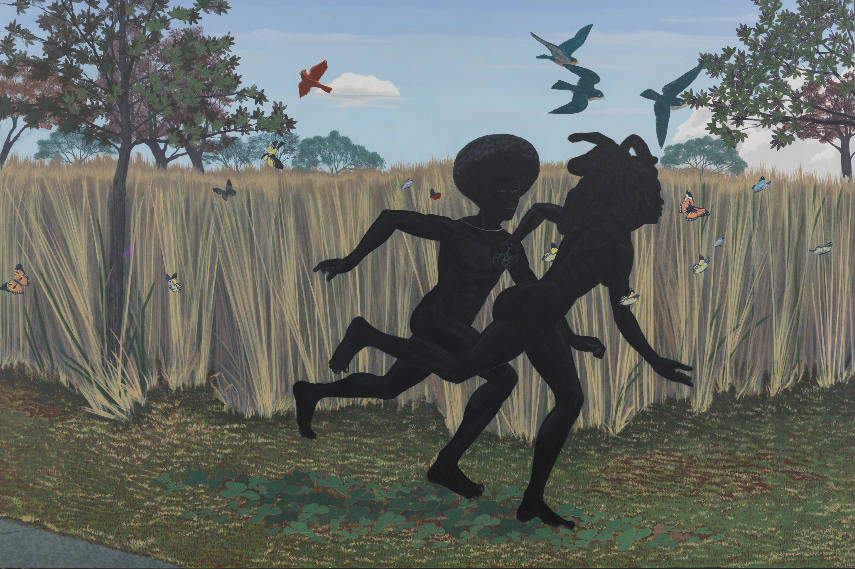 Strategic Visibility of a New Subject
The artist uses multiple strategies to make the new subject visible, which he adopted early from the beginnings of his artistic expression. The first one, which he is best known for, is representing only Black characters, in a defiant ebony black shade present in all of his paintings; sometimes becoming more complex by his addition of shades, sometimes remaining flat; but always in contrast to the vivid colors of their surroundings. The second important strategy is the image versatility trough which he shows the characters in all situations; from being portrayed in an art studio, or having a picnic by a lake ‒ to historical events, and intimate moments of love; a decision which helps to integrate the Black subject in all fields of life and art where they never found a place before in Western art history. The third point of Marshall's work deals with his study of "Old Masters", their knowledge on art and life, their ideals and representational techniques; which made him become a master in figurative painting during the time of it's unpopularity in the art world, bringing back grace and humanity to the places where it has long been forgotten.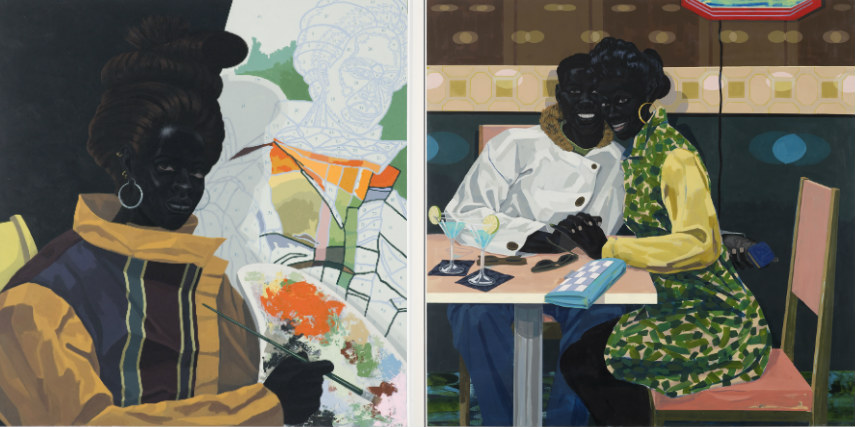 Kerry James Marshall Art at MOCA LA
The retrospective of this highly significant painter in American painting, Kerry James Marshall, will be held in a chronological order and opened on March 12, 2017 and remain on view until July 3, 2017 at MOCA LA. The exhibition will also feature a catalogue, edited by MOCA Chief Curator Helen Molesworth, containing chronicles from the entire career of Kerry James Marshall. The exhibition is co-organized by MOCA, the Museum of Contemporary Art Chicago, and The Metropolitan Museum of Art, under the leadership of MOCA Chief Curator Helen Molesworth.
Featured images: Kerry James Marshall - Past Times, 1997, Metropolitan Pier and Exposition Authority, McCormick Place Art Collection, photo by Nathan Keay, © MCA Chicago; Kerry James Marshall - School of Beauty, School of Culture, 2012, collection of the Birmingham Museum of Art; Museum purchase with funds provided by Elizabeth (Bibby) Smith, the Collectors Circle for Contemporary Art, Jane Comer, the Sankofa Society, and general acquisition funds, photo by Sean Pathasema; Kerry James Marshall - Souvenir 1, 1997, collection of the Museum of Contemporary Art Chicago, Bernice and Kenneth Newberger Fund, photo by Joe Ziolkowski, © MCA Chicago; Kerry James Marshall - Untitled (Studio), 2014, lent by The Metropolitan Museum of Art, Purchase, The Jacques and Natasha Gelman Foundation Gift, Acquisitions Fund and The Metropolitan Museum of Art Multicultrual Audience Development Initiative Gift, 2015, photo courtesy the artist and David Zwirner, London