The year behind us was a real joy to behold for all art pundits around the globe. Notable festivals, fairs, events, shows and happenings were popping up left and right to a degree it was impossible to visit all of them and that's precisely how we like our year to go.
This also means that picking a single most important artist of the year was a particularly difficult feat as there are so many individuals with legitimate cases that make them viable candidates. We were, however, obliged to choose only one and, after much debate, we agreed that the 2017 Widewalls' Artist of the Year award should go to none other than Kerry James Marshall.
For decades now, Kerry James Marshall used large-scale paintings, sculptural installations, collage, videos and photography to provide us with his thoughts on the presence of black identity in Western arts. He made it his personal mission to place focus on black subjects historically excluded from the artistic canon.
It was incredible to see how Kerry James Marshall, now a 61-year-old man, did not slow down one bit in 2017 - his interest in explorations of issues linked to race and chronicle reached their arguable peak in this year and, after taking that in consideration, the decision to award Marshall with the Widewalls' Artist of the Year prize was a real no-brainer.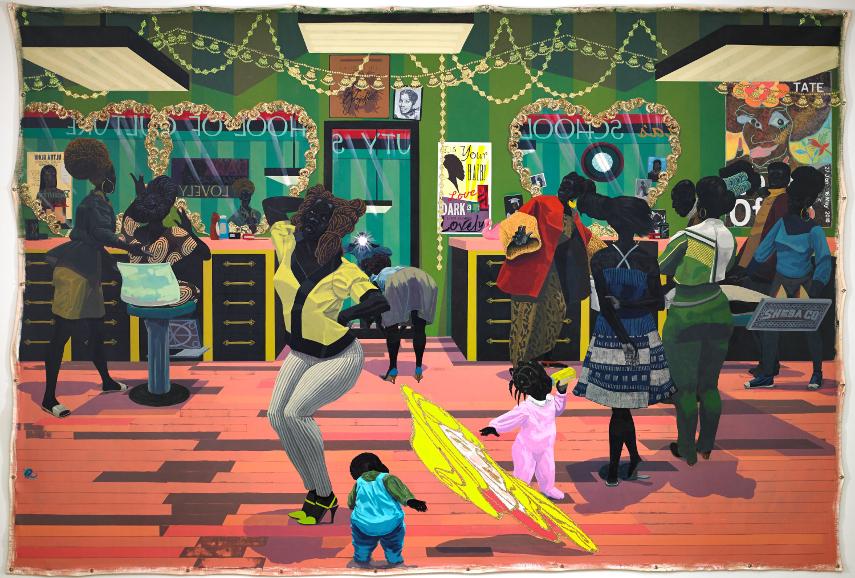 Kerry James Marshall - An Ever-Growing Legacy
Kerry James Marshall uses his work to challenge the marginalization of African-Americans and he remained true to this practice for the entirety of his career. He mines through black culture and stereotypes searching for his unflinching subject matter, depicting daily life scenes like people planting gardens, picnicking and getting haircuts.
A strong believer in Marcel Duchamp's idea of the studio as a laboratory, Marshall relies on his art to provide him with an opportunity to test hypotheses and, ultimately, solve deeply planted problems[1] of the Western society.
Like the case is with many black artists of his generation, Marshall's work is rooted in his life experience: "You can't be born in Birmingham, Alabama, in 1955 and grow up in South Central near the Black Panthers headquarters, and not feel like you've got some kind of social responsibility."
Grant Hill, a respected TV host and a retired American basketball player, is a huge fan of Marshall's work and often speaks about what the artist means to the black community:
Kerry James Marshall forces people to assess the American experi­ence through the black experience. In so doing, he has established himself not only among the giants of the black art milieu, but as one of the most influential American artists anywhere.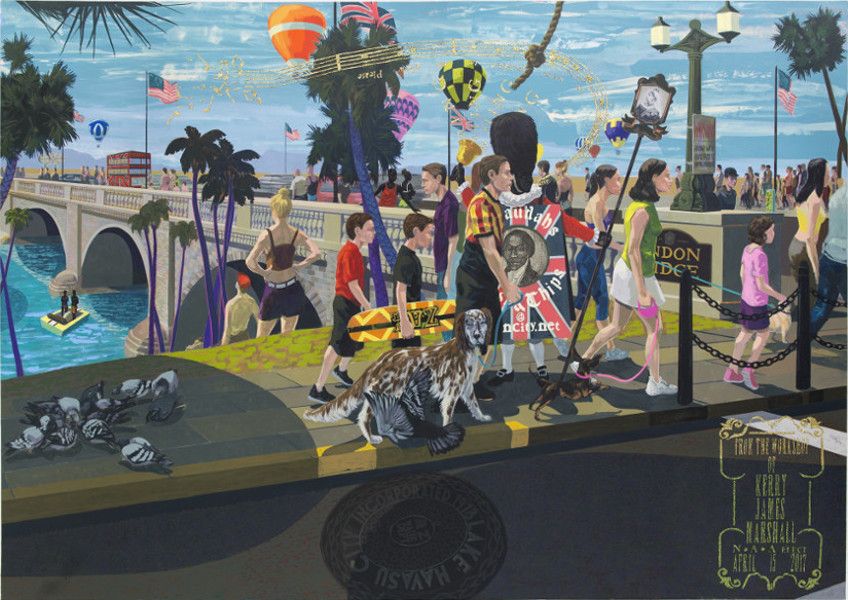 Entering TIME's One-Hundred List
One of the most notable achievements Kerry James Marshall had in the year of 2017 was making it onto the TIME's one-hundred most influential people of the year list[2]. The iconic magazine honored the artist for his contributions to marginalized and ignored black people in both the American society and art community, something Kerry achieved through bold and in-your-face narrative paintings.
By doing so, Kerry James Marshall makes the audience assess the American experi­ence through the black perspective and such a feat definitely earned the artist's spot on TIME's list.
As TIME noted, black may not be the most used hue but it certainly is the most dominant color of Marshall's pieces, and the artist's consistent and masterful use of it engages and draws countless viewers to each creation on the canvas.
This way, the painter established himself not only as a giant of the black art, but also as one of the most influential American artists of the year.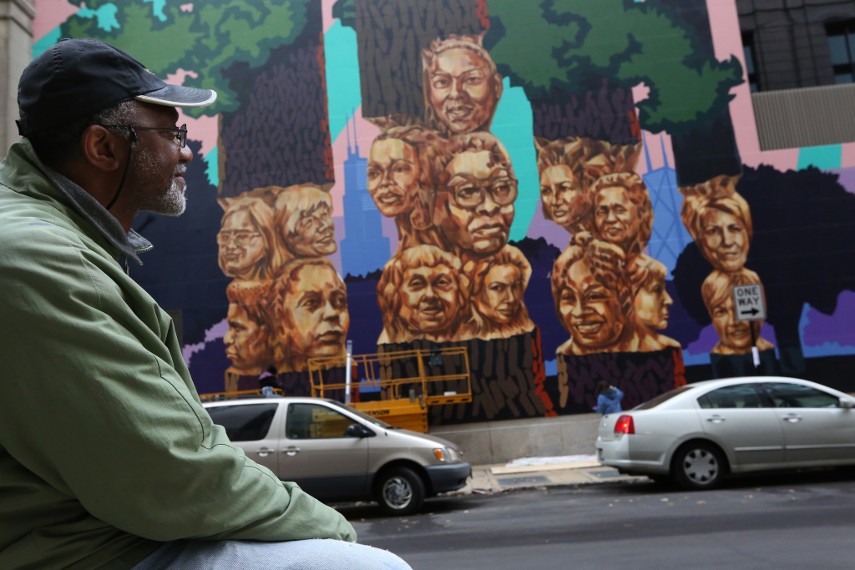 A Fantastic New Mural in Chicago
Kerry James Marshall planned for a long time to paint a huge mural[3] in Chicago that will allow him to express his appreciation of the women who have shaped arts and culture in this metropolis.
The incredible mural was finally transferred from paper onto a wall in 2017 and it depicts the Windy City culture's biggest female names like Gwendolyn Brooks, Oprah Winfrey, Sandra Cisneros and Maggie Daley. The mural occupies a wall nearly half the size of a football field and it can be found on the west facade of the Cultural Center.
Although street and urban art were never a particular point of interest for the artist throughout the years, Marshall did a masterful job creating it and one could easily be fooled that painting murals was his full-time job for years.
As far as his attentiveness to the topic in question, Kerry explained it with the following statement:
I thought, well, in the history of monuments you have very few that represent women, but in the history of Chicago you have very many women that played key roles in establishing culture here.
The 132-foot-wide by 100-foot-high mural was spearheaded and funded by Murals of Acceptance, while the painter received a symbolic fee of $1. The public of Chicago was particularly pleased that the new iconic street work was made by one of its own, plus the mural was a good way to wrap up the city's Year of Public Art.
The mural brings fine art to the streets and promotes acceptance to all people, as Kerry James Marshall himself explained, adding that his original design of the piece was intended to be the size of a poster board.
Kerry James Marshall: Unlimited Mastry of Art
The Subject of a Major Arts Retrospective at MOCA
The final event that marked Kerry James Marshall's year was the major retrospective[4] of his career held at the Museum of Contemporary Art in Los Angeles.
Following two successful and similar shows held at New York's Metropolitan Museum of Art and Chicago's Museum of Contemporary Art, this exhibition highlights two of the artist's main creative concerns: shedding new light on the ignored role black artists had in American art history and proving that African Americans are worthy of presenting artworks next to the Old Masters.
The MOCA show presented nearly 80 vivid and energetic paintings Marshall created over the course of the last 35 years. It unfolded in chronological order, allowing the viewer to trace the development of Marshall as a painter.
The figurative paintings display the artist's consistent dedication to portraying African Americans with utter equality and humanity.
Unequivocal in his pursuit of black beauty, Kerry James Marshall's subjects occupy the paintings with a sense of authority and belonging, making the viewers buy into the righteousness of the artist's main creative goals.
Editors' Tip: Kerry James Marshall: Look See
Over the course of almost three decades, Kerry James Marshall (born 1955) has produced a complex body of work exploring the representation of African Americans in society, culture and art history. Working across various media in portraits, interiors, nudes and landscapes, Marshall conflates actual and imagined events from African American culture and integrates a range of stylistic influences to address the limited historiography of black art. Taken all together, the range of materials included in Kerry James Marshall: Look See constitutes a vibrant portrait of Marshall's original and ever-evolving practice.

References:
Featured image: Kerry James Marshall - Photo of the Kerry, via trbimg.com. All images used for illustrative purposes only.