I am very excited to share the artwork of Toronto artist Kestin Cornwall with you. I had coffee with the artist, near his work live space in the diverse East End neighborhood of Toronto. We talked about his art and the thought process behind some of his work. One of the first areas I spent time in while visiting Toronto was its East End. It's the perfect home for murals and art installations celebrating Toronto's diversity and history, and where I first stumbled across the artists work.
As a black Canadian artist with an American mother and Grenadian father, Cornwall in many ways is expected by the industry to portray a specific culture. Cornwall is rebellious to an extent with his work and creates what he wants to study or question at a specific time.
His new mixed-media work incorporates classic portraiture references with his new-age hybrid art image creation methods of combining hand drawing, digital image making, screen-printing, ink transfer, acrylic and aerosol painting. The mediums create a visually alien yet clam, earth-like environment for his muse to live in.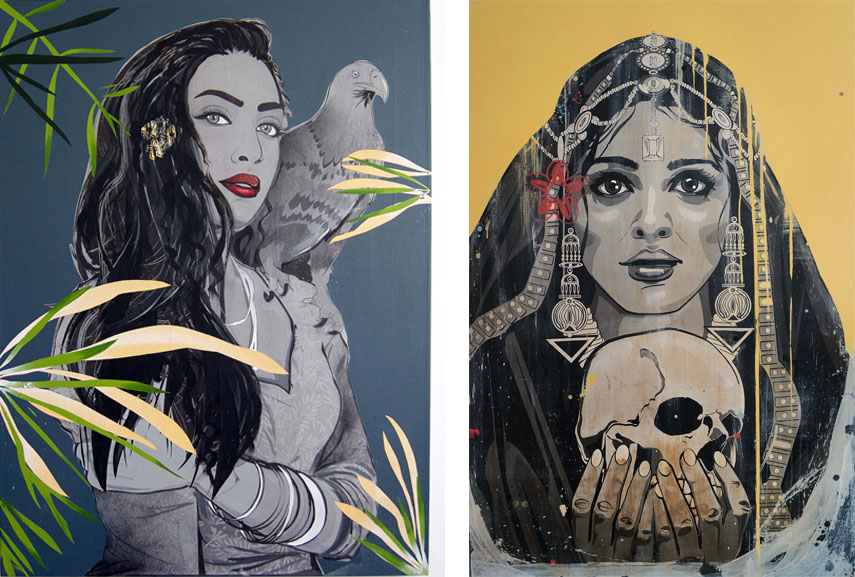 Introducing Kestin Cornwall
Mike Whitesmith: Tell us about yourself as an artist and your work?
Kestin Cornwall: With my varied art practice, I work both by hand and digitally, granting me the ability to easily customize my work for different spaces, from packaging to walls and t-shirts to large format digital installations. I am passionate not only about the artwork but also the process, my neighborhood, the people, as well as the challenges facing our growing communities.
I would classify myself as an artist/athlete, I enjoy sports. Sports also create a community, from fans of a specific sport to running groups, workout partners and teams. Fitness also helps me to focus, as artists we often forget how important health is, from physical health to mental health.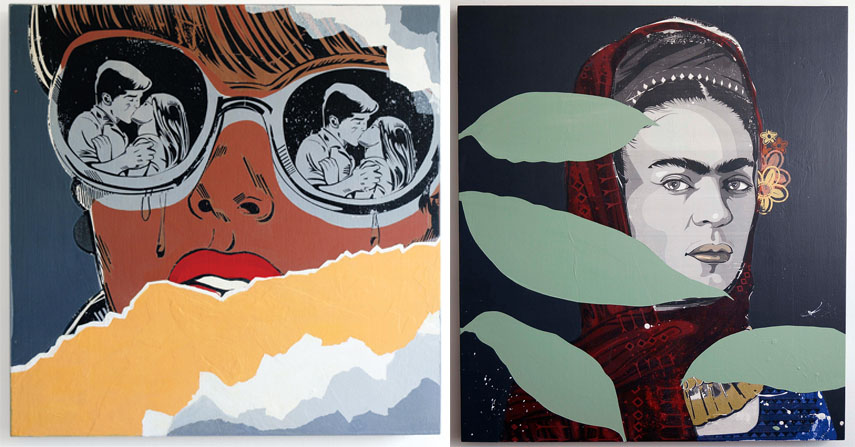 Carpe Diem
MW: One of your images that stood out to me in your ongoing show at 18 Croft in Toronto was "Carpe Diem" as well as "Carpe Diem Memento Mori". What is the idea behind this work? What's the inspiration?
KC: Carpe diem is a Latin aphorism, usually translated as "seize the day."
Much of my work is created by combining hand drawings, digitally removing the human hand and then forcing the element of the human hand back into the artwork. This is also evident in my art piece, Carpe Diem, one of a series of three images featuring beautiful brides, created using inks and acrylic paint on 36" x 48" wood panel.  In the 21st century, everything is affected by digital media and the Internet. Most works of art created today will be seen on digital devices more times than in person.
I create art to encourage interactions - physically and digitally. I often use shades of gray or a limited color palette, creating monochromatic images purposely omitting colors; my subjects appearing both as simplified graphic shapes and realistic forms.
Images allow me to share an idea or spark an emotion almost instantly. I use emotion to create new ideas and to inspire new work, taking into consideration the lack of diversity in North American history.
At the time I was creating the piece, Carpe Diem, I was also working on 9 other works. Each art piece affecting the other. The base idea streamed from my personal experiences with close friends and an ex-girlfriend.
In many cultures, the social norms are dominated by men and due to this some values are placed more heavily on women. Women are superficially placed above men, as objects to be looked at or admired by men, but rarely intellectually respected or seen as leaders or freethinkers. They are held up in one hand while being crushed by the other. When a baby girl is born, she is in many ways, supposed to do what her parents expect of her until she marries and then she is supposed to do what her husband expects of her until he dies. Wives are, as many older men would say, "to be obedient." Women in many cultures are expected to respect the cultural traditions set forth for them, which is that women are meant to exist as complimentary accessories to men. Seen but not heard. My question is what about what she wants? What about where she wants to go, do or who she wants to be intimate with? What about a woman who goes out at night? Or a woman who cuts her hair short? A brown woman with a career? What about the women who do not comply with the patriarchal image, dreamed up by men and enforced by culture, media, religion and society? I want her to remember, Carpe Diem, she only has so much time, she has to do some of the things she wants and put aside expectations of others.
MW: Are you trying to get an answer with the work? Is there a specific question that you're asking with your art?
KC: It's a question everyone should ask really, not an attack or a definitive answer. I also want to bring pride to black culture and respect different cultures and women of diverse backgrounds with my work, including this piece.
As indigenous people, Black people, and people of color, we are not accustomed to seeing nuanced reflections of ourselves in contemporary visual culture. I create work featuring many of these faces, and issues we as minorities encounter, in an attempt to be represented in contemporary pop culture.
What is the difference between a Portrait of Naomi Campbell, Aishwarya Rai or Marilyn Monroe?
Written by Mike Whitesmith.
Featured image: A portrait of Kestin Cornwall; Kestin Cornwall - Carpe Diem. All images courtesy the author.