The American artist Brett Amory is best known for his series Waiting, depicting commuter subjects seemingly detached from their fellow passengers and surrounding environments. His realist style is characterized by gestural brushwork and the muted palette that tends towards contrasts of dark and light. On the other hand, Kevin Cyr finds beauty in derelict cars and unkempt landscapes. He has always been interested in painting vehicles and scenes that have defined the evolution of the American landscape. The latest body of work by these two distinct American artists will soon be on view at Jonathan LeVine Projects in two concurrent exhibitions. In the exhibition titled It's Wonderful Your Demons Came Today, Brett Armory will present work that departures from his previous figurative aesthetics. Titled Labor Day, the exhibition by Kevin Cyr will present his latest body of work depicting vehicles set against solid, brightly colored backgrounds.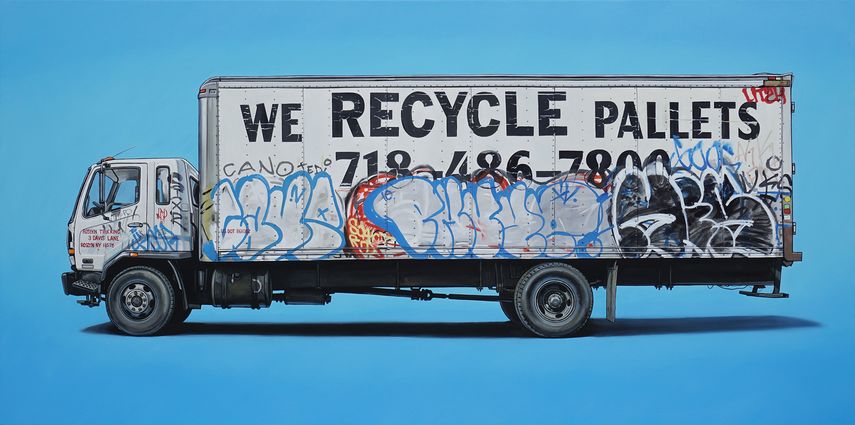 It's Wonderful Your Demons Came Today by Brett Amory
While the acclaimed Waiting series by Brett Amory focused on capturing people in particular moment based on external observations, the latest body of work rather focuses on our own internal dialogues. Turning inwardly, these paintings explore the artist's own internal psyche. Dealing with personal existential questions and inner struggles that comprise the human condition, Amory examines concepts such as indecision, obsession, loss, suffering, desire, and fear, as well as antithetical ideas of rebirth, redemption, growth, awareness, consciousness and oneness. In this way, the artist illustrates a synthesis that makes up a human being. Speaking of the battles of our internal demons, these works raise questions on the way we interact with these internal voices and to what extent are we guided by instinctual drives. It also explores symbols that appear and reappear across time and cultures, becoming part of a collective unconsciousness.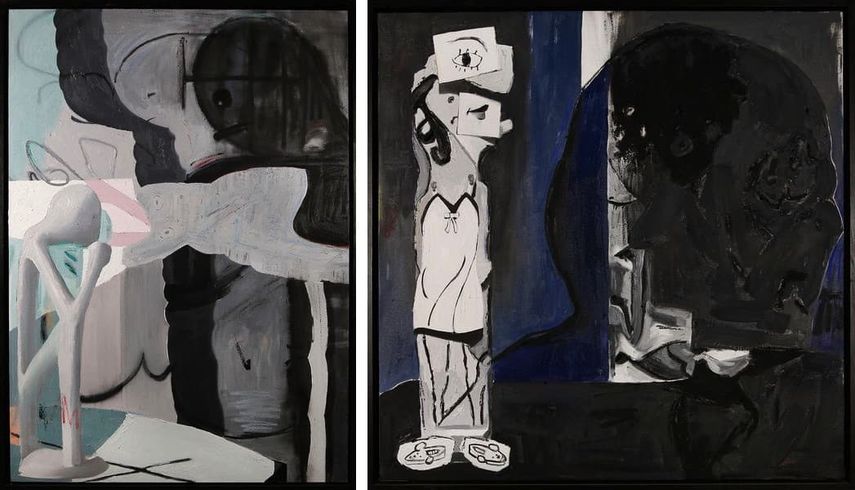 Labor Day by Kevin Cyr
With a devoted attention to detail, Kevin Cyr paints old vehicles such as vans and commercial trucks covered in graffiti, rust, scratches, scuffs, dents and other marks of distinction. Capturing all imperfections and signs of age, Cyr portrays moments of stillness in an ever changing world. Comprised of works on canvas, panel and paper, the latest body of work honors blue collar and working class society. Depicting vehicles documented on the streets of New York City, including old Grumman trucks that represent a once thriving American company, Cyr shows vehicles still running despite their age and condition.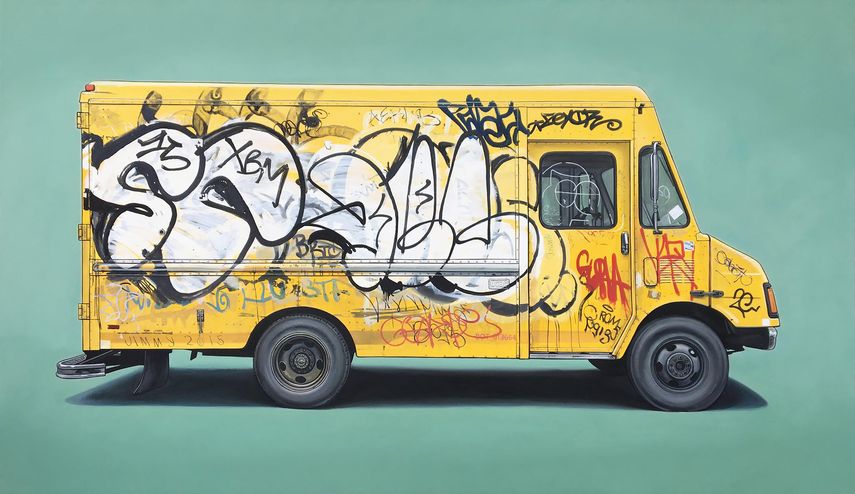 Brett Amory and Kevin Cyr Art Exhibitions at Jonathan LeVine Projects
While the work of Kevin Cyr honors working class people who keep the economy chugging along, the work of Brett Amory attempts to open a dialogue and instigate conversations surrounding concepts that make us human. The exhibitions It's Wonderful Your Demons Came Today by Brett Amory and Labor Day by Kevin Cyr will be on view at Jonathan LeVine Projects in Jersey City from September 8th until October 7th, 2017. The opening reception for both exhibitions will be held on Friday, September 8th, from 6 to 8 p.m.
Featured images: Kevin Cyr - St Marks, 2017; Brett Amory Studio. Courtesy of Shaun Roberts; Brett Amory - Thought Sphere; One Last Hike. All images courtesy of Jonathan LeVine Projects.