Kevin Peterson is bringing us a new and exciting collection of freshly made paintings. This accomplished surrealist painter finds complex balance between two opposing forces, with tension fueling a mildly unsettling feeling. The young Houston based artist creates works that are emotive, introspective and haunted by the suggestion of narrative. Most of his works depicts children in almost apocalyptic surrounding, with echoing violent shades that deepen the viewer's experience of the subjects' dislocation. Still, there is a promising hint of optimism reverberating in the artist's narrative. His protagonists remain serene, suggesting both survival and the triumph of individual's strength. It is a personal tribute to meek ones. As the name of the exhibition states, Remnants Peterson gives us an aftermath debris of a story he so boldly tells. Stop by Thinkspace Gallery in December and look at the story of Remnants.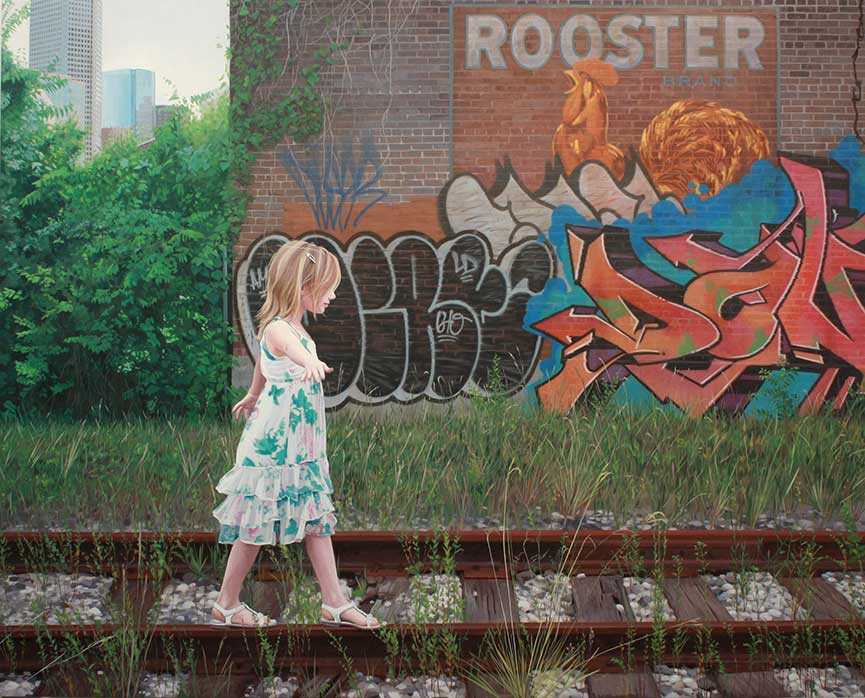 Paths of Kevin Peterson
Peterson's paintings are primarily oil on panel with meticulously embedded details, although sometimes the artist uses elements of mixed media as well. A sense of solitude saturates his works. The main characters are generally dwelling in isolation. They are restrained in a dream-like state. Innocence coexists with wear and urban exhaustion in these paintings. A connotation of use the artist builds through beautifully rendered graffiti elements and stark urban architectures. Existence of misplaced natures primordial subjects such as bears or hyenas, perfectly opposes the post-apocalyptic industrial spaces. Each opposing element works as a foil to its polarity: the wild vs. the urban, innocence vs. degradation, sadness vs. hope- This effectively captures a sense of the psychological conflict and human struggle, inherent in the existential journey.
Peterson completed a BFA at Austin College in Sherman TX, in conjunction with a psychology degree.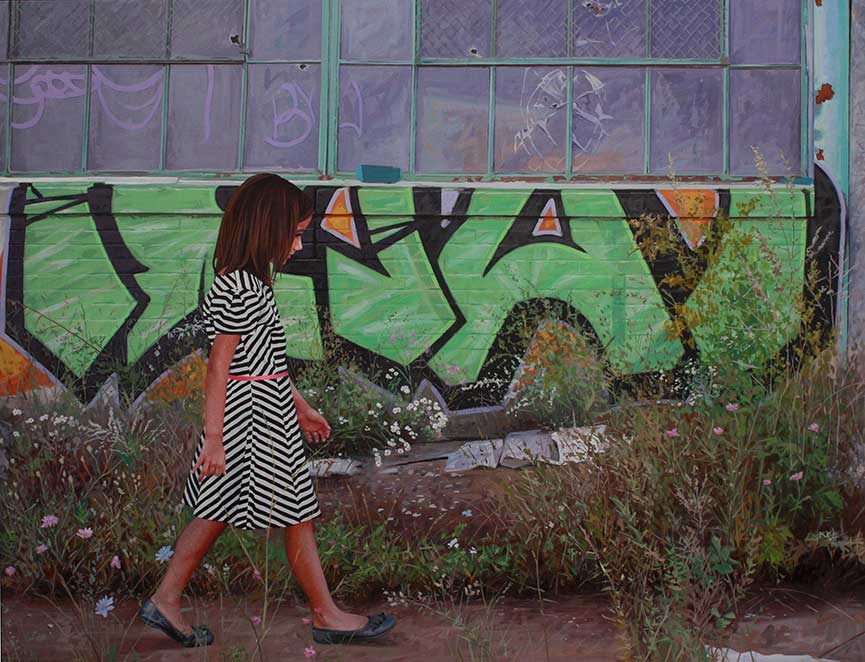 Peterson's Exhibitions
One of the most recent exhibitions Kevin Peterson featured in is exhibition titled "Corrective Course" at Marcas Contemporary Art where he displayed his work among the names like Ben Eine, Victor Reyes, Alex Garcia, Shawn Barber, sculptor Lucien Shapiro and many others. In the spring same year, Peterson exhibited at Stolen Space Gallery in the exhibition titled "Saints and Sinners" standing alongside Beau Stanton, Ben Frost, Broken Fingaz, C215, Charlie Anderson, Cope 2 among many others. Thinkspace Gallery exhibited his work as a participant of Scope New York 2014 Art fair.
This is his second solo exhibition at famous Culver City based Thinkspace Gallery, that opens on December 13, 2014 and will run until January 3, 2015.
If you enjoyed reading this post and want to find out more about upcoming exhibitions, sign up for My Widewalls today!