Kid Acne began writing graffiti in the early 90's, so he has been an active member of the street art scene for over twenty years, although he is only 36. Looking at his oeuvre from this angle, It comes with no surprise that he is about to have a retrospective exhibition at C.A.V.E. Gallery in Venice, California. The comprehensive show of Kid Acne prints will showcase rare prints and a selection of newer screen prints from the period between 2005 and 2013. Many editions of these rare graphics have been sold out long time ago, but the Retrospective exhibit will use the occasion to release a few of Artist Proof and Studio Proof prints. Kid Acne Retrospective at the C.A.V.E. Gallery in Venice will open on March 15, and will run through April 6, 2014.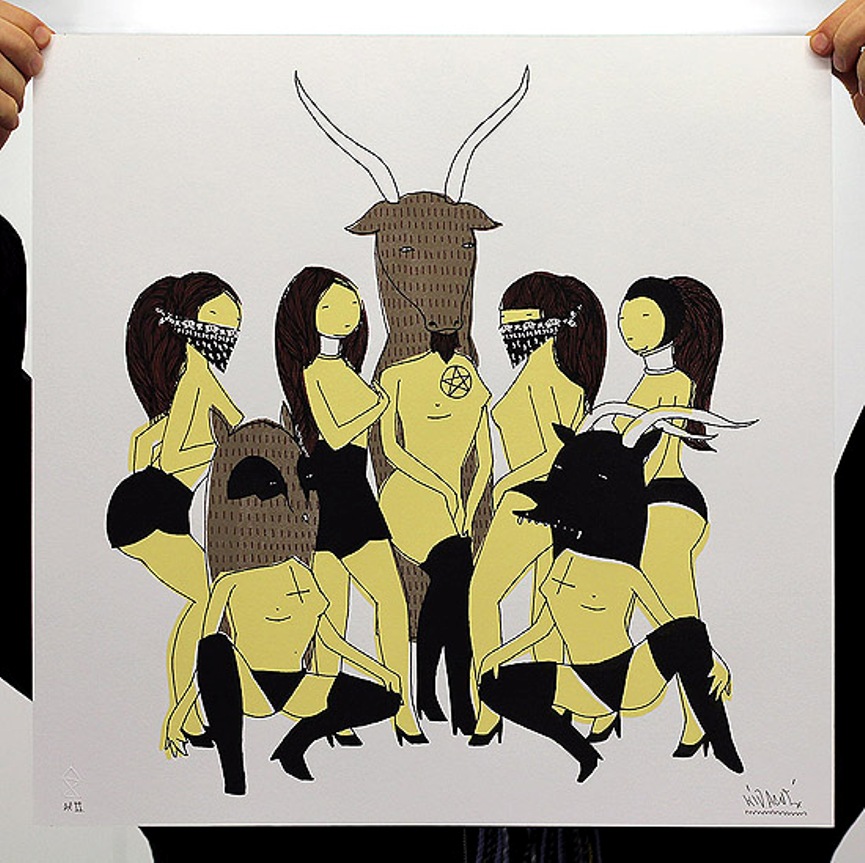 Kid Acne
Born in Malawi in 1978, Kid Acne today lives and works in Sheffield, UK. His artistic expression encompasses various media, as he identifies as an artist, illustrator, printmaker and even MC. He was schooled in Sheffield and he studied Fine Art. At the time of his studies, he had his first commissions for illustration and art.
The early 90's have signified a starting point in Kid Acne street art career. Since then, he has written countless graffiti, he made fanzines, comics and even hip-hop music. As he transferred a part of his production into studio, he started exhibiting, and his works have gone around the world being shown in places like China, England, Germany, France, Finland, Spain, Brazil and Australia. Kid Acne developed a recognizable illustrative style, which has proven to be ideal to adorn some of the famous brands' designer series. He collaborated with Kenzo, VW and Prada, but also with Elle, and Kid Robot and Warp Records.
Spirited and inspirational live, and ideal for printing, Kid Acne art has been featured in numerous books, including some of the most important recent publications on street art. The books containing his work are Graffiti World issued by Thames&Hudson, All Allure issued by Gestalten, Art of Rebellion issued by Publikat, Street Art New York issued by Prestel, Ninja Tune issued by Black Dog Publishing, I am Plastic Too issued by Kid Robot, Behind the Zines issued by Gestalten, Street Art issued by M.M. Brooks and We Own the Night issued by Rizzoli.
Amazingly, this is not the first retrospective for Kid Acne, as he already realized one in 2011 at Museums Sheffield, which turned out very popular.
As  prolific artist and almost a veteran of the scene, Kid Acne has made a number of notable thematic series of his artwork. His Stabby Women, proud, fearless and scary have been guarding a lot of towns in the world. Alone or in a group, these female fighters pop out of the most surprising places of urban areas, vitalizing the dead spots and breathing in the security in the frightening corners.
Currently, besides his artistic production, Kid Acne is collaborating with Channel 4 producing short animations, where he is working alongside Roots Manuva and Jarvis Cocker.