A new body of KID CASH art which will soon be on view at Urban Spree Galerie in Berlin points out a moment in the history of the arts; the one where works created on the street became a part of galleries and museums. As one of the artists who started painting the walls in the 1990s, he now understands this, as he calls it, "necessity". His inspiration has remained the same over the years - to analyze urban surfaces and architecture, to examine sketches and photographs of everyday life, as well as artworks by some of the greatest fellow art-makers out there, such as Picasso, Matisse, or Arp. But what is it urban art, especially the one of KID CASH, that makes it so very necessary?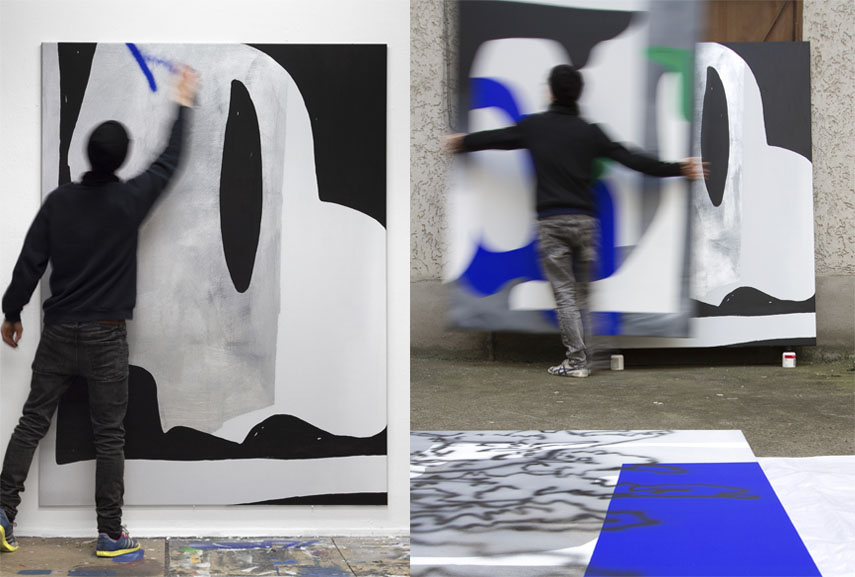 The Art of Christian August aka KID CASH
The works of KID CASH cover the large walls of many buildings. These compositions are quite large-scale, reflecting on the artist's dedication and precision. In them, we can trace his movements back to his roots, and the graffiti lettering of the 1970s in New York, as well as the German post-reunification subcultures of the 1990s. Even his name, KID and CASH, refer to the common terms used in the subculture. But even though his pieces and murals are big, KID CASH works with materials that allow him to create quickly and spontaneously, such as acrylic and spraypaint, construction materials, wood and canvases, thus giving life to intuitive and energetic works. Another important aspect of his visual language is seriality, which makes his art even more dynamic.
Very Necessary, an exhibition of works by KID CASH, will be on view at Urban Spree Galerie in Berlin, Germany, from April 1st through 22nd, 2017. The opening reception is scheduled for March 31st, from 6pm to 10pm. The artist will not only paint canvases, but will also do woodcuts at the gallery from March 20th through 23rd, and will be painting the large facade of Urban Spree as well, the so-called Artist Wall. About this and much more, KID CASH talked about in an exclusive interview for Widewalls.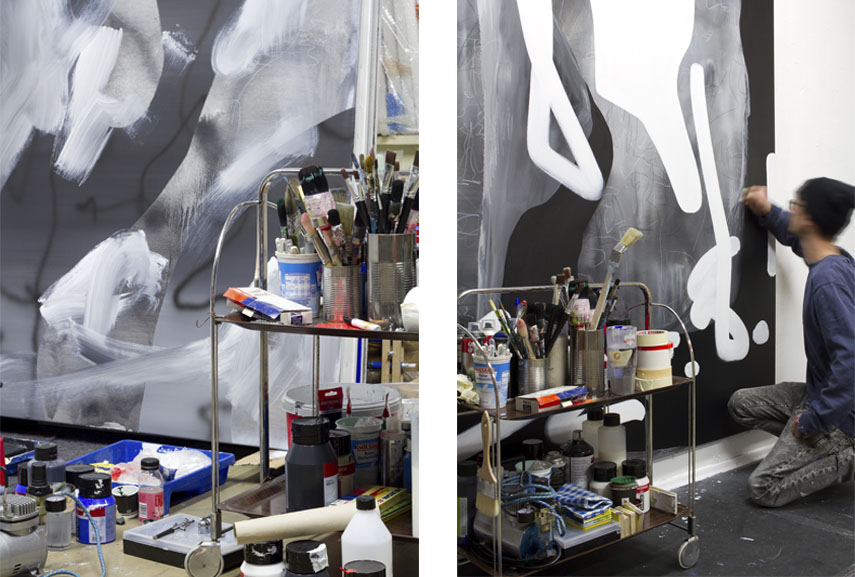 The Show at Urban Spree Galerie
Widewalls: Let's start with the title of the show at Urban Spree, "Very Necessary". It points out the necessity of showing street artworks in a gallery context: what can you tell us about this necessity?
KID CASH: At the end of the 1970s, the works of graffiti artists like Dondi, Lady Pink and Futura were exhibited in galleries. From today's perspective it seems that the undertaking didn't work. Around 2005 there was a veritable street art boom and again, there was the will to bring art from the streets into galleries. This development is still going on. Some artists have managed to exhibit their works regularly in white-cube galleries. But in my view, their reputation as "being authentic" results from their work in public spaces. One fundamental finding is for me that it's hardly possible to bring authenticity from the streets into the gallery. The reason for this is that is very simple: The space is just different. That's why the artworks in galleries differ so much from those in the streets. I chose this simple fact to become the theme of my exhibition.
I want to describe an example: When I paint on a wall in the street, the wall tells me some stories. It is full of traces and has different surfaces. It is raw, full of holes, rock-hard, sprayed, and also full of insects. On the streets, people just take a glimpse at walls. The viewers pass by quickly and therefore the murals are quickly recognisable. They were painted to be seen from a distance or sometimes only for being photographed only. That's why they tend to be relatively rough.
In contrast, when I paint on a canvas in my studio, the canvas is usually smaller than the walls outside in the streets. The surface of the canvas is smooth and it gives way. The fine structure is perceptible. At an artwork hanging in a gallery can be looked at from very close and intensively. The exhibition visitors can take a lot of time to look at the artworks.
For me it's clear that my artworks on canvases differ from those I paint on walls in public spaces. In a gallery context, I just can't do the same that I do on the streets! But both approaches get mutually inspired. That's how I came to the title which became at the same time my topic.
Widewalls: The bodies of work on display are entirely new. How did they come to be and what are they?
KID CASH: In the middle of the 1990s I began to do graffiti. Around the year 2000 my work became more figurative. I used the to paint in a more illustrative and symbolic way – very often graphic and with linear shapes. Since a few years I'm feeling something like the renaissance of graffiti in my work. The letters are back. They are often the starting point for my current work. However, I'm not interested in the obvious and the legible. It's more the endless possibilities of abstraction of letters. Then a quote from Picasso comes into my mind: "There is not abstract art. You must always start with something. Afterward you can remove all traces of reality."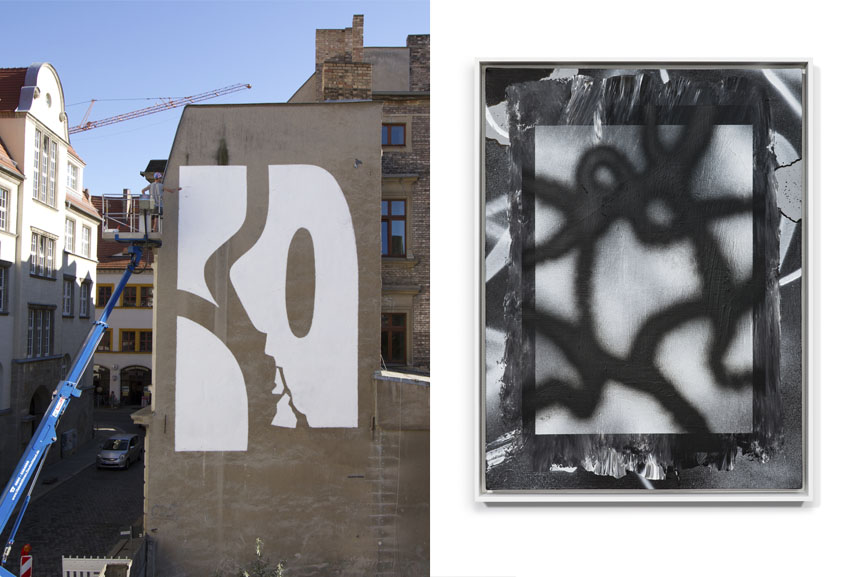 Exploring KID CASH Art
Widewalls: Where did your interest in abstraction come from?
KID CASH: For some time I've been feeling the need to work abstractly. To be honest, I find it rather kitschy to paint in a figurative way and even worse to imitate something in a photorealistic manner. Abstraction is a substantial motivation for my work. I want to show that I see, think and feel things differently.
Widewalls: In what way do the practices and ideologies of fellow artists like Picasso and Matisse inspire you?
KID CASH: Painters like Picasso and Matisse consistently inspire me because in their times they created such unbelievable great works. It's their way of abstraction that fascinates me. They were geniuses!
From 1925-1936, Picasso went through a phase in which he had a magnificent way to deal with shapes. In that period, he sort of juggled with shapes. There is a series of sketches and paintings in which he depicts always a bathing woman (Sketchbook Nr. 95). There, the variety of shapes is overwhelming. I can't really recognise a woman there, it could also be letters or animals, but exactly this scope for interpretation is what I find so exciting about.
Due to various diseases and misfortunes which Matisse survived, he was forced to work from his bed or from his wheel chair. These constraints compelled him to simplify his work which led to his unique cut-outs. Matisse's principles were always simplification, densification and synthesis. The combination of these three principles is what I find so inspiring. Lat year I painted a mural in Lutherstadt in Wittenberg with Mike Okay and Lowskii form our collective Klub7, where a dark permanent green and cobalt blue were the dominant colours. I was inspired by Matisse and with these colours I wanted to refer to his painting "Dance". I'm still dealing with this colour combination and together with black and white these colours set the direction for my upcoming exhibition. In addition, this bright cobalt blue refers to the cut-outs from Matisse like in Blue Nude or Venus from 1952. I find this cobalt blue a pure and magic colour. Currently, I love to work with it.
Widewalls: You work across a variety of media. What do each of them bring to your practice?
KID CASH: I find it very exciting to express my ideas and principles through different media. That makes my work more complex and leaves a greater scope for interpretation. In a solo exhibition, I nevertheless like to reduce and to focus on the essentials. Nowadays, I get permanently distracted, especially by social media. It is a great challenge for me not to lose the thread. On the other hand, this also strengthens my point of view.
Widewalls: In this regard, you are also doing woodcuts and painting the artist wall at Urban Spree. What can the visitors expect from these two occasions?
KID CASH: The large artist wall at Urban Spree will make clear the differences between canvases and murals I was talking about before. Yet, I don't know what exactly what I will paint, I will work rather spontaneously.
The woodcuts will consist of simple shapes. The wooden shapes will build a contrast to the rectangular canvases. I think I will reduce the colours there and paint them black. The paintings will take place on the canvases while the woodcuts will focus on shapes and their compositions. I'm still working on that. It's definitely lots of fun which will be hopefully visible.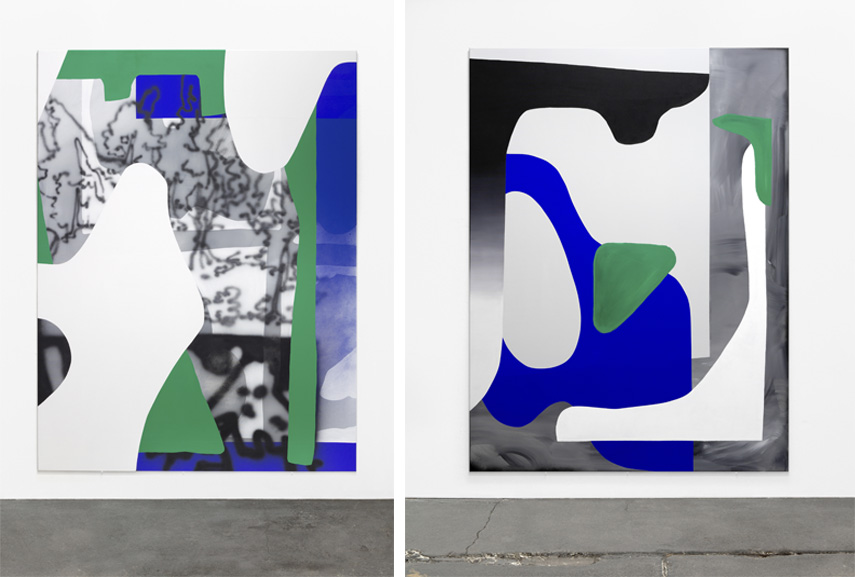 The Evolution of Street Art
Widewalls: How would you describe the evolution of graffiti and street art, from a point of view of someone who has lived and worked through it? Where are these fields today, in your opinion?
KID CASH: This is a good and difficult question. A long time ago graffiti was just graffiti and street art was just street art, two different disciplines. Then everything got labelled "urban art". I don't like these categorizations. Labels might be important to enable people to talk about topics, but it reduces these topics at the same time. But there are so many splinter groups which emancipated from them which are still developing and communicating with each other, especially through social media. The distinguishing features in these are aesthetic issues.
In my view, there are great artists who started with graffiti but developed their unique style beyond , who have amazing shows in gallery but are also very active outside in public space. Especially the French like: Antwan Horfee, Pablo Tomek, Saeio, Mosa, Ken Sortais, Tank, Nelio and the art collectivesTHTF und Modern Jazz. Also Dutch Jeroen Erosie and Ekta from Sweden, Austria'a Mafia Tabak and Knarf, Aahm00 from Italy, Tefra from Greece and Revok from the USA. Berlin is also an epicentre of art with lot of great artists like Johannes Mundinger, Nartur Art Collective, 44Flavours, Mina, Bruce, Blo, Jaw and Klub7. The artistic scene which developed from street at is even larger and more complex. In Berlin, the Urban Spree Galerie and the art association The Art Union show the works of many of these artists from both genres and sum up the current development.
All images courtesy the artist and Urban Spree.