An Austrian painter, sculptor and printmaker, Kiki Kogelnik intersected with various movements, but occupied her own cultural space. While drawing her palette and materials from Pop art, her work defied categorization. she did not celebrate advertising or mass-produced products; instead, she explored space travel, warfare, and robotics as motifs for her imaginative paintings and sculptures.
The current exhibition at MOSTYN is the first institutional presentation in the UK to focus solely on Kogelnik's ceramic works. Titled Riot of Objects, the show brings together a range of her freestanding works that date from the 1950s through to the 1990s.
Arranged chronologically, the display demonstrates the artist's boundless capacity for invention and restless commitment to making.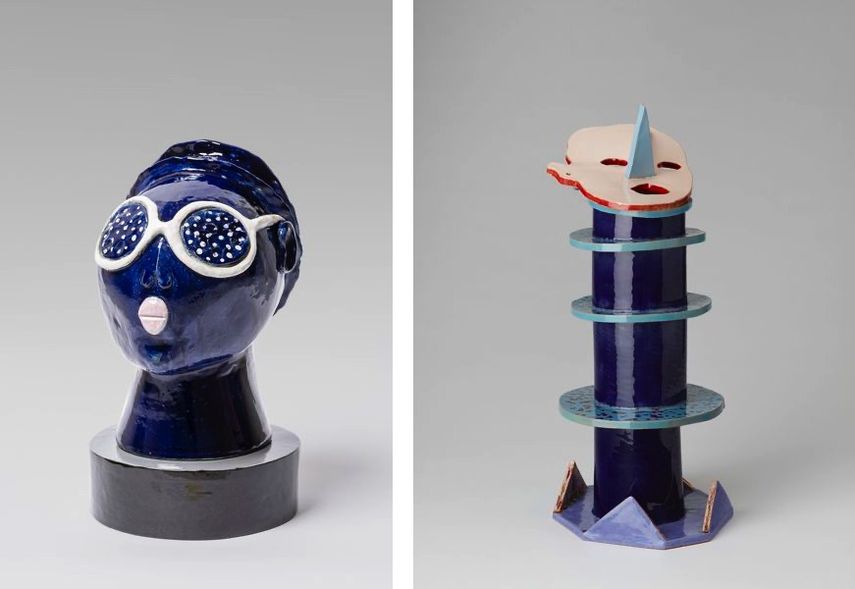 The Practice of Kiki Kogelnik
One of the key figures of the post-war avant-garde, Kiki Kogelnik created a multidisciplinary and multifaceted oeuvre that spans from painterly abstraction to Pop Art to the representation of the female body. Exploring consumer culture, technology and feminism and recurring themes, she developed a unique aesthetic marked by playfulness and humor, but also a stark sense of criticality.
The artist resisted and contested the lure of post-war capitalist culture in her work, remarking: "I'm not involved with Coca Cola. I'm involved in the technical beauty of rockets, people flying in space, and people becoming robots."
From the 1970s onward, Kogelnik focused primarily on the female body and its relationship to irony, humor, and the feminist theory.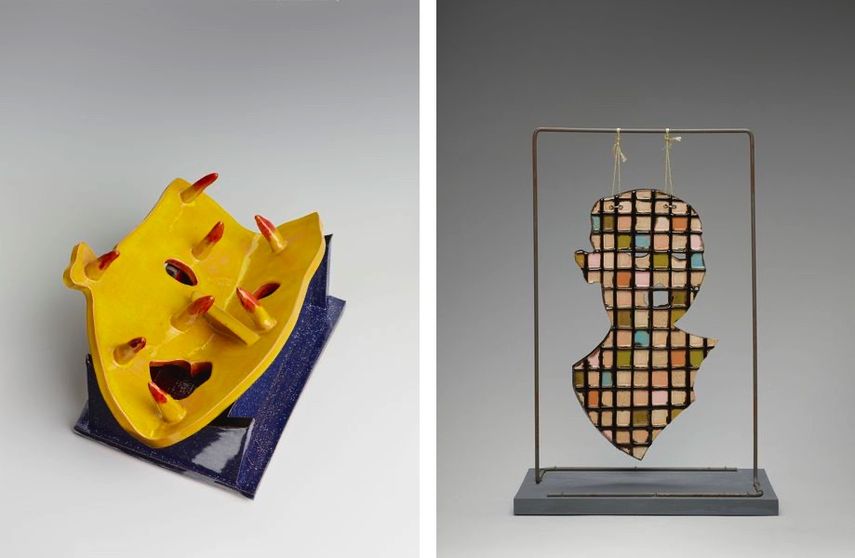 Kogelnik's Ceramics
Kogelnik first began working with ceramics in 1974, soon making it a key activity in her artistic practice. Hand-built and cut from slabs using stencils, these ceramic works are reminiscent of her earlier paintings in their boldness, bright colors and vivacity.
In these works, the artist employed sculptural form as an extension of painting. She would roll out the clay like gingerbread dough, two to three centimeters thick, and use a knife to cut the stencil contours, previously put onto the rolled out dough. "Masks", faces without mimicry, no portraits, are the dominant subject on her ceramic image carriers.
The display at MOSTYN draws from the method of presentation Kogelnik employed in an exhibition at the Henri Gallery in Washington, DC in 1990, exhibiting works on a number of islands.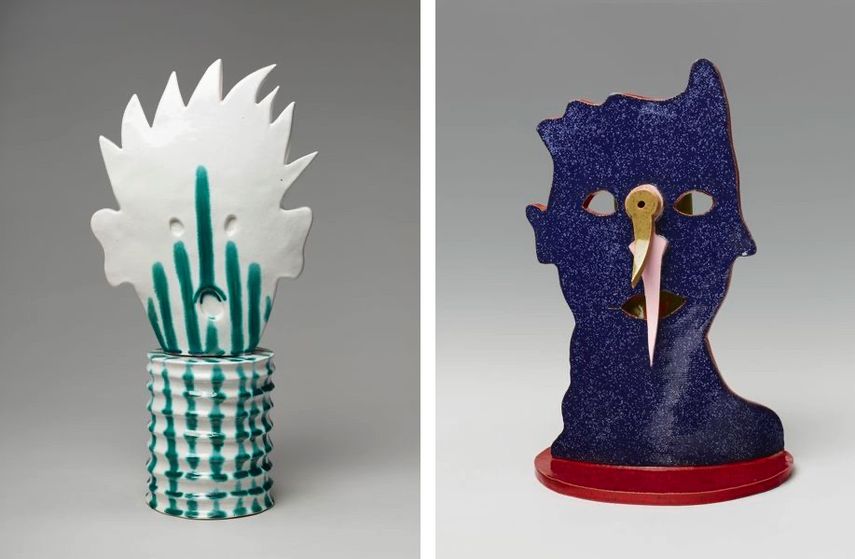 Kiki Kogelnik at MOSTYN
Curated by Chris Sharp and organized by Alfredo Cramerotti, in partnership with the Kiki Kogelnik Foundation, the exhibition Riot of Objects will be on view at MOSTYN in Llandudno, Wales until November 1st, 2020.
Featured image: Kiki Kogelnik, Riot of Objects. Installation view at MOSTYN, Wales UK, 2020. Photograph by Mark Blower. All images courtesy Kiki Kogelnik Foundation. © 1995 Kiki Kogelnik Foundation. All rights reserved. All images courtesy MOSTYN.