Konig Gallery is hosting an exhibition of the works by Kiki Kogelnik, the pop artist who was never a pop artist, for the second time. This time the viewers will be able to immerse themselves into Kogelnik's work from the sixties. This vibrant, progressive and mildly chaotic decade inspired artists to create no less vibrant art, and Kiki Kogelnik wasn't an exception. They say that she didn't want to be considered a pop artist. However, her visual language is in tune with the pop art aesthetic prevailing in the sixties. What differs her work to the ones of the pop art greats like Warhol and Lichtenstein is to be explored in the following weeks at Konig Gallery.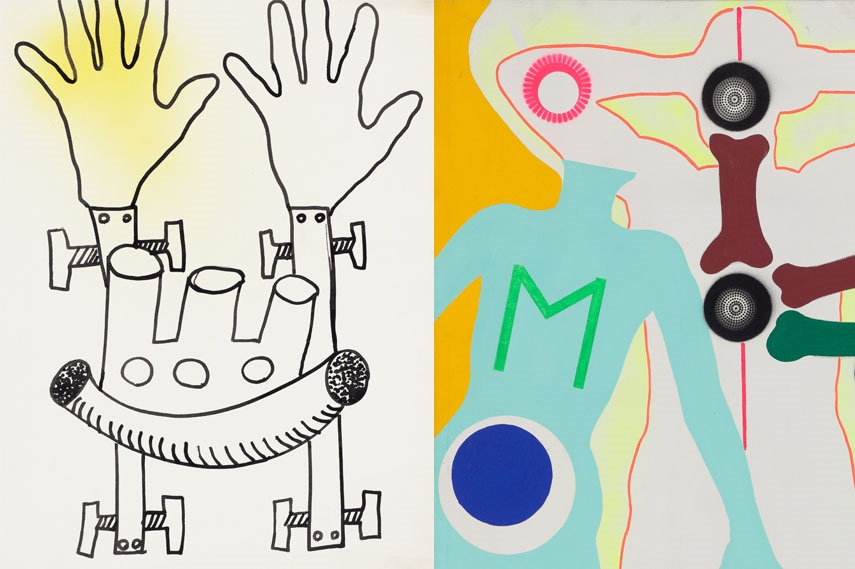 Swinging Sixties in Kogelnik's Work
Born in 1935 and died in 1997, Austrian Kiki Kogelnik was a painter, sculptor and printmaker. She moved to New York in 1962. The sixties were the age of space race, sexual revolution, cold war tensions, endless optimism... and, of course, consumerism. And consumerism was, one way or another, the fuel of pop art. In New York, Kiki Kogelnik was influenced by pop artists so much that even her personal style got perfectly immersed in the visuals of the movement. Kogelnik, in her twenties, was inspired by the shiny promises brought by new discoveries in technology and medicine. At the same time, she was also able to ask a lot of questions about the uncertain future of our world. This mixture of impressions helped her create a body of work characterized by bright colors and, simultaneously, pumped with tension. Layered body fragments and floating bodies, robots, machinery and shapes, create a contemplation of a person's individuality in the context of a larger whole.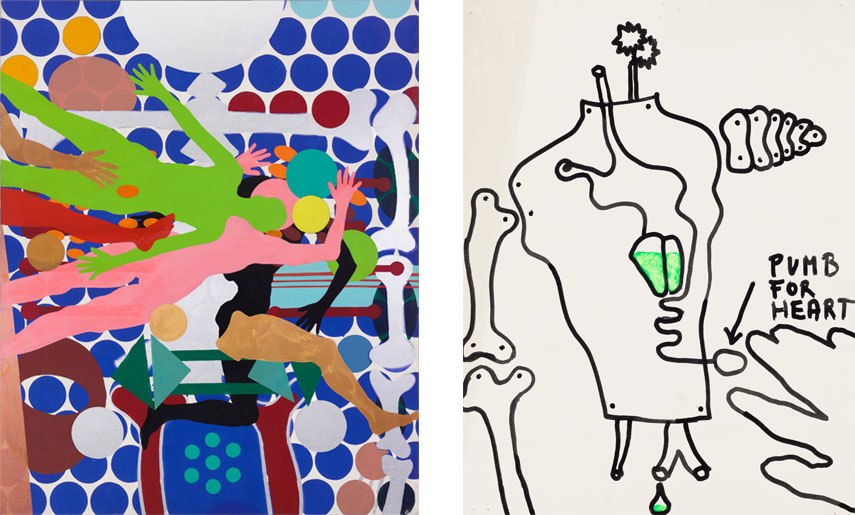 Kiki Kogelnik Exhibition: Beyond Pop Art
Although the prevailing visual language of Kiki Kogelnik's works matches the characteristics we usually expect of pop art, they appear less immediate. Kogelnik's work is different because it's gradual – it was gradually created and it is supposed to be gradually perceived. The layered structure of her artworks make her socio-political appraisals much more pronounced. Her use of bright colors and artificial materials accentuate the questions about an individual in the increasingly connected society – which is a topic that's maybe even more important now than it was some fifty years ago. The artist did tackle all the typical topics of pop art; however, it was still during the sixties when she had a need to distance herself from the movement and its consumerist nature. I'm not involved with Coca Cola, I'm involved in the technical beauty of rockets, she said.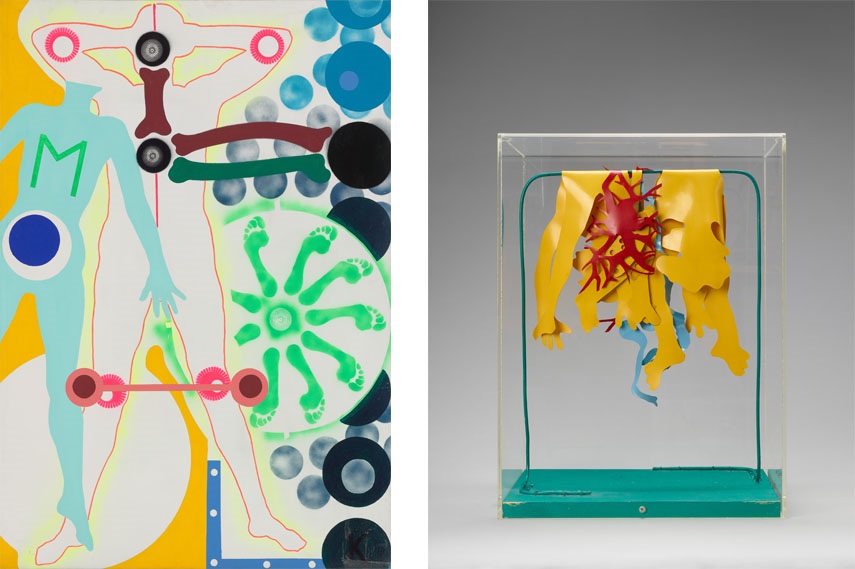 Kiki Kogelnik's Art at the Brutalist Church
The Kiki Kogelnik exhibition is taking place at Konig Gallery's exhibition space at St Agnes Church in Berlin, Germany. The exhibition will be on view from February 6 to March 6, 2016. The opening ceremony is taking place on Friday, February 5 from 6 to 9 p.m. The St. Agnes Church is located at Alexandrinenstrasse. The atypical Brutalist style building was built in the sixties. That coincides with the period of Kogelnik's work shown at the exhibition. The architecture of the former church and Kogelnik's body of work from the sixties form their own narrative. Together, they can tell you a story about a highly mechanized world, and our place in it.
Featured image: Kiki Kogelnik – Portrait of an Attractive Man, 1964 – oil and acrylic on canvas, detail. All images courtesy Kiki Kogelnik foundation and Konig Gallerie