An American contemporary artist, Kiki Smith focuses on narrative, the human condition, and the natural world through a multitude of mediums. Belonging to the end of the second wave of Feminist art, she found new ways to explore the social, cultural, and political roles of women.
This fall, the artist's work will be on view in two separate shows. Pace in Geneva will feature Light, examining Smith's central themes of spirituality, mortality, mysticism, and their interconnections with the natural world.
The exhibition coincides with Hearing you with my eyes at MCBA Musée cantonal des Beaux‑Arts in Lausanne, exploring the body (from the smallest fragment to one of our largest organs, the skin) and its socio-political dimensions; the representation of women; human beings' connection with animals and nature; and the phenomena that involve extrasensory perception.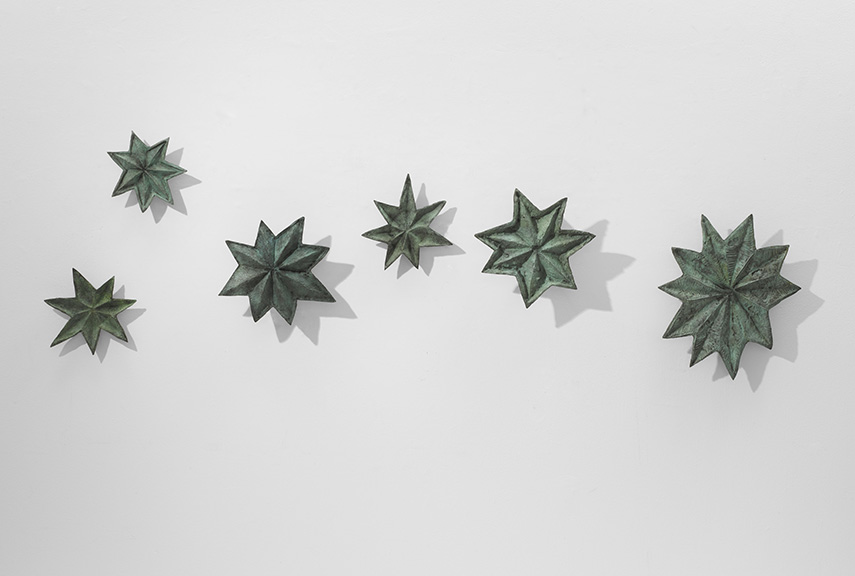 Hearing you with my eyes
Drawing on public and private collections, galleries, and the artist's own studio, the exhibition at MCBA Musée cantonal des Beaux‑Arts brings together nearly 100 works selected in close collaboration with the artist. Covering over forty years of her practice, the display includes drawings, prints, sculptures, tapestries and one film.
The focus will be placed on Kiki Smith's exploration of sensory perception, placing great importance on the senses, especially sight, hearing, and touch, from the subjects she tackles to the materials she employs.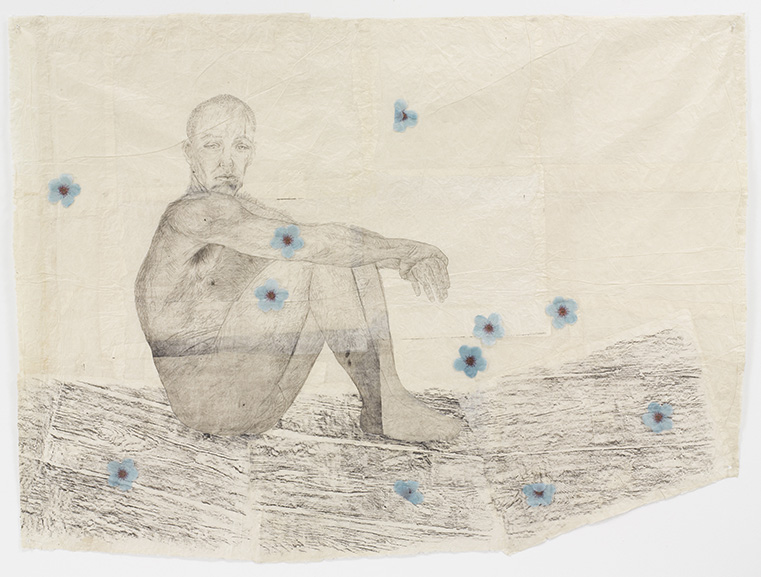 Light
Centering on the literal and symbolic meaning of light, the exhibition at Pace's Quai des Bergues location will feature works from 1997 to 2019, spanning the full spectrum of media, including sculpture, tapestry, print, and works on paper.
Exhibition highlights include the 2017 series the lights of the world, stacked cyanotype prints that play with the refraction of light and address not only the systems of nature, but also to the ways in which light shapes, distorts, clarifies and blurs the world around us; Spectrum I, II, III from 2010 that take man made electrical light from a hanging bulb as their subject; Oak Leaves IV from 2018, a delicate bronze wall sculpture; Wives and Mistresses from 2019, a minute bronze sculpture of a snail; Earth from 2012, a monumental intricately executed Jacquard tapestry; Quiver from 2018, an installation made of bronze with gold and silver leaf depicts; and Sorcery, a series of nine etchings on Hahnemühle paper that explore the mythological and folkloric within nature.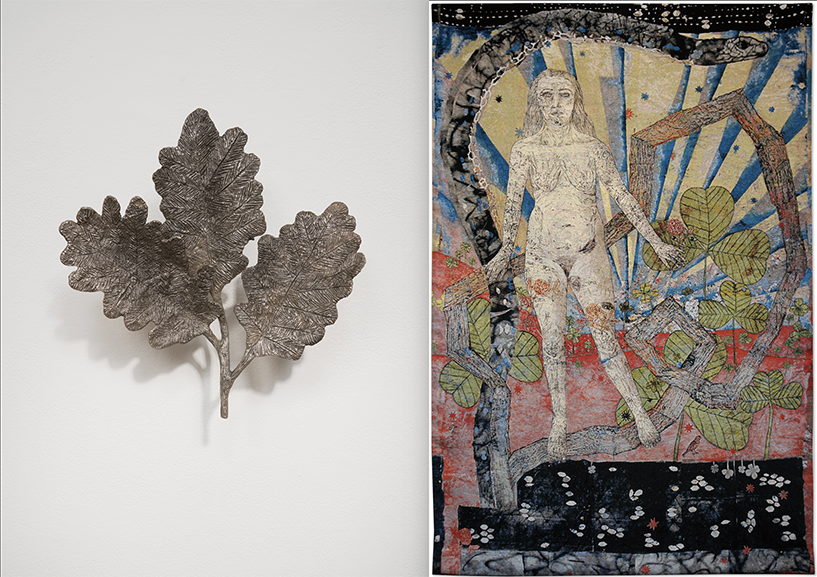 Must-See Artworks in Lausanne and Geneva
Is there ever is such a thing as a "favorite Kiki Smith artwork"? We asked the representatives from Pace Gallery Geneva and Musée cantonal des Beaux-Arts de Lausanne to let us know what theirs was anyway. And the best part? You can see them for yourself in their respective exhibitions!
What's interesting is that they both chose strong pieces representing the female figure.
"Rapture" is definitely one of the works that stroke me the most in the last few months," says Valentina Volchkova, Managing Director of Pace, Geneva. "I was shaken by this sculpture when I saw it for the first time. The picture of this woman coming out of the belly of the wolf is haunting. It brings radical questions. It also fully encapsulates Kiki's world. All the themes she is interested in such as mythology, fairy tales, the humans beings, the animals and nature are reflected in this poignant piece."
On the other hand, MCBA's Curator Laurence Schmidlin had to choose among nearly 100 works on view in Lausanne: "I would say though that the 1992 "Untitled" sculpture from the D.Daskalopoulos Collection always makes a deep impression on me. It is a standing figure with hand-dyed paper ribbons streaming out of her chest. I love how she stands so still while her insides seem to be pouring out. She's like emptying herself in search for contact with the outside world. She is made of paper - both fragile and strong - and she lets herself be transformed by this process of losing parts of herself."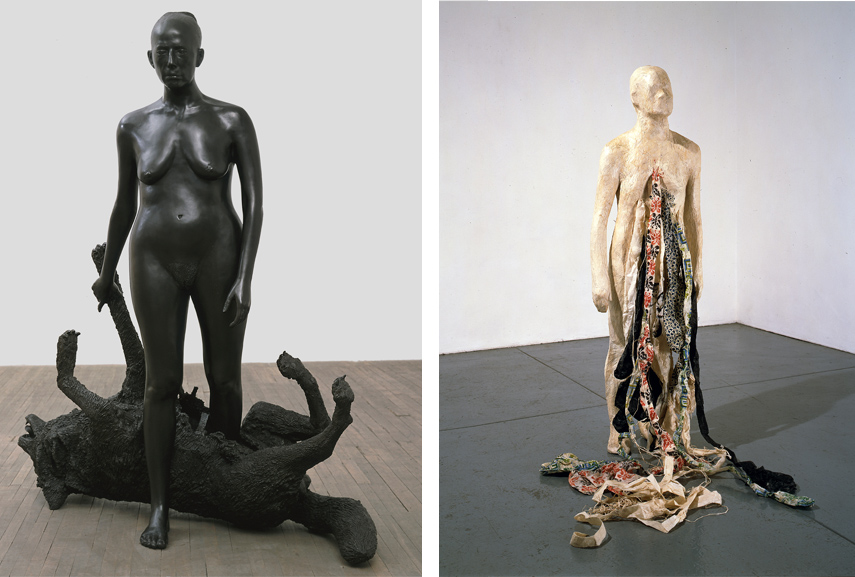 Kiki Smith Exhibitions in Switzerland
The exhibition Light will be on view at Pace in Geneva until October 31, 2020, while Hearing you with my eyes is on view at MCBA Musée cantonal des Beaux‑Arts in Lausanne from October 9, 2020 until October 1, 2021.
Hearing you with my eyes will be accompanied by a catalogue that includes essays by Amelia Jones, Lisa Le Feuvre, and Laurence Schmidlin.
Featured image: Kiki Smith - My Blue Lake, 1995. Photogravure and lithograph in 3 colors on Arches En-Tout-Cas paper, 110.5 x 139.1 cm. Printer and publisher: Universal Limited Art Editions, Bay Shore, New York. Courtesy Universal Limited Art Editions. Photo: Courtesy Universal Limited Art Editions, Bay Shore, New York.