I am a Wanderer seems like a perfectly fitting title for Kiki Smith's upcoming exhibition at Modern Art Oxford. A self-taught artist who comes from a highly creative set of parents, she describes herself as a "thing-maker", one that gets inspired by the things she sees while on the road. Smith spends a lot of time in nature, something that is so clearly evident in her artwork that at the same time delves into various emotional states. Her practice is a highly recognizable one even though it spans so many media, as not many others have such a peculiar, vivid imagination.
This exhibition is also not just any occasion; it's the artist's first solo show in a UK institution in almost 25 years. It certainly is a challenge to try and encompass an oeuvre as vast as Kiki Smith's, but the 80+ works presented within three key areas surely do a very good job of it. The selection begins with 12 large-scale tapestries, made between 2012 and 2016 using an electronic Jacquard loom. On them, a mesmerizing homage to nature through the portrayal of an array of animals and goddesses, proving some masterful skills of an artist who, by her own admission, never thought she would be making tapestries in the first place.
But that is nowhere near everything that Kiki Smith is excellent at. In the smaller galleries of Modern Art Oxford, one can find her porcelain and bronze miniature sculptures from 1985 until 2015, juxtaposed with photographs of her larger sculptural installations. In what is described as a proper "wünderkammer", there is also a set of hybrid creatures such as Octopussy, half-cat, half-octopus tentacle cast in bronze, and a human skull made of concrete.
Finally, 20 of Kiki Smith's prints produced over the course of three decades are on display in the last section. Testifying to an unmatched, iconic printmaking portfolio are examples of palpable magical allegory such as Pool of Tears II from 2000, based on Lewis Carroll's manuscript drawings for "Alice's Adventures Under Ground" (1886).
I've had the immense pleasure of having Kiki Smith answer a few of my questions regarding her many-decades-long practice, and share a few thoughts on this must-see exhibition, opening on September 28 at Modern Art Oxford, and staying on view until January 19, 2020.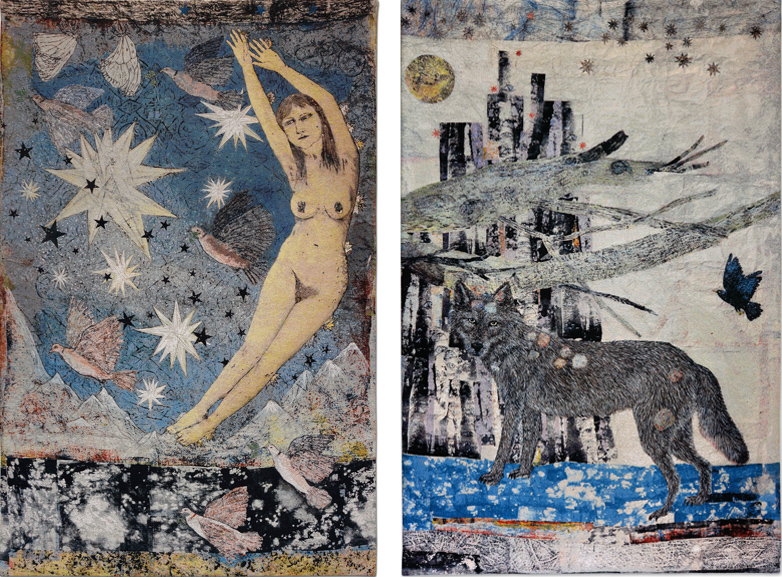 I am a Wanderer
Widewalls: I read in an interview that you "like doing everything": among the many themes and media you work with, is it possible to find a favorite, or at least the one you enjoy more than others?
Kiki Smith: No not particularly. I enjoy discovering materials. In terms of method most of my work comes someplace out of print making. I like the physical properties and historical references of different materials.
Widewalls: Is there, at this point, a medium which you haven't explored yet, but you would like to, or planning to?
KS: I think there are probably a million. I am not discontented or seeking anything but things will suddenly appear. New methods or technologies for working always show up bringing new possibilities.
Widewalls: What is it about making things with your own two hands, and interacting with them in such intimate way?
KS: You get to see the evidence of your energy and collaboration with the physical world. You get a visual manifestation of your energy.
Widewalls: You also said that you know that you "don't know anything about nature". Could it be said that your art is you trying to find out more, apart from being other things as well?
KS: It certainly is trying to be more overtly aware of presence as the divine.
Widewalls: Do you feel a more compelling relevance of your art at a time in which the environmental crisis is such a burning question, and our relationship with nature is at a critical point?
KS: That is something I think about. We are in critical times. I don't think about my relevance or anything but we certainly are in a time of great change.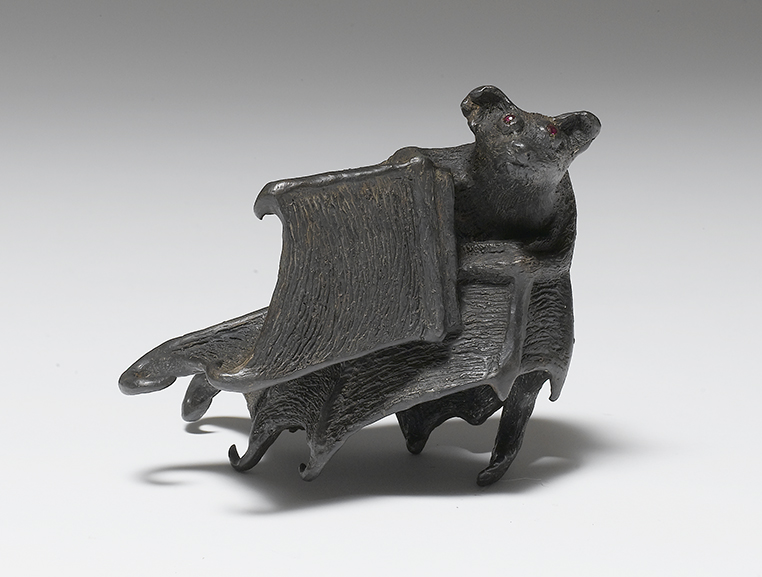 Kiki Smith at Modern Art Oxford
Widewalls: Turning now to the Modern Art Oxford exhibition. It is your first UK institutional show in more than two decades. How would you describe your relationship with the UK and your audience there?
KS: I don't know. I'm happy to show in England because I can make a relationship with it.
I have spent relatively little time in England over the last many years and look forward to being particularly in Oxford to go to the Museums.
Widewalls: And the Modern Art Oxford itself, and its heritage and tradition?
KS: I know very little about tradition but i am very thrilled to work with the museum and so far working with Modern Art Oxford has been one of the most clear, transparent and pleasant experiences working with a museum and I am looking forward to installing the work. And I have to opportunity to work with Petra[Giloy-Hirtz] again who curated this exhibition which is one in a continuing series of exhibitions we've made in the past several years.
Widewalls: The tapestries in the show were made using the electronic Jacquard loom. What does this unique technique provide to you in achieving your visions of a tapestry work?
KS: It provides that I have been able to make multiple tapestries and editions of each one at a speed that would be completely impossible if they were woven by hand. Also one can have a tremendous variety of color and weave facilitated by the technical software that Magnolia Editions designed.
Widewalls: It is the comprehensive, variety exhibitions like this one that, to me, say that here is an artist that is very much just that: someone who makes art from inspiration, gets fulfilled by it, sends a message with it, evokes an emotion with it; an artist who, in today's art market-oriented world, does not play by the art market's rules. Am I getting the right vibe? What does that whole concept mean (or doesn't) to you?
KS: I think artists are as much susceptible to cultural pressures as much as anyone else. but if someone is going to make things for 20, 30, 40, 50 years it comes from a deep necessity. And that must be true of all artists. And the art markets and art worlds change all the time and change very rapidly over the years in certain ways, and sometimes in ways that are beneficial to a much wider part of this society. Community can be stifling but community can also be part of cultural change.
Widewalls: The show is conceived with your close collaboration. What are the challenges in putting it all together?
KS: It is a pleasure to collaborate with other people. With Stephanie [Straine], Petra [Giloy-Hirtz], the museum, and my assistants. What better experience can one have?
Featured images: Kiki Smith, courtesy the artist; Kiki Smith - Shell, 1995. 24 carat gold. © Kiki Smith. Courtesy Pace Gallery. Photograph by Tom Barratt, courtesy Pace Gallery; Pool of Tears II, 2000. Published by Universal Limited Art Editions. © Kiki Smith and Universal Limited Art Editions. Image courtesy of Universal Limited Art Editions; My Blue Lake, 1995. Published by Universal Limited Art Editions © Kiki Smith and Universal Limited Art Editions. Image courtesy of Universal Limited Art Editions. All images courtesy Oxford Modern Art.