Kinetic light sculpture, artificial life, light, sound, time, and space. The Dutch artist Joris Strijbos is having a solo exhibition at NOME. Oscillations, the exhibition featuring two installations – Axon and Homeostase – is the artist's way of playing with the potentials of technology that is rapidly becoming more and more powerful and even able to mimic biological systems - something that was virtually impossible to imagine just a few decades ago. Strijbos will present his kinetic light sculpture works at NOME as the result of his in-depth research of artificial life and generative composition. Oscillations will allow the viewers to experience the artist's exploration of light, time, space, and sound, thus immersing themselves in the realms of art and science and finding the hidden links that bind these two worlds together.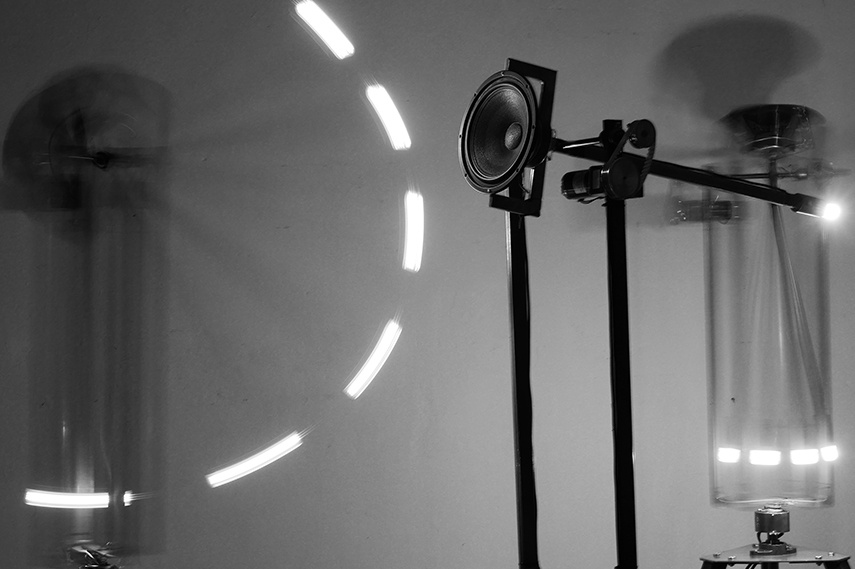 Machinic – Cybernetic
The installations featured in the exhibition were inspired by the early cybernetics, swarm intelligence, and the ideas of machinic life and they started as the algorithmic models based on organic, biological systems. They reflect the ideas of beacons, windmills, birds, or lamps, executed in a monochrome and minimal aesthetic, reminding of the work of Otto Piene and Heinz Mack's Zero Group. These kinetic light sculpture works are created out of identical elements, connected in a network that allows them to exchange information between one another through the use of electric signals. What makes them amazing is the fact that their units react as if they were living, breathing organisms. The sensors and actuators create patterns in the non-constant arrangement of sounds, light, and movement, resulting in a multi-sensorial experience for the people in the middle of what it only looks like the fusion between art and science.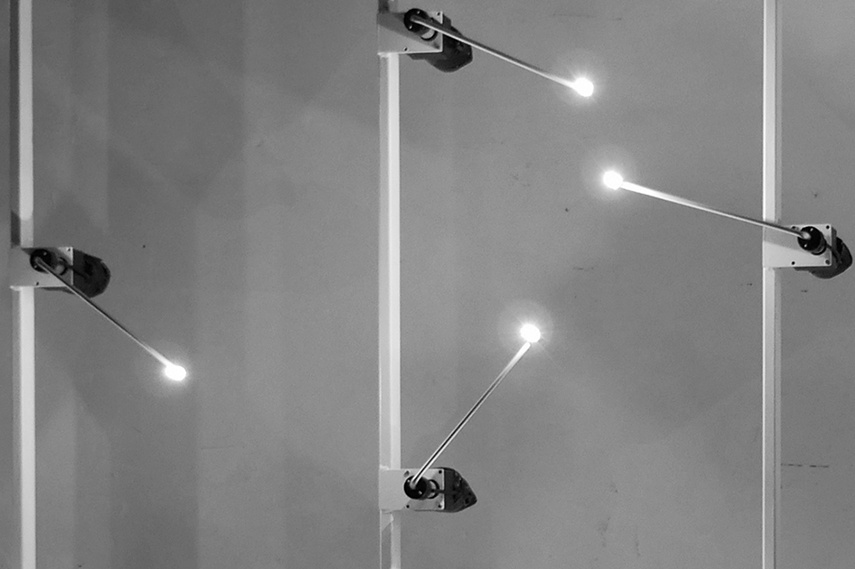 Resonating Light, Beauty in the Pattern
The world of technology has always been fascinating to the artists who sought answers to questions larger than life. Is it possible to live forever? Does that life have to be through the machine? Do machines feel? Is it possible to stay human? What is humanity after all? While Joris Strijbos' kinetic light sculptures may not explicitly give answers to the questions of the ever-changing and ever-developing humanity, they nevertheless, show us the world of nature blended with the world of cold hard technology. Bereft of all unnecessary decoration, these kinetic light sculptures offer a glimpse into the future, the glimpse into the world of tomorrow, the glimpse into the mind of an artist whose creative process can be described as meticulous scientific work.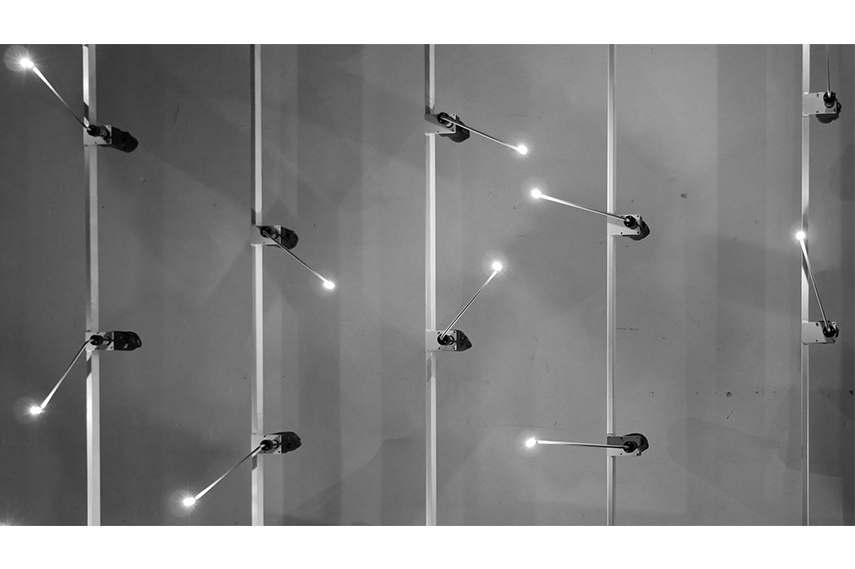 Kinetic Light Sculpture at NOME
Joris Strijbos exhibition Oscillations will be on view at NOME from June 25th to July 30th, 2016. The opening reception is scheduled for Friday, June 24th, from 6 PM, at the gallery spaces at Dolziger St. 31 in Berlin. Joris Strijbos is a Dutch artist whose works have been presented at various gallery and museum exhibition spaces, such as Ars Electronica in Linz, Sonic Acts in Amsterdam, TodaysArt Festival, STRP in Eindhoven, and Wood Street Galleries in Pittsburg, among others. He is a member of a collective of artists Macular, dedicated to the research of the light, motion, and sound. NOME was founded in 2015 and since then worked with international mid-career and emerging artists, and allowed them to further their aesthetic potentials and conduct in-depth research in their creative process.
Featured image: Joris Strijbos - Axon, 2016, detail, commissioned work by NOME, picture courtesy of the artist